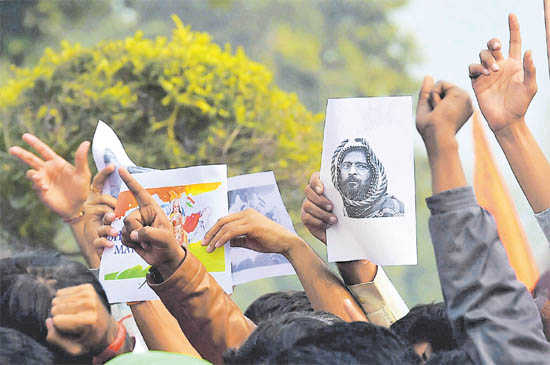 THE current controversy over the ready resort to Section 124A of the IPC in the case of Kanhaiya Kumar has once again revived the debate over the need to retain this provision in the law. As a lawyer who appeared on his behalf in the Supreme Court last week, I would refrain from going into the merits of the case against him. But it is necessary to state my position on the debate, which started with Arundhati Roy and continued with Binayak Sen.
The offence of sedition is, of course, a legacy of the colonial era. But so is the entire Indian Penal Code. And that by itself cannot be a relevant factor to decide if it should be retained. The section finds place in Chapter VI of the code, which deals with "Offences against the State". The other significant offences under that chapter include "waging, or attempting to wage war or abetting waging of war against the Government of India" (Section 121), "collecting arms, etc. with intention of waging war against the Government of India" (Section 122), "concealing with intention to facilitate design to wage war" (Section 123), assaulting the President, Governor, etc. with intent to compel or restrain the exercise of any lawful power (Section 124), and facilitating escape of prisoners of State or war (Sections 128-130).
Section 124A is the only section in the chapter whose primary focus is on speech. It is keeping this aspect in mind that the Supreme Court "read down" this provision in 1962 in Kedar Nath's case to read it in a manner consistent with the provisions of the Constitution which guarantee freedom of speech. That freedom is subject to reasonable restrictions under Article 19(2). But those restrictions can only be "in the interests of sovereignty and the integrity of India, the security of the State, friendly relations with foreign States, public order, decency or morality or in relation to contempt of court, defamation or incitement to an offence". Since sedition was not a ground on which freedom of speech could be restricted, the offence of sedition itself had to be revisited in the light of the permissible restrictions under Article 19(2).
And so, the Supreme Court said in Kedar Nath's case that mere speech would not be sedition if Section 124A was to be sustained. There has to be an element of incitement to violence. If that was established, it would lead to public disorder and would therefore not enjoy constitutional protection.
Thirty-three years later, the Supreme Court in Balwant Singh's case found that the raising of pro-Khalistan slogans without overt acts would not constitute sedition. The legal scholar, Gautam Bhatia, has argued convincingly that if the question of the constitutional validity of Section 124A were to come up before the Supreme Court again, it could be persuaded in the light of one pre-Kedar Nath and two post-Kedar Nath decisions that its earlier view on the validity of the section was wrong.
But that is not likely to happen in the foreseeable future. It is even more unrealistic to think in the present security situation in India that Parliament will even consider repealing the provision; or if such a move will even find support from any political party. Even otherwise, no party would like to lose a weapon which it can use when it comes to power. It must, however, be remembered that all civil liberties and fundamental freedoms, including freedom of speech, can survive and thrive only when the State exists. And therefore any activity which jeopardises the continuance of the State is serious enough to warrant being treated as an offence, and a grave one at that. Unfortunately, its misuse trivialises something serious. The fact that the offence has recently been done away with in the country which brought it into our law is of little relevance in the Indian context: that country has recently seen a referendum on Scotland!
The fact that a law is frequently misused is not a ground for repealing it if it serves a legitimate and important purpose otherwise. Businessmen are often harassed by those with whom they have transactions, by getting criminal cases of cheating registered against them. Mothers and fathers-in-law get dragged into dowry harassment cases when things go wrong between couples. Men who have been in serious relationships have had rape cases foisted on them when relationships have soured. Can it be argued, on the basis of these undeniable facts, that the offences of cheating, harassment for dowry or rape should not exist on the statute-book?
But there is a solution, and that solution can be worked out by the Supreme Court in a properly constituted petition seeking safeguards, without having to wait for a petition challenging the constitutional validity all over again, and without waiting for that petition to be referred to and decided by a Constitution Bench. Another legal scholar, Lawrence Liang, perceptively notes that while most sedition cases ultimately end in acquittal or fall through, the process itself is the punishment. This process of harassment itself is a violation of a citizen's right to liberty and dignity under Article 21 of the Constitution.
The Alternative Law Forum has documented instances of sedition cases in recent years. These include instances like that of Kahturam Sunani, a journalist who was booked in Sinapali, Orissa, in 2007 for filing a report stating that Pahariya tribals were consuming soft dolomite stones in Nuapada district due to acute hunger; Laxman Choudhury, a journalist who was booked in Gajapati, Orissa, in 2009 for allegedly possessing Maoist literature; and Noor Muhammed Bhat, a lecturer at Gandhi Memorial College, Srinagar, who was booked for setting a question paper for English literature students on whether 'stone-pelters were the real heroes?'
The Supreme Court has in the past laid down comprehensive guidelines on the exercise of the power to arrest generally (Joginder Kumar, 1994 and Arnesh Kumar, 2014), pointing out that "no arrest can be made because it is lawful for the police to do so. The existence of the power to arrest is one thing. The justification for the exercise of it is quite another." It is time someone moves the Supreme Court to take note of all sedition cases that have come up over the years. It would notice that these have largely been meant to stifle political criticism. The court must pronounce its view on each of these instances and whether or not they amounted to sedition, and lay down comprehensive guidelines. As the protector of the citizen's fundamental rights, as the "sentinel on the qui vive", it must prevent the "chilling effect" on free speech. As with gay rights, so with free speech: the ball is in the court of the court.
— The writer is a senior advocate at the Supreme Court