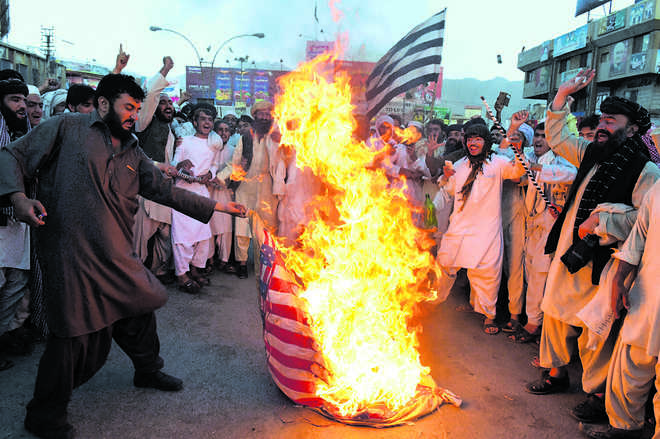 AN Indian involvement in the Balochi separatist campaign is debatable. Balochistan is not East Pakistan. There is no refugee or any other crisis afflicting India because of the troubles festering in the region, which in any case does not border India. Besides, there is no strategic advantage in destabilising a nuclear-armed, terrorist-infested neighbour.
The freedom of Balochistan and alleged war crimes by the Pakistani army are, however, back in the spotlight after a no-holds-barred intervention in Britain's Houses of Parliament recently by an exiled Amir Ahmed Suleman Daud, the Khan of Kalat State. His ancestors ruled much of Balochistan before the British chiselled away at the territory, eroded the Khans' control and facilitated its annexation by Pakistan.
Kalat or Balochistan was not an Indian princely state. It was a south-west Asian expanse. Its treaties were with the British crown, not with either the East India Company or the Raj. It, though, increasingly leased its land, which effectively became British Balochistan. Balochistan can be traced back as an independent country to the 12th century, when its capital was Bampur, now in Iran. The British invaded Kalat in 1839, killed its ruler, Khan Mehrab Khan, and installed a 14-year-old relative of his as his successor and began its fragmentation. But the Balochis revolted and installed Mehrab's son, Nasir Khan II, on the throne. This resulted in the first Anglo-Baloch agreement in 1841, ratified in 1854 and thereafter in 1876. The Mastung Treaty was signed the same year. British records establish "the territories did not pass so as to become part of British India but remain part of Kalat State". After the announcement of the British withdrawal from India, the Khan of Kalat stressed the lease agreements would lapse and the areas so granted to the crown would revert to Kalat. Article 3 of the 1876 treaty bound the British government "to respect the independence of Kalat". On the other hand, the Government of India Act of 1935 held Kalat to be a part of India.
Finally, a four-point communique was issued on August 11, 1947 by Viceroy Lord Louis Mountbatten, on behalf of the crown, Mohammad Ali Jinnah as the representative of the future state of Pakistan and the Khan of Kalat, one of which said: "The Government of Pakistan recognises Kalat as an independent sovereign state in treaty relations with the British Government with a status different from that of Indian States". It also confirmed a "standstill agreement" between Pakistan and Kalat "with a view to reaching decisions in Defence, External Affairs and Communications". On August 11, Kalat declared independence from 15 August.
Interestingly, Jinnah had been Kalat's lawyer since 1933. He even pleaded its case at the Privy Council in London. Besides, the Muslim League leadership was in favour of an independent Kalat. But within a month of the tripartite pact, Mountbatten emitted a contradictory signal, which said, because of Balochistan's location, it would be too dangerous and risky to allow it to remain independent and the British High Commission in Pakistan was advised to "guide the Pakistan government away from making any agreement with Kalat which would involve recognition of the state as a separate international entity". Daud accused Jinnah of deceit. "He had inside information, which undermined us," he asserted. On second thought, the British were keen to use Balochistan against the Iranian government which had nationalised the —Anglo-Iranian Oil Company and which was in due course to be unlawfully toppled — as a valuable staging post for their West-Asia policy in general and the great cold war game of denying communist Russia access to the warm waters of the Arabian Sea.
Negotiations between Pakistan and Kalat spluttered. On March 28, 1948, Kalat, systematically subverted by the British for more than a century and a victim of geo-politics, acceded to Pakistan.
Balochistan is presently in the throes of a fifth uprising by secessionists since 1948. Last year, Narendra Modi added fuel to the fire with a reference to it in his Independence-Day speech. Daud predictably welcomed the support. "I will go to India," he said, to realise his goal. He has made common cause with Baloch nationalists, such as Hyrbyair Marri (also based in the United Kingdom), to pursue his aim. Senior civil servants cautioned Modi not to mention Balochistan in his August 15 address. But he opted to align with hot-headed hawks. His jab at Pakistan lends the latter ammunition to accuse India of meddling. Disappearances and killings have occurred in the thousands. The freedom fighters' best case before the international community is to highlight the crackdown by Rawalpindi. Clearly, historical evidence suggests the Balochi demand for a homeland is not unjustified. There are unlikely to be too many takers for overturning an accession treaty, however contentious it may be. Moreover, an independent Balochistan is difficult to envisage in the foreseeable future. Therefore, a disproportionate investment of resources by India to encourage fissiparous tendencies would be long-drawn out and, arguably, not of any benefit even in the medium term.
The writer is a London-based journalist
Top Stories