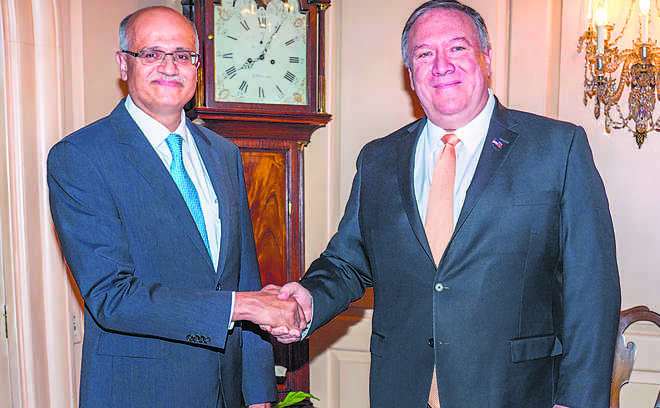 MK Bhadrakumar
Former Ambassador
The low-key visit by Foreign Secretary (FS) Vijay Gokhale to Washington and his talks with the US State Department officials on Monday, with focus on terrorism, signals that the Trump administration is caught in a cleft stick — it wants to stay out of the India-Pakistan conundrum. The readout of the FS' call on State Secretary Mike Pompeo said the two officials 'discussed the importance of bringing those responsible for the (Pulwama) attack to justice and the urgency of Pakistan taking meaningful action against terrorist groups operating in its soil'. But it was silent on any concrete step by Washington to help India.
Pompeo's predecessor Rex Tillerson was willing to use far tougher language during his visit to Delhi last July. 'Terror havens will not be tolerated,' he said at a joint press conference with External Affairs Minister Sushma Swaraj. Tillerson said he had asked the Pakistani leadership to take action against terror groups and said an enhancement in their capabilities might pose a threat to the government in Islamabad. Not that it made any difference to the Pakistani policies but he was willing, nonetheless, to stand up and be counted as India's ally.
Of course, this is not a matter of style between the burly Texan and his Bible-reading successor of Italian ancestry. The point is, much has changed in the past eight months. The US-Pakistan-India triangle has transformed under the magical touch of the Afghan endgame. It wasn't probably a coincidence that the day before Pompeo received the FS in Washington, Pakistan foreign minister Shah Mehmood Qureshi said Pakistan-US relations were 'improving'. To quote Qureshi, 'Our relations with the US are going to take a new turn. US-Taliban peace dialogues are underway in Doha and positive results are expected… India wants Pakistan's isolation on diplomatic level but it has failed.'
Washington took note of Qureshi's upbeat remarks and it probably prompted a call to him by US national security adviser John Bolton on Monday. At any rate, all that Pompeo would tell the FS was, according to the US readout, he 'affirmed that the US stands with the people and Government of India in the fight against terrorism'. The MEA press took note that 'Secretary Pompeo expressed his understanding of India's concerns regarding cross-border terrorism. They (Pompeo and FS) agreed that Pakistan needs to take concerted action to dismantle the terrorist infrastructure and to deny safe haven to all terrorist groups in its territory. They also agreed that those who support or abet terrorism in any form should be held accountable.'
What emerges out of all this is that, firstly, the US will not want to be seen bandwagoning with India to browbeat Pakistan, since at the present juncture, it has its own chestnuts roasting in a woodburner in Rawalpindi, and self-interests come first. Secondly, an India-Pakistan military escalation is to be prevented at all costs, which means that dialogue between the two adversaries is the only way out. Three, importantly, Washington has severe limitations in coercing Beijing (or Moscow) to shift its stance on Masood Azhar in a direction that might negatively impact Pakistani interests, but below that threshold, it will do what it can to promote the Indian project in the UN Security Council 1267 committee when it comes up today (March 13).
However, the Chinese foreign ministry spokesman's sharp remarks in Beijing, while replying to an Indian reporter regarding Azhar, left hardly any scope for optimism. The 'Wuhan spirit' has evaporated. Nonetheless, the Chinese truculence should be a rude awakening and prompt us to rethink the Azhar project. It is going to be diminishing returns from now on. Beyond as an act of atonement for the BJP government's abject surrender of Azhar in Kandahar some 20 years ago, with a VIP escort to boot, the ongoing enterprise in the UNSC never really made sense. What do we hope to gain by doggedly pursuing it?
There is a big picture that has emerged in the past month since the Pulwama attack — India's growing diplomatic isolation. Even in the New Cold War conditions, Washington is in unison with Moscow and Beijing to avert the immediate danger of an India-Pakistan war and to ensure that the Pulwama-Balakot chapter gets closed at the earliest. (The Russian media already estimates that the chapter is over.) For Washington, there is great urgency to move on with life. In fact, very little has been divulged about Bolton's call to Qureshi. The scheduling of Imran Khan's visit to Washington seems to be under discussion.
What comes as a total surprise is in regard of the Russian attitude. Moscow's mediation offer is not the point here, but its demonstrative attempt to be 'neutral'. The mega multi-billion dollar arms deals that the Modi government presented to Russian vendors, defying the threat of US sanctions, have apparently not placated the Kremlin. Curiously, the Kremlin-funded news channel RT featured a half-hour interview only last week with former Pakistani foreign minister Hina Rabbani Khar fulminating against Modi, Indian media and politics, and Hindutva meta-nationalism. Why are Russians so mighty upset? It must have something to do with money. Is it about Essar Steel not going to the Russian bidder? Or, about Saudi Aramco likely trumping Gazprom in the race for the highly lucrative Indian retail energy market? Or, about some pending arms deal? No matter the notorious Russian avarice, Moscow's choice to 'balance' between India and Pakistan when Delhi needed its support most is the unkindest cut of all.
Top News
Rana Gurmit Singh Sodhi, Manoranjan Kalia and Amanjot Kaur R...
Can meet at Hyderabad residence on Dec 6, says Kavitha
CM Bhupesh Baghel had earlier accusing the probe agency of c...
Secretary of State Antony Blinken emphasises that Biden Admi...
Gurpatwant Pannu, head of the banned terror outfit Sikhs For...