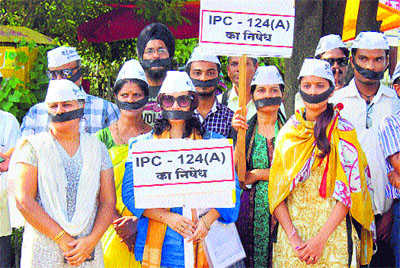 ON December 13, 2001, five heavily armed persons stormed the precincts of Parliament House and inflicted heavy causalities on the security staff. Eight security personnel and one gardener succumbed to the bullets of the terrorists and 13 securitymen and three others received bullet injuries. The entire nation was shocked by the grim battle that lasted for half an hour. All five terrorists were gunned down. One of the accused convicted by the Special Court for offences of waging war against the Government of India, conspiracy and collection of arms for waging war, etc. was Mohammad Afzal. He was awarded death sentence. The High Court of Delhi dismissed his appeal. In 2005, the Supreme Court recorded a finding that he was a member of the conspiracy, the preparation of explosives to be used in the pre-planned attack on Parliament was well within his knowledge, and he, in fact, procured the materials i.e. chemicals, etc. for facilitating the preparation of explosive substances and confirmed Afzal's conviction and sentence concurrently awarded by the courts below.
The death sentence was executed eight years later. The critics did not accept the judicial verdict as correct, with one calling it judicially sanctioned murder, while the other said it was a stain on Indian democracy, and yet another thought that he was innocent and tortured to extract a confession. The highest court itself admits that it is supreme, but not infallible. The fact that the family of Afzal Guru was denied the opportunity to meet him before he was hanged was criticised by the media and many dispassionate citizens as an inhuman omission on the part of the public servants concerned and a deliberate breach of longstanding practice allowed by law, frustrating the legitimate expectations of the condemned prisoner and his family. The violent reaction to his execution particularly in the sensitive state of J&K underlines the fact that he had a large number of supporters and sympathisers. Recent outbursts on the JNU campus and their echo in other places show that there are persons who continue to feel strongly that Afzal Guru was wrongly convicted. This raises serious questions involving the fundamental right to freedom of speech and expression and the permissible restrictions on the right.
Article 19(1) (a) says that all citizens shall have right to freedom of speech and expression. Freedom of speech and expression include freedom of the media — both electronic and print media. As the Supreme Court held in PUCL case: "The foundation of healthy democracy is to have well- informed citizens." As P Venkatrama Reddy J observed: "We must take legitimate pride that this cherished freedom has grown from strength to strength in the post-independence era. It has been constantly nourished and shaped to new dimensions in tune with the contemporary needs by the constitutional courts." However, Article 19(2) allows the operation of any law which imposes reasonable restrictions on the said right in the interests of sovereignty and integrity of India, security of the State, friendly relations with foreign states, public order, decency or morality or in relation to contempt of court, defamation or incitement to an offence. Criticism of a judgment of a court falls within the ambit of the law of contempt of court. Section 2(c) of the Contempt of Courts Act, 1971, defines "criminal contempt" to mean a publication of any matter which scandalises or lowers the authority of a court. Section 5 categorically declares that a person shall not be guilty of contempt of court for publishing any fair comment on the merits of any case which has been heard and finally decided.
A few decades ago, Lord Atkin of the House of Lords had declared: "Justice is not a cloistered virtue: she must be allowed to suffer the scrutiny and respectful, even though outspoken, comments of ordinary men." In Re S. Mulgaokar, VR Krishna Iyer J observed: "To criticise the judgment fairly, albeit fiercely, is no crime but a necessary right, twice blessed in a democracy. For, it blesseth him that gives and him that takes. Where freedom of expression, fairly exercised, subserves public interest in reasonable measure, public justice cannot gag it or manacle it, constitutionally speaking. A free people are the ultimate guarantors of fearless justice." Sabyasachi Mukerjee J dealing with the speech of P Shiv Shankar, the then union minister for law and justice, attributing partiality to the court towards economically affluent sections of the people observed: "Administration of justice and judges are open to public criticism and public scrutiny. Judges have their accountability to society and their accountability must be judged by their conscience and oath of their office, that is, to defend and uphold the Constitution and the laws without fear and favour." Criticising the Supreme Court judgment in the Bank Nationalisation case, the then union minister RK Khadilkar said such decisions did not enhance the prestige of the judiciary, that such acts on the part of the highest court would only encourage Naxalites who had rejected constitutional means to bring about socialism, and that the judgment would be treated with more and more contempt by ordinary people. Chief Justice Hidayatullah let him off with a caution, saying: "The court, like any other institution, does not enjoy immunity from fair criticism. This court does not claim to be always right although it does not spare any effort to be right according to the best of the ability, knowledge and judgment of the judges. They do not think themselves in possession of all truth or hold that wherever others differ from them, it is so far error. We are constrained to say also that while fair and temperate criticism of this court or any other court even if strong, may not be actionable, attributing improper motives, or tending to bring judges or courts into hatred and contempt or obstructing directly or indirectly with the functioning of courts is serious contempt of which notice must and will be taken."
Ram Dayal Markarha, an advocate, published a pamphlet casting aspersions against the Magistrate who had convicted his client, after he was subsequently acquitted on appeal. Rejecting his contention that it was a fair comment on a judicial verdict, the Supreme Court held: "Undoubtedly, judges and courts are alike open to criticism and if reasonable argument or expostulation is offered against any judicial act as contrary to law or the public good, no court could or would treat that as contempt of court.... No criticism of a judgment however vigorous can amount to contempt of court, provided it keeps within the limits of reasonable courtesy and good faith." It added "fair and reasonable criticism must be encouraged because after all none, much less judges, can claim infallibility". The law is clear, one may criticise a judgment severely in a manner that does not scandalise the court or lower its authority; but not the judge. Criticism should be well informed, supported by reason and not emotion. Well-meaning criticism seldom offends the author of the judgment. Judges are trained to take legitimate criticism in their stride. The power of contempt is exercised sparingly.
— The writer, a senior advocate of Supreme Court, is an expert on constitutional law
Top News
The former military ruler had left Pakistan in March 2016 fo...
After his failed misadventure in Kargil, Musharraf deposed t...
Military shoots down the surveillance balloon in Atlantic Oc...
The incident took place on Friday when Kambli reached his fl...
CM said only manual excavation of sand will be permitted in ...