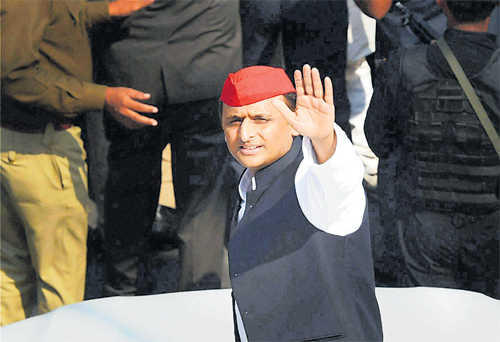 AS 2017 dawns, economic anxiety in India and strategic uncertainty abroad prevail. A number of inflexion points loom that can bring change for the better or worse.
In India, it is still unknown if the demonetisation will benefit or harm the BJP's electoral prospects. The RBI remaining silent on the quantum of money returned — with rumours it may equal or even exceed estimates of cash in circulation — escapes logic. Its independence as fiscal manager is being questioned openly, thus colouring the perception of India as a reliable destination for foreign investment.
The Election Commission, like the RBI, has compromised by delaying the election date announcement for the crucial elections, particularly in UP which gave the BJP a quarter of its total Lok Sabha members. In 2012, the announcement had come around Christmas. The schedule was adjusted to the government's needs, till after the PM's January 2 UP rally.
Meanwhile, the Samajwadi Party's infighting persists, with the son and CM Akhilesh Yadav confronting the ageing father. Akhilesh's gamble is that by rebelling he becomes the anti-incumbent, despite being the CM. UP's victor may lead the Opposition in the 2019 Lok Sabha elections. Thus the BJP must succeed to stymie young leaders like Arvind Kejriwal who can capture Punjab and Akhilesh Yadav who may re-conquer UP. If the BJP's defences are breached in UP, Punjab or Goa, the floodgates may open in the PM's home state Gujarat, where elections follow and unease is apparent after the post-Patel agitation.
The world too is at a crossroads. The Economist captures the Western dilemma in the Schumpeter column titled 'Slow growth, social division and populist revolt'. It argues that a 'wave of populism' is rapidly destroying the foundations of the post-war international order and is likely to generate instability. In 2017, elections will be held in Germany, France and perhaps Italy. Iranian presidential elections are in May and will be a plebiscite on the P5+1 nuclear deal. China also faces the 19th National Congress, which will address major leadership changes. Trump, of course, ascends to presidency on January 20.
German Chancellor Angela Merkel's defeat, France's Marine Le Pen's victory or the rise of disruptive forces in Italy can destroy the EU, fractured by the Brexit vote. Poland's populist government is already reversing two decades of democratic progress. The Economist dismally surmises that wealth is generated but captured by a few, new technologies destroy jobs that evaporate and the underclass is beyond help or redemption.
Consequently, leaders like Donald Trump are emerging, incoherent ideologically, but with populist prescriptions. Take his approach to Russian President Vladimir Putin. Although Richard Nixon, during the 1968 election, approached Vietnam to stymie President Lyndon B Johnson's peace initiative — as did Ronald Reagan's electoral team contact Iranians to delay the American hostages' release, which incumbent President Jimmy Carter desperately sought — the recent spat between President Barack Obama and Trump is unprecedented. For the US to name the Russian government as guilty of hacking and mass deport some diplomatic staff and Trump thereafter dubbing Putin not retaliating 'very smart' is breaching barriers between domestic politics and foreign policy.
The 'America First' slogan of Trump has yet to be translated into policy and thus leaves allies and foes guessing. If the US core interests are redefined, all trade and strategic partnerships are up for recalibration. First is Trump's desire to recalibrate US-Russia relations. It is unimaginable that Putin would not treat that as US acceptance of Russia's core interests in former communist countries abutting its border, including annexation of Crimea, reduced support for the Ukrainian government and the Baltic republics, and the new red lines between NATO and Russia. In exchange, Trump would want Russia to align its West Asia policy largely with US interests, rein in Iran and not converge strongly with China.
Trump's China policy could thus reverse the 1972 detente whereby the US aimed to exacerbate Sino-Soviet differences and isolate the USSR for easier containment. Now, Russia is to be weaned away from China by accommodating its interest in the West. This is premised on Putin naively trusting the US. President George Bush also had at one stage gazed into 'Putin's eyes' and found a kindred soul, a position from which he later recanted. Putin will take a call depending on whether oil and gas prices stabilise and the US is seen as unable by its shale gas production to undercut the OPEC plus cartel.
Russia's new foreign policy concept paper has some significant modifications compared to the past. One, it emphasises status projection i.e. restoring Russian prestige and power and push back against Russian containment. Two, it validates the wise use of military power — like it has in Syria — to achieve the first. Three, it emphasises international law, challenging new concepts like Responsibility to Protect (R2P) that NATO has used to justify intervention in states. This does not sound like a pliant Russia about to be US' B-team.
Concomitantly, Trump has challenged Chinese trade practices. Can he do that while ignoring Chinese assertiveness in the East and South China Seas? Mixed signals are being tested by China, seizing a US maritime drone in international waters, and are confusing ASEAN countries. Some, like President Rodrigo Duterte of the Philippines, are breaking ranks with the US.
Thus as liberalism, free trade and less government is challenged globally and democratic institutions seem dysfunctional, it is for defenders of those values in politics and civil society to circle their wagons. In the US, in 1938, the government spent a quarter of the GDP on itself. Now the number is 38 per cent in US, 51 in Italy and 57 in France. In India, under the garb of chasing black money and terrorists, tax inspectors are being unleashed. People's trust in government machinery being low, privacy issues cannot be ignored in the mindless pursuit of e-transactions, handing personal data to private players and governments for possible misuse or leak.
It remains to be seen if a Merkel, despite Russian danger of more hacking to undercut her, an Akhilesh, overturning caste and clan, can turn the tide. As Shakespeare said sometimes peoples and leaders must 'Meet the time as it seeks us'.
The writer is a former Secretary, Ministry of External Affairs