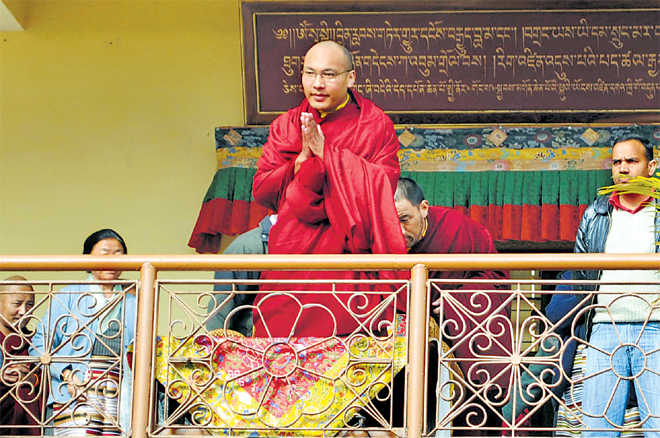 P Stobdan
AS the Dalai Lama turned 83 this year, the main plot-line of Tibet is noticeably shifting to the 17th Karmapa — Ogyen Trinley Dorje — who suddenly disappeared from the radar screens of Indian intelligence in May 2017. Amidst rumours, the Karmapa was finally traced in Europe and later in the US where he has been staying on the pretext of poor health. He is staying in New Jersey's Wharton State Forest area, on a 150-acre farm estate gifted to him by a Chinese/Taiwanese couple.
Recent media reports suggest that he may not return to India where he spent his last 18 years. Earlier, he promised to return by June 2018, but the dateline is already over. Sources say there are signs of tension among intelligence circles after his disappearance.
The Karmapa also made a daring escape from Tibet in 1999, which had caused huge embarrassment to the Chinese government. The jostling for control over the 17th Karmapa has heightened among the Chinese government, Dalai Lama's administration and the Indian establishment after his flight.
His sudden arrival in 2000 had raised many eyebrows in India. Many believed his escape was facilitated by the Chinese. Indian media was quick to label him as a Chinese spy. Others believed it was ostensibly masterminded by none other than Dharamsala itself. In 2001, the Karmapa feared the Chinese may use him for political purpose to separate Tibetans from the Dalai Lama and promised not to return to Tibet until the Dalai Lama returned. In India, he was confined to the Gyuto Tantric monastery near Dharamsala under the surveillance of the Central Tibetan Administration (CTA) and Indian intelligence agencies. The government had imposed travel restrictions on him, banning him from visiting the Rumtek monastery built by his predecessor.
In 2011, he was implicated in a controversy over the illegal recovery of a large stash of cash, including Chinese currency, fuelling suspicion whether he was a monk or a Chinese plant. And yet, considering his importance, the Tibetans in exile propped up the Karmapa's stature to make him the next powerhouse to play a pivotal role in the post-Dalai Lama scenario.
Clearly, the Karmapa's escape has caused embarrassment to the CTA, especially the Dalai Lama, for he has been vehemently defending the Karmapa's authenticity and credentials. It is an embarrassment for the government as well, because the decision to revoke travel restrictions on him by the Cabinet Committee on Security (CCS) in 2000 was taken only recently — possibly in spite of intelligence agencies cautioning against it.
Not surprisingly, both New Delhi and Dharamsala tried their best to get him back. They sent a number of special emissaries to convince him to return.
As regards what may have triggered the escape, the Karmapa made some stunning revelation in a message through video telecast from the US in March, wherein he said his childhood was manipulated by others; he was denied proper education both in Tibet and India; he virtually lived a prisoner's life in the Gyuto monastery. He claimed that his own Karmapa sect was torn into rival factions and internal strife. In addition, pressures were brought to bear on him to play a political role against his wish. He confessed to his inability to meet the obligation of the Karmapa title as he never had any high "qualities and realisations" of being the 17th Karmapa, and hence, he desired to "give up" and live an "ordinary life".
The fact that he had to webcast on his "troubled life" from the US set the alarm bells ringing. Initially, the Karmapa cited his concurrent medical problem as reason for his prolonged stay and denied any "insidious plans".
The Karmapa's escape and confession comes at a critical juncture, on the heels of Xi Jinping becoming the lifetime President; the declining interest on the Tibetan issue in the Western world, as well as in India; and the ageing of the Dalai Lama.
The Karmapa shared his feelings with humility and honesty. Yet, he wasn't clear about what he intended to do in the future except for subtle hints. First, he fears he may not get a fair deal if he returns to India in terms of movement. Second, he will have to confront stiff competition from a rival Karmapa. Third, sources say he was disappointed over multiple hindrances to get suitable land for his Tsurphu headquarters in India. In fact, this, besides the ban on Rumtek, may have been the key sticking point. In a belated attempt to woo him back, the top security panel — CCS — in March this year allowed him to visit Sikkim, except the Rumtek monastery. Sources say he was finally offered a plot in Dwarka, New Delhi, at the cost of Rs 22 crore an acre.
Against all these odds, the Karmapa might be weighing the option of seeking asylum in the US, so he could travel freely to China and elsewhere.
Anyhow, he would rather play the waiting game from outside where he has a larger audience with a huge network of followers. Possibly, he may be trying to buy land in the US to set up the Karmapa seat in exile.
To be sure, his escape provides propaganda fodder to China — look, what India does to Tibetan lamas!
If the rumours are to be believed, the Karmapa may also opt for returning to Tsurphu monastery. Last year he talked about his desire to visit Tibet to meet his parents.
All in all, there is little possibility of Karmapa returning to India. The assumption that high Tibetan lamas offer a degree of strategic depth to India in the Tibetan plateau vis-à-vis China is misplaced. On the contrary, the Chinese may already be acquiring a reverse strategic depth in India.
The argument that various sects of Tibetan Buddhism and their lamas of Kagyu, Geyluk, Sakya, Nyingma, etc., control the Indian Himalayan borderland is only a myth. Sectarian affiliations across India's borderland with Tibet have nothing to do their historical and political loyalties towards India. As such, any undue keenness for India to seek high-stake bidding for the Tibetan lamas will remain an exercise in futility.
A former envoy and expert on Trans-Himalayan affairs
Top Stories