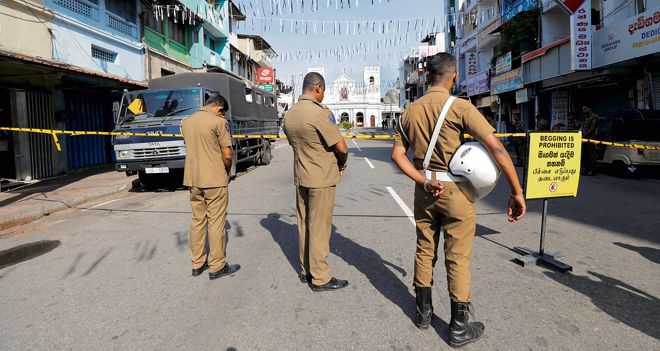 Vappala Balachandran
Ex-special secretary, cabinet secretariat
This piece is not meant to prejudge the ghastly serial suicide blasts at eight locations in Sri Lanka on Easter Sunday. Nor is it to influence the special investigation committee headed by a Supreme Court judge which President Maithripala Sirisena has appointed. As a security professional, my intention is only to focus on certain oft-experienced slippage between intelligence generation and preventive steps. This is also based on my experience in dealing with the aftermath on 9/11 and also as a member of the two-man high-level inquiry committee which probed police failures during 26/11.
Some Indian papers have claimed that Indian intelligence had alerted Colombo on April 7 on the likelihood of such attacks, which the Sri Lankan police chief had circulated on April 11. Some sections of the Sri Lankan public have resented this as well as BJP's political statements as 'Sri Lanka's tragedy becoming India's election fodder'. I would like to strongly emphasise that Indian agencies or politicians need not be sanctimonious about this since the 26/11 attacks with nearly 200 deaths could have been prevented had our agencies taken some proactive measures after repeated terror alerts since 2006.
My story starts in February 1994 when I returned to New Delhi from a four-year 'special assignment'. Former PM Rajiv Gandhi was assassinated by the LTTE on May 21, 1991. Justice JS Verma Commission, set up on May 27, 1991, to probe the lapses in security provided to him, had already submitted the report. The Milap Chand Jain Commission, which was constituted on August 23, 1991, to probe the conspiracy angle, including the sequence of events and 'all other matters' not covered by the Verma Commission, was summoning intelligence chiefs to get verbatim field intelligence reports on the assassination. This was proving to be difficult as intelligence agencies had never submitted original field reports even to the courts.
I was entrusted with the job of streamlining our technical intelligence collection from scattered stations and connecting it with analysis branches in other areas to cut delays in dissemination to the stakeholders. This was necessary as the Jain commission had later observed that our intelligence agencies had the technical intelligence on tapes on the likely assassination, but could not decode it due to technical reasons. I soon found out that technology had lulled us into a false sense of wellbeing, especially considering that not more than 20 per cent of technical intelligence is converted into actionable intelligence all over the world due to deciphering difficulties and language barriers.
Within a short time we were able to devise a faster methodology in extracting actionable intelligence from these units. In September 1994, we successfully intercepted an LTTE-coded message which clearly indicated that it was organising another assassination on the same lines as Rajiv Gandhi. The word 'Gamini' had appeared several times, the size of the waistcoat to be worn by the human bomb was specified, and even the venue, which was an election meeting. We assessed that it was meant against Gamini Dissenayaka (UNP) who was a presidential candidate in the October 1994 presidential elections after President Ranasinghe Premadasa was assassinated by the LTTE in 1993. We immediately conveyed the details to the Sri Lankan intelligence through approved channels.
But we were shocked when he was killed along with 50 others during an election meeting on October 24, 1994, in Colombo, on the same lines as Rajiv Gandhi's assassination. Ordinarily, a terrorist organisation changes the methods of operations after a major event to cover their tracks. But the LTTE was so brazen that it did not do so. It used the same method of operation to convey their HQ decision to assassinate Dissenayaka. We received no convincing reply from Colombo why our alert was not acted upon.
Nine years later, after my retirement, I was invited by the Washington DC-based National Advisory Council for South Asian Affairs to speak at a security experts' seminar in 2003. Delegates from all South Asian nations, senior State Department officials and think tank experts were present. This was to assess President George W Bush's 'war on terrorism' and his post 9/11 scheme of overhauling American intelligence. My paper was on the importance of 'Terrorism-Intelligence Arbitration'. I had mentioned the Gamini incident as an example of our inability in converting available intelligence into preventive action. A senior Sri Lankan diplomat was shocked to hear me as Sri Lankan government officials were under the impression that there was no prior intelligence on the assassination.
Unprocessed intelligence becomes policy for action only after an alchemic process of collation, analysis, dissemination, arbitration, policy adjudication and decision making. Any inter-space in this process will lead to a situation in which intelligence, including technical pointers available in some form, does not result in policy or action. This leads to an impression of 'intelligence failure'. Very often such arbitration or synthesis of intelligence does not happen. There are institutional inadequacies. A country's security establishment may lack an effective oversight mechanism on intelligence. Even where an oversight system does exist, it may not be effective to coordinate between different agencies or within an agency itself, as it happened within the FBI before 9/11.
Our 26/11 inquiry found that intelligence received from outside was merely passed on to the cutting edge without any local interpretation. Our committee recommended that senior police management should interpret intelligence for specific local action.