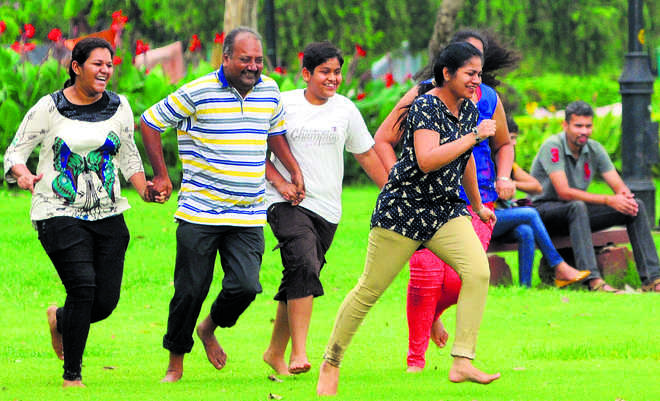 Salil Desai
If you are a member of India's educated, hard-working middle-class, who spends his / her time slogging away five or six days a week, averaging 10 to 12 hours a day, then there is an above 90 per centprobability that your weekend plans include the following activities:
Watching a movie at a multiplex, while munching on exorbitantly priced pop-corn.
Window shopping and aimlessly wandering through a glitzy mall or buying stuff you likely don't need.
Gulping down food and drink at your favourite restaurant or if you are an adventurous foodie, trying out some new watering-hole and cuisine.
Attending this or that party in which you either really have or pretend to have a good time.
On longer weekends, which are quite frequent in our country given the astonishing number of public holidays and festivals, you would probably have booked yourself on a short weekend getaway to a nearby tourist spot, paying a mini-fortune, given the fact that many of your ilk have had the same idea.
During vacation time — summer, Diwali holidays and Christmas/New Year breaks — you will probably head off to a faraway foreign or Indian destination for a week or ten days, clicking away to glory so that you feast off the experience for days, on your social media pages.
When you are doing none of the above, you might be spending the rest of your leisure time, engaged in sundry pujas or related cultural rituals, attending weddings or social functions of relatives, friends, colleagues, neighbours and acquaintances.Indeed, that is more or less the matrix of middle-class Indian existence — work on weekdays and hackneyed recreation on weekends.
Sedentary activities
Prima facie, what could be wrong with the leisure side of the matrix? Entertainment, food and drink, shopping, partying, travel and revelry are perfectly natural and respectable forms of enjoyment for mankind. People are entitled to treat themselves to fun from available avenues of recreation.
Yet, it is disconcerting to observe that an overwhelming proportion of the Indian middle-class remains lazily hooked only to these sedentary and consumerist forms of leisure activities, showing no signs of evolving other interesting, wholesome varieties of ways to engage their free time.
For instance, sports and other outdoor physical activities of any sort are rarely a part of the Indian middle-class leisure matrix. Regular physical activity might be associated with fitness and exercise, but is simply not considered fun. Families in India almost never go out together to play a game or to enjoy any recreation that involves the vigorous use of limbs. Except on a picnic or a visit to a water or amusement park, the Indian middle-class, by and large, simply shuns bodily exertion as a means of pleasure or leisure. Agreed, much of this has to do with our lack of sports culture, unavailability of grounds, empty spaces and facilities for games in our crowded cities and, of course, expenses involved in accessing high-end physical recreational experiences such as different adventure sports. But if there was enough demand from the middle-class, wouldn't affordable facilities have sprung up everywhere, just as multiplexes, malls, restaurants and hotels have mushroomed and flourished? Perhaps, the only occasion when the Indian middle-class shows any enthusiasm for non-sedentary recreation is during showpiece hyped-up events such as international city marathons, in which participation presents more of a selfie opportunity coupled with the feel-good atmospherics of being associated with a major event.
Go for physical recreation
What would be a real shift is if the Indian middle-class starts embracing the culture of physical recreation, rather than confining itself to sedentary leisure activities. Whether it's playing games, trekking, boating, fishing, bird-watching or just about any activity that makes them break into a sweat and discover the joys of bodily exertion, the people need it more than ever now if we are to evolve into a healthier, energetic society with a diverse range of interests.
Another activity that the Indian middle-class never includes in its leisure matrix is any form of community or socially relevant service. Rarely do you see them undertake with enthusiasm even the mildest form of locality or community improvement initiative as a way to spend at least a few weekends. Yes, once in a while, some of us participate in a tree plantation or some such community drive of token value, but as a rule, it is not really our idea of a stimulating pastime. That's a pity, because the Indian middle class has shown us at least in one instance that it can participate whole-heartedly and very effectively in a socially relevant outreach — the Pulse Polio programme, in which Rotary Clubs, largely made up of middle-class businessmen and professionals, made a great contribution, taking the vaccine door to door.
Given our moribund cities, there is ample scope for community or social service that can improve the standard of our daily lives, our neighbourhoods or localities, resolve local problems, create awareness and sustainable citizen initiatives, if only the middle class approaches it as an alternatively fulfilling way of using one's leisure time, at least on some weekends. In many Western countries, such activities have been adopted and fostered as a part of middle-class lives, just like other pastimes.
Can't members of the Indian middle-class too enrich themselves individually and the society collectively by adding both physical recreation and community improvement activities to their leisure matrix in a big way? Indeed, India needs not just a prosperous middle class, but also one which looks beyond passive, sedentary consumption.
The writer is a crime novelist and filmmaker
Top News
CM, Dy CM lose their seats | Congress tally reduced to one
Says parties must learn from defeat | Winter session begins,...