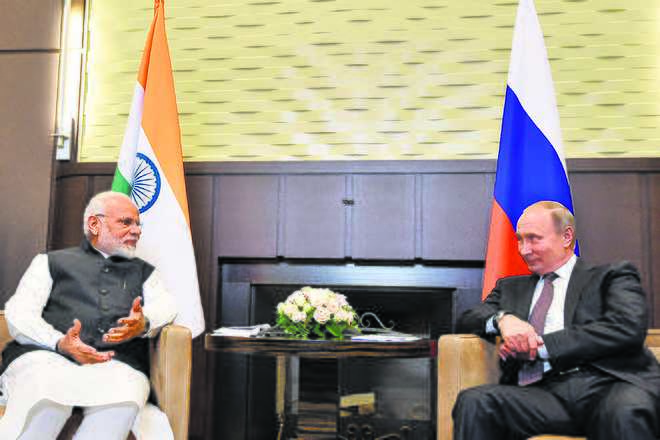 MK Bhadrakumar
Former ambassador
The annual India-Russia summit in New Delhi of Friday (today) is a watershed event. The Kremlin announced on Tuesday that "the key feature" of the summit between visiting Russian President Vladimir Putin and Prime Minister Narendra Modi will be the signing of the $6-billion mega contract on the S-400 missile defence system. The cloud of uncertainty has lifted.
The S-400 deal is a big transaction and the missile system, which is rated as unique in its category, will be a "force multiplier". But then, it goes beyond that. What comes to mind is a Matryoshka ("mother"), the Russian nesting doll that splits in half at midsection and opens to reveal another smaller doll nested within and so forth. The fact of the matter is that there are geopolitical ramifications, too, in the S-400 deal, as is evident from the immense pressure from Washington to stop Delhi on its tracks.
India-Russia defence ties
India-Russia defence cooperation is poised to get a quantum jump. The two countries are expected to sign defence deals worth over $10 billion during the summit. These include, apart from five S-400 air defense missile systems worth over $5.5 billion, four 1135.6 Krivak-class frigates worth $2 billion, $1 billion worth of light utility KA-226 helicopters and a contract agreement for the manufacture of 200 Kamov helicopters at an Indian facility.
Besides, both countries are expected to sign a government contract for the licensed production of over 6,00,000 AK-103 assault rifles for the Indian Army in an Indian ordnance factory. Then, there is the hush-hush leasing of a third Akula-class nuclear-powered attack submarine from Russia in a $2-billion deal.
The Achilles' heel in India-Russia relationship has been its paucity of economic content. But that is also changing. One sure sign is the confidence with which the two countries have set a revised target of $50 billion in two-way investment by 2025, having already surpassed the original $30 billion target with seven years to spare.
Crucial energy deals
Taking into account this spurt of interest in business and industry, a new forum has been constituted — Annual Business Summit — which is holding its first session on Friday in Delhi. Energy has emerged as a key sector. Indian investment in Russia's oil and gas sector has exceeded the $10-billion level, while a Russian-led consortium has committed investment of $13 billion in India's Essar Oil. Expectations are high that on the sidelines of the Modi-Putin summit, some crucial energy deals could be signed, especially ONGC Videsh making investment in a joint development project with Gazprom on the shelf of the Pechora and Okhotsk seas in the Russian Far East.
The upshot of all this can be summed up as a determined effort by the two countries to restructure the relationship and inject new dynamism into it. Both sides prioritise the relationship as a key template of their foreign policies. From the Indian side, it is an open secret that PM Modi took a personal interest in stopping the steady atrophy of the Indian-Russian relationship through the UPA rule and to rivet it once again from a historical perspective as an anchor sheet of India's foreign policy.
Headwinds blow from Washington
This must be counted as Modi's finest foreign policy legacy — alongside his Wuhan initiative with China. Modi's imprimatur is vital because there is also a complex backdrop of Russian-American tensions in which this is unfolding. For the first time in the history of the Indian-Russian relationship, it has run into strong headwinds blowing from Washington in the nature of a concerted US strategy to weaken and undermine it. This needs some explaining.
One of the bitter legacies of the UPA rule has been the manner in which the concept of "interoperability" was allowed to creep into India's defence ties with the US — although the platform of the so-called Defence Trade and Technology Initiative (DTI) operating since June, 2012 was only meant to be a focused effort to unlock US regulatory hurdles to the export of technologies to India. The US succeeded in inserting "interoperability" as a touchstone of India's defence transactions.
Plainly put, Washington's contention today is that the S-400 deal with Russia would "complicate" interoperability between the US and Indian militaries! Mac Thornberry, chairman of the House Armed Services Committee of the US Congress, was fairly blunt in underscoring this during his visit to Delhi in May: "There is a lot of concern in the US in both the administration and the Congress regarding the S-400 system. And there is concern that any country… that acquires that system will complicate our ability to work out interoperability. So that is completely apart from any sanctions legislation (against Russia). I hope the (Indian) government will take its time and consider very carefully the acquiring of that system because of the difficulties it may pose for us."
Such an appalling erosion of India's prerogative to source weapons (with its own money) for its armed forces should never have happened, because fighting wars in league with NATO countries is not even India's policy. But, regrettably, it did. Therefore, Modi's decision to go ahead with the S-400 deal is in effect a restoration of India's sovereign prerogative to work on its defence-preparedness. Whether this is based on compromise between Washington and Delhi remains unclear. But at any rate, Modi has created space for the expansion of India's partnership with Russia. In the present international milieu, for India-Russian partnership to optimally galvanise India's rise as a great power, India-China normalisation also becomes crucial. The tidings seem hopeful since Modi's Wuhan initiative in April (which was followed by his meeting with Putin in Sochi). China reduced its deployment significantly since then on the border with India.
Top Stories