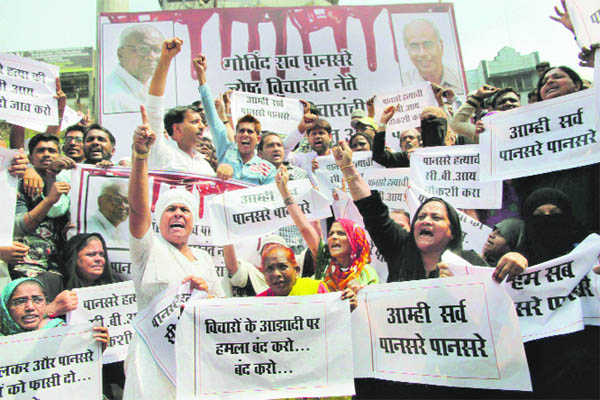 A year ago on August 30, Prof. M M Kalburgi, nearing 77 years of age, was having breakfast at his house in Dharwad, Karnataka, where he had settled after a long and purposeful academic life. A renowned scholar and author/editor of over 100 books, he was also Vice Chancellor of the prestigious Kannada University in the historic town of Hampi, not far from where he had settled down for good.
That day, Mrs. Kalburgi opened the door and saw two young men claiming to be the professor's students and wanted to have a word with him. Unsuspectingly, as she was offering them tea, they fired pointblank into Prof. Kalburgi's chest and forehead before making their getaway. The professor died as he was being rushed to a hospital.
Why would a 77-year old scholar be assassinated in this way? The same disregard for age was in play in the killing of the 81-year-old Comrade Govind Pansare six months ago in Kolhapur, about 200 kms north of Dharwad. And of Dr. Narender Dabholkar, 68 years, in Pune, 18 months before Comrade Pansare was shot dead. Pune is another 230 kms north of Kolhapur. All three places lie on almost a straight axis.
To mark the first anniversary of Prof. Kalburgi's martyrdom, many writers, some of whom returned their Sahitya Akademi and other literary awards after his assassination in a wave of 'Award Vapsi' along with hundreds of admirers and activists from Karnataka will gather at the house of Prof. Kalburgi in Dharwad to pay homage, hold a silent march besides a day-long discussion on the present environment for writers and other artists from different fields. Families of the three assassinated rationalists will also join the silent procession to demand justice, which is still elusive.
A look at the illustrious life of Prof. Kalburgi shows how deep he was steeped in the culture of his land: He topped the Kannada M.A. examination from Karnataka University and received a PhD in Kannada on one of the earliest available works in Kannada on rhetoric, poetics and grammar. He headed a chair in honour of a 12th-century Kannada philosopher, statesman and poet and edited 15 volumes of rhythmic writing in Kannada that flourished in the 11th and 12th centuries. Besides being on Kannada Sahitya Academy's advisory board, he headed a trust established in the memory of Jnanpith awardee Dattatreya Ramachandra Bendre.
He was awarded the National Sahitya Akademi award for his collection of essays Marga 4 besides a string of other awards for literary excellence. But his rational interpretation of Kannada ancient and medieval literary texts earned him many enemies from his conservative Lingayata community. In 1989, he was accused of misinterpretation and was given security which he later asked to be withdrawn. Kalburgi made peace with his detractors by withdrawing the controversial passages but later said this was to 'save his family' and compared the step back as 'committing intellectual suicide', a term paraphrased later by Tamil writer Perumal Murugan.
Kalburgi could not contain his rational views about literature and society and supported the eminent Jnanpith awardee U R Anathamurthi against the rise of political Hindutva as also the anti-superstition bill in Karnataka which was also backed by Dr. Dabholkar in Maharashtra. This set the Hindutva pack of VHP, Bajrang Dal and Sri Ram Sena against him and Anathamurthi.
Right-wing Hindutva groups did not stop after Kalburgi's assassination but also threatened writer K S Bhagwan and the present Vice Chancellor of Kannada University Mallika Ghanti.
While right wingers kept on threatening rationalists, the killing of Kalburgi, Dabholkar and Pansare was the tipping point.
It all started with Hindi writer Udai Prakash writing to the President of Sahitya Akademi just after Kalburgi's assassination. Its silence made Udai Prakash announce the return of his Sahitya Akademi award. More writers followed and it almost became a movement with the return of the award by Jawaharlal Nehru's niece Nayantara Sehgal at the age of 88 years. Nearly 40 awardees then turned in their awards over the next three months. These included the 91-year-old Krishna Sobti who also renounced her Sahitya Akademi fellowship.
Many award returnees were writers in Hindi and Punjabi such as Gurbachan Bhullar, Surjit Patar, Waryam Sandhu, Manglesh Dabral, Rajesh Joshi, Ashok Vajpayee and Ganesh Devy. Soon scientists, film makers, other writers and artists also joined the protest including P M Bhargava, Shekhar Pathak, Dalip Kaur Tiwana, Anand Patwardhan, Arundhati Roy, Saeed Mirza and Kundan Shah.
Rather than appreciating their concerns, The Hindutva proponents in power derided them and, in many cases, resorted to abuse and threats to their wellbeing.
Things did not change, however. The Union Government became intolerant to other points of view in the University of Hyderabad and JNU, leading to the suicide of Rohit Vemula and the arrests of Kanhaiya Kumar, Omar Khalid and Anirban Bhattacharya in JNU. That is why the writers and other concerned citizens are gathering at Dharwad on 30th August. To think over what to do further!
(The writer retired as Professor from JNU and had returned his Sahitya Akademi Translation Prize)
Top News
Said the issue is of electric point machine, a vital device ...
Work is on so that railway services on the main trunk line c...
The flight with Union Minister Rameshwar Teli on board exper...
The passport given to Mehbooba is valid till May 31, 2033
This came days after several leaders gathered in Jalandhar t...