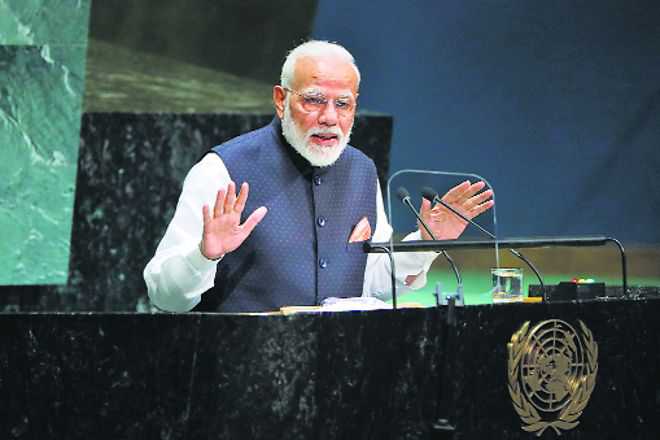 G Parthasarathy
Chancellor, Jammu central university, & former high commissioner to Pakistan
Visits abroad by India's Prime Ministers have historically been driven by geopolitics, economics, or by energy requirements. Modi's visit to Houston was, however, 'diaspora-driven'. It was the rising profile and growing political activism of the three-million-strong diaspora in the US, which set the stage for an unprecedented get-together. 'Howdy, Modi!' in which 50,000 members participated, featured the leaders of the world's most populous and powerful democracies — PM Modi and President Trump.
As Modi smilingly noted, world leaders greeted him at the UNGA in New York with the words, 'Howdy, Modi'! The Houston meeting had its importance for Trump also as he faces challenges in Texas and elsewhere, ahead of the presidential elections next year. Interestingly, the BJP, which has had a growing presence in the US and only during and after the 1970s 'Emergency' in India, now has growing support from the diaspora in countries like Myanmar, Mauritius and the Gulf.
Modi realised it would be best to get his visit started with offers of expanding business and investment cooperation with the dynamic energy industry of his hosts. His visit was marked by the signing of a $7.5 billion MoU by Petronet (India) with US firm Telurian Inc. involving the purchase of 5 million tonnes of gas annually, with a $2.5 billion investment by Petronet. A meeting with senior executives of US oil companies followed. The US is today the largest producer of oil and gas, radically changing the dynamics of global production. It is also emerging as a significant supplier to India, reducing India's dependence on supplies from the volatile Persian Gulf region.
Modi's focus shifted to geopolitics in New York, apart from further interactions with US business tycoons. US companies are increasingly moving out of China after Trump's trade sanctions following allegations of Chinese business malpractices. India should not lose out in exploiting new opportunities, as US businesses look for new partners. While there was optimism about resolving some, if not all, trade-related differences with the US, it is clear that further negotiations involving mutual concessions are required to resolve key issues. Resolving these differences, hopefully soon, will end US objections to restoring the WTO's Generalised System of Preferences (GSP) for imports by India, which was done unilaterally by the Trump administration.
India was seen as being obstructive in international efforts to conclude a global agreement on climate change for decades. Modi, however, made drastic changes in our negotiating strategy, which led to the signing of the Paris Accord. He took the position that developing countries should not set unrealistic conditions in negotiations on this crucial issue. This change is a major reason why India is today seen as a responsible global leader on issues of climate change. Trump, however, deservedly faces criticism for refusing to cooperate in discussions on climate change.
Imran Khan arrived in New York with only one aim. He was desperate to persuade the international community to condemn India on the Kashmir issue and its alleged violation of human rights. Pakistan's earlier efforts to get India condemned in the UNSC and thereafter in the UNHRC had failed. China was the only country that backed Pakistan openly, with the British duplicitously backing the Chinese. While there were some noises against India by Turkey and Malaysia, the General Assembly was aghast at Imran's long-winded diatribe against India when he held out the threat of a nuclear conflict!
Modi's address at the UNGA was characterised as 'measured'. Rather than dwelling on bilateral or partisan issues, he focused on issues of global concern like climate change. He stressed on India's commitment to addressing issues of concern to the common man, like medical care and drinking water. He also alluded to the message of peace and harmony of the Buddha. But we should realistically recognise that the international community will remain focused on how successfully, and soon, we restore normalcy in the Valley. This issue has to be imaginatively addressed.
A young First Secretary in our UN Mission (New York), Vidisha Maitra, exposed details of Pakistan's actions as a state sponsor of terrorism. She pointedly alluded to the epic surrender of the Pakistan army in Dhaka in December 1971 by Imran's kinsman, Lt Gen AAK Niazi: 'Pogroms, Prime Minister Imran Khan Niazi, are not a phenomenon of today's vibrant democracies. We would request you to refresh your rather sketchy understanding of history. Do not forget the gruesome genocide perpetrated by Pakistan against its own people in 1971 and the role played by Lt Gen AAK Niazi. It is a sordid fact that the Hon'ble Prime Minister of Bangladesh reminded this Assembly about earlier.'
India must not rest on its laurels because of what transpired in Houston and New York, as serious challenges lie ahead. We cannot but be concerned about China's recent actions on J&K. China has steadfastly backed Pakistan in the UNSC, UNHRC and UNGA. It had earlier adopted a neutral stand on J&K after Deng Xiaoping took over in 1978. China demonstrated this policy when its former President Jiang Zemin took a neutral stance on J&K, instead of automatically supporting Pakistan as it used to earlier, during his visits to India and Pakistan in 1996. Moreover, the US and China took an almost similar stand during the Kargil conflict in 1999, when they exercised diplomatic pressure on Islamabad to end its military misadventure and respect the Line of Control.