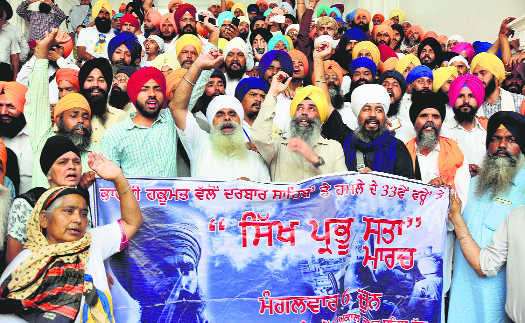 Ajai Sahni
A FLURRY of Khalistani extremist mobilisation across several countries, particularly in the West, as well as warnings of impending activity, including a terrorist threat within India, has built up ahead of India's 72nd Independence Day. In some measure, this is 'routine': each major national event in India is ordinarily an occasion for terrorist and extremist formations of different hues to seek to orchestrate incidents and organise protests to draw attention to their cause. For years now, each Independence Day has been preceded by warnings of terrorist attack; yet each year has passed largely free of incident, except in regions already and significantly afflicted by ongoing terrorist movements.
This time around, intelligence agencies have warned that two terrorists, Lakhwinder Singh and Parminder Singh, who escaped from Nabha Jail in 2016, had been tasked to stage an attack — most likely on Parliament — on August 15. While this constitutes a proximate threat, there have been wider and disturbing trends, including an effort at global mobilisation of the Sikh community under the aegis of the 'Referendum 2020', seeking a 'sovereign state of Khalistan', with polling purportedly to be held in major cities of North America, Europe, Australia, New Zealand, Malaysia, Singapore, Kenya, the Middle East, and ostensibly, Indian Punjab. The movement has planned a 'London declaration' rally at Trafalgar Square on August 12, three days before India celebrates her Independence Day.
The front organisation in charge of the rally and the 'referendum' is the Khalistani Sikhs for Justice (SFJ), but the coordinating presence of Pakistan's ISI is evident in rallies supporting the movement across several cities, prominently including Vancouver, Frankfurt, New York and London. Interestingly, the SFJ has offered to 'sponsor' youth from Pakistan to attend the London rally.
India has taken up the issue with the UK government, but reports indicate that London has little intention of preventing the demonstration. This is unsurprising, given the long history of Western states' support to extremist formations, political asylum to a number of terrorist fugitives, and an extraordinary freedom of political activity, mobilisation and recruitment for movements of hate, as long as this is considered expedient within a domestic political context, or within a foreign policy calculus.
Such support had come into sharp focus during the visit of Canadian PM Justin Trudeau to India in February. Reports indicate that Punjab Chief Minister Amarinder Singh had initially resisted meeting Trudeau and his delegation, protesting Canada's policy of support to Khalistani extremists, as well as the presence of such supporters among Trudeau's cabinet, including defence minister Harjit Sajjan, who was part of the delegation. South Block eventually prevailed upon the Chief Minister to meet Trudeau. Amarinder Singh took the opportunity to put across his very strong views on Khalistani activities in Canada, to hand over a list of nine wanted terrorists in that country, and to extract a 'categorical assurance' that Trudeau would crack down on Khalistani extremism and hate crimes.
Significantly, after Trudeau's return to Canada, just one of the nine on Amarinder Singh's list, Hardip Singh Nijjar, was briefly arrested, questioned, and then released. Nijjar is an accused in a 2010 bomb blast case and is also wanted in cases relating to the conspiracy to kill Hindu leaders in 2016. Known to be involved in the recruitment and training of Khalistani terrorist volunteers, Nijjar is one of the prominent supporters of the 'London declaration', and is reported to have posted 'Referendum 2020' billboards across Vancouver.
Terrorism in Punjab was defeated in 1993, after nearly a decade and a half of extreme violence. Nevertheless, the 'tattered rump' of terrorist organisations (in the words of KPS Gill, the man who led the counterterrorist campaign) survived in Pakistan, and in havens in various Western countries, particularly Canada and the US. Much of this, however, manifests itself in fragmented protests and only very occasionally in terrorist attacks in India. The year 2016-17, however, saw a chain of 'target killings' by Khalistani terrorists, with at least nine persons killed (South Asia Terrorism Portal data) and two injured in 11 attacks, which are being investigated by the NIA. Early investigations by the Punjab Police had resulted in the arrest of the principal 'shooter', Hardeep Singh, aka Shera, as well as key conspirators Jagtar Singh, aka Jaggi, and Taljit Singh, aka Jimmy, both from the UK. Further investigations exposed a network of handlers, conspirators and financers across the UK, Canada and Italy.
There are other indices of rising Khalistani mobilisation. According to sources, between 2009 and 2016, 15 Khalistani terrorist modules were neutralised by the Punjab Police. Between 2017 and June 2018 alone, 11 such modules were indentified and neutralised, resulting in the arrest of some 50 terrorists and the identification of 21 Khalistani handlers abroad.
In addition to the target killings, principally of Hindu leaders (but including one Christian pastor), which were intended to provoke communal polarisation and violence in Punjab, the Khalistanis abroad have also sought to instigate disturbances through a number of orchestrated events. The most prominent among these was the 'sacrilege' campaign in 2015, in which the discovery of mutilated pages of Guru Granth Sahib resulted in violent demonstrations and eventual police firing, which killed at least two persons at Behbal Kalan. In 2015, the 'pardoning' by Akal Takth of Dera Sacha Sauda chief Ram Rahim Singh, who had been accused of heresy, also provided brief opportunity for radical mobilisation in the state.
There has also been a tremendous proliferation of Khalistani TV channels and websites controlled by radical elements in the Sikh diaspora, spewing propaganda and hate; as well as a targeted campaign to create a subculture of extremism within Punjab, largely focused on the extended families of Khalistani terrorists. Apart from the limited activities of the police, within a law enforcement and counter-terrorism context, there has been little coherent state response to these challenges.
Worse, 10 years of the SAD-BJP misrule in the state has undermined police institutions and dramatically eroded police capacities. Both the Punjab and Central governments have now acknowledged the growing challenge of Khalistani mobilisation, with its principal sources abroad. Such recognition of the problem is, however, yet to result in any dramatic augmentation of the necessary capacities and capabilities to confront it, or any coherent policy to resolve it.
Executive Director, Institute for Conflict Management, New Delhi
Top News
The Khalistan sympathiser said if the state government had t...
'Let us not be selective,' Solicitor General said while insi...
Counting of votes will take place on May 13
Deplores attempts by Rahul Gandhi to draw parallels between ...
Petitioner sought more time from the court for producing evi...