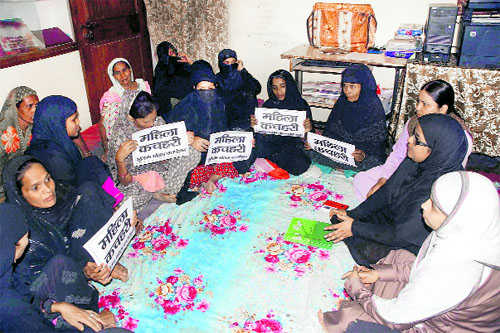 Faizan Mustafa
THE triple divorce judgment is just weeks away. No one really knows what the apex court is going to say on this controversial practice which authentic empirical studies say is already on its way out. Cases of instant triple divorce without any prior efforts of reconciliation and instant triple divorces on whatsapp or through email are extremely rare. Now if the court strikes down triple divorce as unconstitutional or holds it as not permissible anymore as it is not an "essential practice" of Islam or if court says that three instant divorces in one sitting will be counted as just one revocable divorce, will it really solve the problem? How will such a judgment work on the ground has not been discussed.
Marriage is an emotional relationship of mutual love, trust and goodwill. Husband and wife cannot be compelled by the diktat of law to love each and other. Holding the husband liable for monetary maintenance is one thing but compelling him to continue in a marriage against his will is a different ball game. In most cases what to say of husbands, even many wives who have been given three instant triple divorces would consider it as an irrevocable dissolution of marriage and would not be willing to live with such husbands yet courts will force them to suffer.
In cases of matrimonial abuse and domestic violence, should the wife be forced to live with abusive husband for another three months when there is a threat to life or physical security? The condition of the three-month waiting period should apply only when the husband wants to give divorce. However, if the wife demands divorce, the husband should have no option to delay it. Why should we try to save a marriage in all situations? Muslim marriage is a civil contact. Therefore, converting it into a sacrament or permanent union is not a great idea, particularly when even in the sacramental Hindu marriage there is the provision of divorce.
The Supreme Court itself in many cases of Hindu divorces used its extraordinary powers under Article 142 to grant divorce prior to the statutorily mandated waiting period. Many divorces are liberations from unworkable, incompatible relationships.
Moreover, if the society to which the couple belongs considers triple divorce as irrevocable and resumption of matrimonial relationship or its continuance as sinful, can a judgment of the court change people's perception about what is sinful or pious? Can the court act as clergy and speak for God?
Shireen Moosvi, eminent historian and President of the Indian History Congress, has collected several prenuptial contracts of the Mughal period in her book People, Taxation & Trade in Mughal India. These conditions generally included prohibition of marrying another woman, prohibition of domestic violence (wife beating was legal in most legal systems), prohibition on leaving the wife for long duration (varying from six months to one year) or failure to provide maintenance. Any violation of any of these conditions entitled the wife to automatically divorce the husband or get marriage annulled. Most marriage contracts additionally included the stringent condition prohibiting the husband from keeping a slave girl even though slavery was legal during the Mughal period. If the husband did keep a slave girl or paid maintenance to his concubine, the wife had a right to take away the slave girl from him or sell her and keep the proceeds. Alternatively, she also had the option of marrying her off.
Under the classical British law, pre-nupital agreements were considered against public policy due to the permanent nature of marriage. However, even during the British era such marriage contracts were quite common among Muslims and were enforced by the British judges. During this period, some additional conditions too were added and were enforced. Ameer Ali, the first Indian to serve in the Privy Council (1909-1928), has listed several other conditions of the prenuptial contracts such as the husband cannot remove the wife from the matrimonial home without her consent, spouses will live only at a particular place, payment of fixed and regular maintenance by the husband, the husband will not prevent the wife from visiting her relatives, the husband will maintain and take adequate care of her children from her former husband and the right of the wife to divorce etc.
The Poonoo Bibi (1875) case gives us a glimpse of progressive marriage contracts. In this case, the husband agreed at the time of marriage: "I shall never give you trouble in feeding and clothing you; I shall make over to you and nobody else besides you whatever I shall draw from employment; I shall never exercise any violence on you; I shall not take you anywhere else away from your home; I shall not marry or make nikah without your permission; I shall do nothing without your permission; If I do anything without your permission you will be at liberty to divorce me and realise from me the amount of dynmohur (dower) forthwith and this nikah will then be null and void."
When her husband deserted her, Poonoo Bibi filed the case for the enforcement of this prenupital agreement. His lawyer tried to save him by asserting that the agreement is void being against public policy as it reduces husband to a slave but the court refused to accept this argument.
Recently, in Nagpur a marriage was performed with the explicit condition in the nikahnama that there shall be no triple divorce. In Hyderabad itself, one senior advocate (SR Mahajir) has executed 12 such prenuptial agreements.
In one case where the husband had a bipolar disorder, it also included a condition that he will regularly take his medicines in addition to conditions such as deferment of having children for the minimum of one year so that the spouses get adequate time to understand each other; children will not be sent to religious schools; in-laws are to be treated with respect by both the spouses; the husband will convert the family property into a trust for the financial security of children; no spouse will have a unilateral and unchecked powers of divorce and both the spouses will have the same powers in divorcing each other and this power will be exercised only when all the efforts of reconciliation have failed in the presence of two arbitrators, one of which shall be a close female relative.
Even the grounds on which divorce can be given by husband or wife are similar and clearly mentioned in the agreement such as compelling children to go to non-secular school, cruelty by either spouse etc. It specifically mentions that wife will have an absolute and irrevocable right to divorce even on grounds such as unreasonable obstruction in her professional work, mental or physical cruelty, husband taking one or more wives, husband adopting a lifestyle which exposes the wife to ridicule, scandal or stress and adversely affects her physical or mental health or peace of mind.
Nikahnamas with the condition that "there shall be no triple divorce" will not be resisted by anyone, including the clergy. We can legally make husbands responsible under the binding enforceable contracts. Other religious communities too should consider the option of a prenuptial marriage contract.
The writer is Vice Chancellor, NALSAR University of Law, Hyderabad.
Top Stories