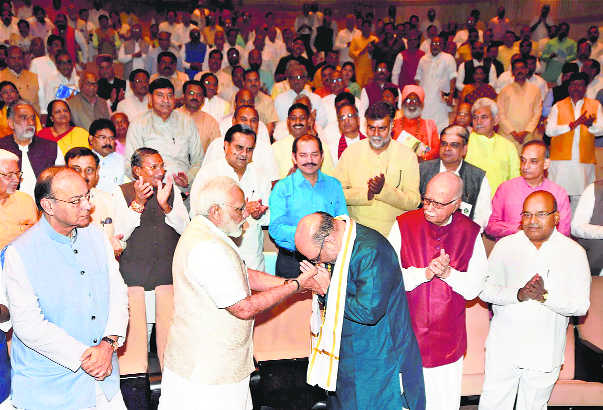 There is much jubilation among BJP supporters and the general middle-class populace that Nitish Kumar parted company with corrupt, secular parties of the Mahagathbandhan after the ED raids on Laloo Yadav's family and was reunited with the nationalist, cleaner-than-thou Modis — Narendra and Sushil.
Similarly, TV anchors couldn't hide their glee that an all-out assault was launched on the Congress party in Gujarat, first by ferreting away some MLAs and then unleashing IT raids on a prominent Karnataka minister who was in charge of chaperoning Gujarat MLAs in a resort near Bangalore. That this was being done in a bid to stymie Congress leader Ahmed Patel's re-election to the Rajya Sabha and demoralise the party before the state elections later this year was quite obvious, notwithstanding the 'plausible deniability' put forth by BJP.
Earlier, the BJP systematically used raids and other mechanisms to decimate and discredit Delhi Chief Minister Arvind Kejriwal by arresting several AAP MLAs. It also tried to pitch AIADMK factions against each other in Tamil Nadu, by conducting a few well-timed raids against a key bureaucrat and Sasikala's nephew Dinakaran. ED and IT raids has also been the weapon of choice against P. Chidambaram's son as well as against NDTV promoter Prannoy Roy.
Mayawati's brother and Mamata Banerjee's nephew as well as some senior leaders of the TMC have also been regularly facing IT and CBI heat in various scams that the BJP has chosen to play up.
The general mood in the media and even among ordinary people seems to be that no doubt the BJP is resorting to dirty tricks and misusing state power but that's alright since it is against discredited secular opposition politicians and media-persons, who deserve no sympathy whatsoever because they are corrupt to the core.
And therein lies the danger. All authoritarian regimes that come to power through the democratic route strengthen themselves by targeting opposition parties and other opponents, with escalating ruthlessness, painting them all as enemies, who need to be eliminated for their sins. This ensures the support of people, who feel evil is being removed. But once firmly established, every authoritarian regime is almost impossible to dislodge for decades. Not for nothing is there that saying 'Absolute power corrupts absolutely'!
Countries and people which allow themselves to be bewitched by one regime always pay hugely in the long run. That's because by tacitly justifying the regime's misuse of institutional powers simply because the action is against purportedly 'bad guys', we encourage more, particularly indiscriminate, abuse, till it completely compromises our ability to distinguish between wrong and right and weakens the moral, ethical and political capability of the people to enforce accountability.
It is often argued that Indians can humble any regime which tries to become authoritarian, through the power of their vote. The example of late PM Indira Gandhi is often cited. But the question is what if she had not lifted Emergency and announced elections?
Similarly, there is much media commentary that for 70 years, power has peacefully changed hands in every state in India and that there are multiple constitutional safeguards. But each of the safeguards has flailed in recent times in preventing the regime in power from having its way. For instance, nobody could stop the government from implementing demonetisation, although the President or the apex court could have stayed this disruptive exercise.
Similarly, nothing could prevent the BJP from unseating the Arunachal Pradesh and Uttarakhand governments in 2016, even though the SC remedied the situation later. The verdicts of Manipur and Goa elections were also effectively subverted with the help of the Governor to ensure that the party with highest number of seats wasn't invited to form the government. Ditto the Nitish Kumar resignation and re-installation drama that played out in Bihar within just a few hours, again with assistance from a sympathetic governor. So what constitutional safeguards and mechanisms are we talking about that can't be rendered inoperative?
The 'free' media, especially most TV news channels, are quite openly compromised and the pro-BJP fawning and anti-opposition tilt is so unmistakable so as to be nauseating. That some of the best known TV anchors can night after night peddle political propaganda of the government and ruling party and relentlessly tarnish the opposition, is a clear indication of how easily this pillar of democracy is close to being undermined and co-opted.
So to expect the resistance to come from voters alone in booting out any authoritarian government is just kidding ourselves. Just imagine the following scenarios. Post 2019, what if the ruling regime is in power in all but a handful of states and also at the Centre? What stops it from amending the Constitution to dissolve the safeguards or from delegitimising other political parties using technicalities, ensuring few political challengers remain? What stops them from manipulating elections and suspending many democratic liberties? The answer is literally nothing, except the conscience of its leaders. Perhaps it was Indira Gandhi's conscience — or the latent realisation that she was after all a great democrat's daughter — that made her lift Emergency. Or perhaps she was overconfident about her popularity.
Either way, it proved to be a miscalculation and she lost the elections thereafter. This is a lesson the leaders of the present dispensation wouldn't have failed to notice and are, therefore, unlikely to have any such prick of conscience should they decide to become more authoritarian. That is reason enough why we should not be cheering an opposition-mukt Bharat. The opposition may have its share of scoundrels, but the current dispensation is not full of saints either. Even if we detest them, opposition political parties, however flawed, are the only bulwark against the spectre of authoritarian rule.
Salil Desai is a Pune-based author and film-maker.
Top News
Carpets from Mirzapur, bamboo flooring from Tripura and ston...
Modi meets Adheenams at his residence, takes their blessings
PM says NITI Aayog will study the states' concerns, challeng...
NATO Plus, currently NATO Plus 5, is a security arrangement ...
Governor Thaawarchand Gehlot administers the oath of office ...