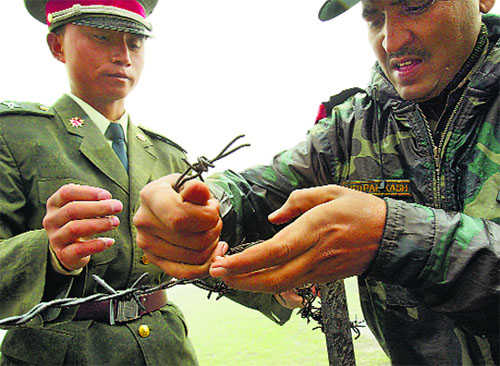 MK Bhadrakumar
The summer is at our doorstep. With June approaching, memory mixes with anxiety. It's going to be one year since the Doklam faceoff began. One year is not a long time in the life of a nation but in last June a terrible beauty was born in the India-China relationship. Alarmist reports appeared lately regarding Chinese deployments. Timely clarification at the official level dissipated the scaremongering. Compared to the impetuosity of the past three-year period, a sense of proportion is discernible in the government's approach to the relationship with China.
The question that begs an answer, nonetheless, is what it was that we had hoped to gain by crossing the established border into Doklam last year? A range of explanations may be possible and, indeed, the two most-popular ones are: the security of Siliguri Corridor ('chicken's neck') demanded it, and/or two, that as the provider of security for Bhutan, India was obliged to act. Both explanations are heavily laden with emotions and appeal to public imagination, but are intrinsically fragile and insufficient to explain the gravity of what happened.
In the recent exchange between our ambassador to China Gautam Bambawale and Chinese foreign ministry spokesperson Hua Chunying, a third unspoken leitmotif appeared — Doklam as a template of the India-China border dispute. Hua unequivocally refuted Bambawale's innuendo of Doklam being a segment of the "un-demarcated and un-delineated" India-China boundary, where "we are discussing where the boundary will lie". In Bambawale's words, "I can tell you very frankly... The Chinese military changed the status quo in the Doklam area and therefore India reacted to it. Ours was a reaction to the change in the status quo by the Chinese military." He did not even mention Bhutan. But Hua differentiated Doklam from the India-China border dispute, and remarked that India must learn lessons from last year's faceoff. India keeps strategic ambiguity as regards the 1890 pact between India, Sikkim and Tibet.
Amidst the triumphalism last August following the denouement to the Doklam faceoff, this was what M Taylor Fravel, professor at MIT and expert on China's boundaries, had written in War on the Rocks magazine on September 1, in an essay titled "Why India Did Not Win the Standoff with China": "Ironically perhaps, India's actions underscored to China the importance of enhancing its military position in the Doklam bowl. Before the standoff in June, China's permanent presence in the area had been quite limited. China had maintained a road in the area for several decades, but did not garrison any forces. In contrast, India has maintained and developed a forward post at Doka La (Sikkim) adjacent to Doklam.
"Now that India has chosen to confront China at Doklam, however, China may well seek to rectify this tactical imbalance of forces… If China does this, it would likely build facilities farther away from India's position at Doka La, making it more challenging for India to intervene and block China next time. When India challenged China's construction crews in June, it only had to move its forces a hundred metres from the existing border. In the future, India may be faced with the uncomfortable choice of deciding whether to risk much more to deny China a greater presence farther inside Doklam or to accept it. This will be a tough decision for any leader to make. Even if India won this round, it may not win the next one."
What an extraordinary reading of tea leaves! No matter the caricaturing by elements in our strategic community or incitement from abroad, what Fravel predicted has happened and it puts Delhi on the horns of a dilemma. The big question here is how far Bhutan is interested in India pushing the envelope? It appears that Bhutan's border claim is historically flimsy and a massive amount of Tibetan historical land records attest to the Chinese claim. Curiously, Bhutan over-asserted its claim over Doklam only fairly recently in the late '90s. Of course, the Bhutanese claim is (partially at least) not without some historical foundation, although Doklam as such used to be under the control of the Tibetan administration in Lhasa. Put differently, China cannot be expected to relent, given the access Doklam gives to the highly strategic Lumbi valley that leads to Lhasa. Above all, the cut-off point is that "not a single inch of our land will be or can be ceded from China" — as President Xi Jinping stated on the concluding day of the National People's Congress in Beijing on March 20.
In the circumstances, megaphone diplomacy serves no purpose and could even be counterproductive. Meanwhile, time may not work in India's favour, either. In Bhutan itself, there is no evidence of fear from Chinese invasion or even encroachment from north. Do the concerns voiced by Ambassador Bambawale find echoes in Bhutan? There are no easy answers. Some recent reports by travellers have cited a growing feeling of awe and admiration among the Bhutanese people regarding China's economic miracle. Such inchoate feelings can arouse nationalist sentiments in unexpected ways. The fact remains that the sharply rising trajectory of China-Nepal cooperation, especially the economic spin-off from the Belt and Road Initiative, is also poised to transform Nepal phenomenally in the coming decade. Bhutan will watch with interest Nepal's transition to a new mode of production relations and what it could mean for development, social mobility and prosperity. Suffice to say, Delhi should anticipate that given the irresistible pulls of modernisation, the quotient of "happiness" in Bhutan may give way.
When the region is changing so rapidly, there is need for a radical new thinking on our part instead of reacting to emergent situations with the advent of summer in the Himalayas. Fundamentally, we ought to figure out whether we want China as friend and partner or continue to regard it as rival and enemy against whom we should prepare for the decisive war eventually. The former Soviet Union made that strategic decision when Mikhail Gorbachev travelled to Beijing in 1989; and, the two countries' quasi-alliance ensued. One possibility is to "re-invent" SAARC. We had conceived it as a vehicle of regional leadership. Perhaps, we should now turn it around as a dynamic vehicle for regional cooperation. Does China's SAARC membership damage Indian interests, or, can it provide a window of opportunity? Much as the thought seems preposterous today, we can be open-minded and receptive. It is entirely conceivable that our core interests over Doklam can be safeguarded within a matrix of regional cooperation involving China.
The writer is a former Ambassador
Top News
The former military ruler had left Pakistan in March 2016 fo...
After his failed misadventure in Kargil, Musharraf deposed t...
Military shoots down the surveillance balloon in Atlantic Oc...
The incident took place on Friday when Kambli reached his fl...
Dearness allowance for employees and pensioners are worked o...