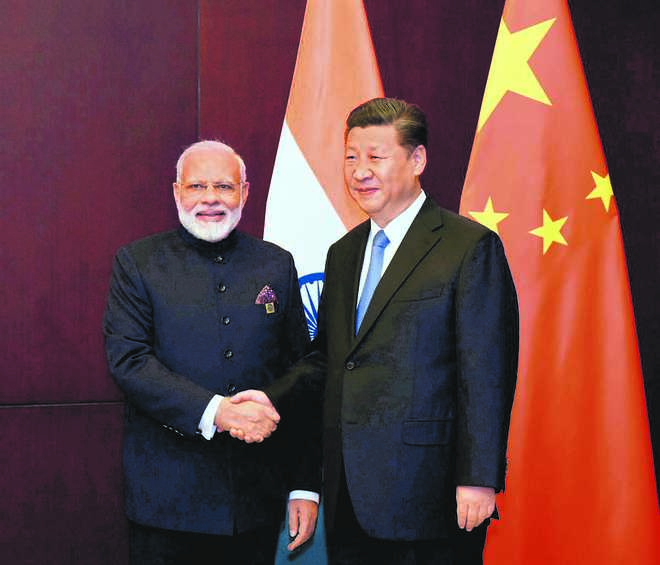 The latest face-off between the Indian and Chinese security forces in Doklam, where the borders of India, China and Bhutan meet, brings a sense of déjà vu. There was a similar extended face-off in the Depsang area in Ladakh in April 2013. There have been other incidents as well but the mechanisms in place to maintain peace and tranquillity at the border have eventually worked and the issues have been resolved. Both sides have remained committed to preventing escalation. One hopes that the Doklam incident will not be allowed to vitiate the relationship between the two countries, particularly in view of the fact that Prime Minister Modi and Chinese President Xi Jinping reportedly had a friendly meeting on the sidelines of the recent meeting of the Shanghai Cooperation Organisation (SCO) in Almaty. Both leaders made a special effort to put relations back on a positive track after a somewhat prickly interlude, which included India's refusal to join the Chinese-led One Belt One Road initiative. This turnaround in relations must not suffer a setback as a result of the latest incident. This may impact the prospects of a possible bilateral summit when the leaders attend the forthcoming G-20 summit in Hamburg.
It is important to understand that as a result of sustained development of infrastructure at their common border, their border guarding forces are able to mount more frequent patrols and visit areas which were hitherto remote and barely accessible. This has multiplied the occasions when the patrols run into each other and wherever there are differences in perception concerning the alignment of the Line of Actual Control (LAC), face-offs become inevitable. This is what has been happening over the recent past and the bilateral measures to ensure peace and tranquillity need to be upgraded to take these developments into account. This is all the more necessary in order to avoid misunderstanding and unintended escalation in segments of the border which hold special sensitivity for either side.
The bedrock of the peace and tranquillity regime between India and China is the mutual commitment that neither side will seek to unilaterally alter the status quo at the LAC. Both sides are also committed to resolving any differences which may arise through consultations, beginning at the local level and then going right up to the senior-most levels. Of late, China has been resorting increasingly to unilateral actions seeking to alter the status quo. This is what has happened at Doklam and the Indian side had to respond in order to prevent an enhanced threat to the narrow land corridor which links the Indian North-East to the rest of the country. The Chinese side maintains that in the "Convention Between Great Britain and China relating to Sikkim and Tibet", the southern-most point identified as the peak of Gipmochi, is located on the Bhutan frontier but further south. On this basis, China has laid a claim to Doklam, but this has been contested by the Bhutanese side. The Chinese side has recognised this as disputed territory and even in the past its construction of mud tracks through this area had been resisted by the Bhutanese border guards. Although both China and India accept the alignment of the Sikkim-Tibet boundary as laid down in the Convention except for the so-called "The Finger" at its northern-most point, they have agreed that as far as the trijunction is concerned this can only be settled in consultation with Bhutan. Until then the commitment not to unilaterally alter the status quo, should be observed by all sides concerned. The current impasse has arisen because the Chinese side has gone further by attempting to build a defence class road through the area in place of the earlier mud tracks. This will significantly elevate the potential security threat to the Siliguri corridor which is a vital transport artery for both India and Bhutan. China should have shown greater sensitivity in this matter.
The Chinese side has demanded that the issue should be resolved by India withdrawing its security personnel from the Doklam area. In fact the issue can be defused by both sides agreeing to restore the status quo and mutually disengaging their forces. This is how earlier such incidents were resolved satisfactorily.
It is clear that the Indian side does not want the situation to escalate. It has been fairly muted in its reaction to the daily and harsh rhetoric emanating from the Chinese side whether from official sources or from the media. The Chinese action to suspend the Kailash-Mansarovar pilgrimage through the Nathu la Pass and its more recent cancellation of a visit of Indian journalists to Tibet are uncalled for. These will heighten tensions and lead to an adverse public reaction in India. In a charged public environment it becomes difficult to deal with issues in a sober and measured manner.
For India this incident has certain unique sensitivities as it involves not only China but also a very close neighbour and partner, Bhutan. India would not wish to do anything which embarrasses Bhutan or which complicates its relations with China. This is another reason to handle the incident in as discreet a manner as possible. This is the first time that Indian forces have engaged China from the soil of a third country and this cannot but be a sensitive issue for a proud and independent country like Bhutan. It is imperative that whatever India does to deal with the situation, it does so in close consultation with Bhutan. It will only be too easy for an impression to gain ground that India has dragged a reluctant Bhutan into its own disputes with China. Bhutan's press release confirming that it had lodged a protest against China's road building in Doklam has helped dispel the perception that it is India and not Bhutan reacting to the Chinese action but we should continue to emphasise that the two countries are acting in concert against a shared threat. India-Bhutan relations are far too important to be affected negatively by developments related to China.
We must acknowledge that India-China relations are undergoing a change. China believes that India should acknowledge the power disparity between the two sides and show appropriate deference to China. In the past it had tacitly acknowledged Indian pre-eminence in the South Asian region. It is no longer willing to do so and is seeking such pre-eminence for itself. In the Asia-Pacific region it believes that under Trump, the U.S. has abandoned any notion of a "pivot" to Asia . It also believes that its dominance of the South China Sea and South East Asia is now unchallenged. In this context, India is not seen as a constraint on China, which can pursue its interests, indeed its ambitions, more openly, more aggressively. In Chinese perceptions, therefore, India's refusal to join Xi Jinping's signature initiative, the One Belt One Road, is seen as impertinence. In dealing with China in Doklam, this overall context must be kept in mind. We need firmness of resolve but expressed through a measure of caution and prudence.
— The writer is a former Foreign Secretary. He is currently Senior Fellow, CPR, and is a member of its Governing Board.
Top News
Deal expected to be complete by March 2024 | Tata group owns...
In his first major foreign policy speech since taking charge...
Actor Anupam Kher condemns Nadav Lapid's controversial remar...
Gilon also pulls up Indian social media users doubting the h...