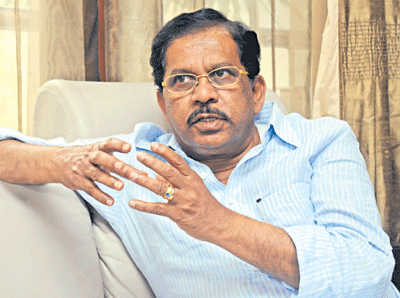 In 2012, a barbaric gang-rape consumed a woman's life. Mercifully, India rose in one voice and reacted with outrage that all but became a movement. As dreams died young, an awakening was born and India vowed to develop zero tolerance against rapists and molesters.
Countdown to 2017 and Bengaluru, one of the more modern cosmopolitan cities in the country, ushered in the New Year with what is being now termed as mass molestation. As scores of women were allegedly pawed, groped and mauled in public domain right under the "watchful" eyes of the police it should have, at the very least, evoked disgust and elicited concerted action against the hooligans.
Yet what you get is yet another nonchalant, couldn't-care-less attitude and a sermon from none other than G Parameshwara, the Home Minister of Karnataka, responsible for the safety of women. The argument he has used is time-old rhetoric that follows the simple logic: when you can't protect women simply blame them. And blaming becomes easier when they don't fall into the traditional stereotype. Western ways are the culprit, reasoned Parmeshwara. Mark his pearls of wisdom, "They tried to copy the westerners, not only in their mindset but even in their dressing. These kinds of things do happen."
If Newton propounded every action has a reaction, our ministers believe every action against women calls for a sermon, which by the way is invariably a dressing- down for women and women alone.
So if the minister sahib had his way he would dress all women like decent and proper Kannadigas. But what he and his ilk can certainly percolate down rather emphatically is a mindset that anyway finds a resounding echo among the political class. As a rule, the regressive mentality cuts across the political divide. A politician from the BJP, Babulal Gaur has a reputation of making the most insensitive sexist comments that lay the blame on women for all perverted acts. Mulayam Singh Yadav infamously said, "Ladkon se galti ho jaati hai." Sharad Yadav branded women with short hair as parkatein auratein. And women politicians too think no differently.
Rather, it's these demeaning utterances that fuel the herd mentality of men which views women as not merely unequal but as objects that can be trifled and toyed with. The signal such remarks give out each time is explicit and implicit. It's ok to tease/ molest / paw if she is wearing a short dress. It's fine to assault a woman if she is not cast in the Sati-Savitri image. In short, if a woman shows her mind and independence openly, more importantly if she is shown to be enjoying in full public glare, she is fair game. She needs to be taught some taming rules.
Our Prime Minster Narendra Modi, otherwise not know for socially correct ripostes, in one of his rousing speeches roared, "Correct sons don't question daughters …" However, the men in-charge of law and order would not dare to question drunk and unruly men. For men are meant to be men, the privileged gender, born with the spoon of privileges and little responsibilities. Their right to misbehave continues to draw sustenance from each other and men such as Parameshwara. As for the woman's right to dress, celebrate, enjoy and be herself … it's all at the mercy of misguided men and their misogynist beliefs. Collectively they chorus and tell the women — observe the Cinderella hour or be ready to lose your modesty. Who can veto their regressive thinking? Certainly not hapless women who as on the night of New Year's eve must have wondered: have we moved forward to another year or back to the dark ages. For only in a world of pagans, what should have been a night of shame for the country and its powers that be, the wanton acts of the shameless are used to shame those who merit protection. The bogey of cultural deprivation as being raised by some "rational" thinkers or reducing the mayhem just to an "insider-outsider" debate is no excuse for molesters to go unpunished. The Bengaluru police's claim that it's working though silently may or may not be a befitting modus operandi. Yet the message that such reprehensible wantonness will not be accepted has to be loud and crystal clear. In free democratic India a few chosen men and women's convoluted social values can't become a veneer to cover up what the law clearly defines as illegal.
nonikasingh@tribunemail.com