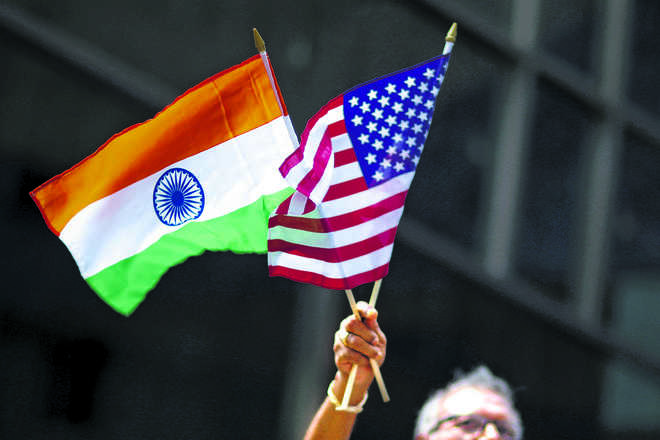 MK Bhadrakumar
Former ambassador
The commonplace narrative in India is not to 'exaggerate' the US-Indian discord over trade issues. The government has gone out of the way to be impassive. The Indian commentators are bending over backward to argue this is a passing phase. The Indian ambassador to the US has said twice at least in recent months that we will simply buy more weaponry from American vendors to tilt the trade balance in America's favour.
President Trump's decision to remove the 50-year GSP concessions to India's exports to the US has met with a timid response. The Commerce Ministry blithely estimated that the issue is only one of a number of 'ongoing issues which get resolved mutually from time to time'. The ministry's statement said, 'We view this issue as a part of this regular process and will continue to build on our strong ties with the US, both economic and people-to-people'. Yet, Trump was very categorical. His proclamation on the GSP issue said, 'I have determined that India has not assured the US that it will provide equitable and reasonable access to its markets. Accordingly, it is appropriate to terminate India's designation as a beneficiary developing country effective June 5, 2019.'
Clearly, the issue goes far beyond trade balance and challenges the fundamentals of India's foreign trade regime. Trump has brushed aside the two 'extensive and reasonable' trade packages India submitted to him. What is unfolding is not very different from what the US is waging with China. A report in the Politico last week warned that India 'could soon become the next target of President Donald Trump's aggressive policy'.
The report said Trump's next move 'is expected to be launching a full-blown investigation into India's practices, just as the US did with China last year'. The daily quoted an industry source that the office of the US Trade Representative 'apparently has no interest in negotiating'. Actually, such lack of progress becomes part of a bigger strategy as it builds up momentum for a so-called Section 301 investigation under the Trade Act of 1974, which is, incidentally, the same course of action that the US took against China. This is a little-used provision that Trump administration invoked to impose or threaten tariffs on virtually all goods imported from China. The Politico quoted an American business source that 'What happened with China is a road map for what you could see in India.'
While India has the option to raise tariffs on a slew of US goods as retaliation, the government may not choose that course of action. On the contrary, after a meeting with exporters and state government representatives in New Delhi on June 6, Commerce Minister Piyush Goyal insisted that Trump's withdrawal of GSP was 'not a matter of life and death' for all exporters. He said, 'India is now evolving and moving out of the crutches… India is no more an underdeveloped or least developed country… We believe we can be export competitive at our own strength or at the strength of our own comparative advantage… we accept it (GSP withdrawal) gracefully and we will reorient ourselves to be competitive.' However, Trump is playing chicken with India and won't allow us to get away 'gracefully' with our 'development cycle'? He is determined to hustle India.
India's inability to stand up to such pressure tactic stems from its increasing reliance on US defence equipment purchase as part of its strategic partnership — and the agenda of 'interoperability' that Washington successfully pushed with India during the past decade after the signing of the India-US nuclear deal in 2008. The US's arms exports to India rose by over 550 per cent in the five years to 2017 alone. (India's arms purchases have come down during the last full three years of the BJP government compared to the last three full years of the UPA rule.) A vicious cycle has appeared. It is no coincidence that against the backdrop of the trade issues, the US is aggressively pushing once again the sale of F35 fighter jet to India — now that Turkey has wriggled out of its deal to buy 100 such jets — despite the fact that India previously rejected this problematic technology as unsuitable for the needs of the IAF.
Plainly put, what is unfolding is not even about 'free and fair' trade. It is pure and simple neo-mercantilist economic strategies — America solving its economic malaise through a combination of government intervention, protectionism, and strategic investment — rather than through free trade. The point is, as Norwegian economist Erik S Reinert wrote in his refreshingly revisionist history, How Rich Countries Got Rich . . . and Why Poor Countries Stay Poor, in a historical perspective, this was how the developed economies were founded — on protectionism — long before they could afford the luxury of free trade.
India is being arm-twisted to transfer wealth to the US. Unfortunately, the US lobbyists in India behave like a comprador class. In an earlier era, Great Britain, too, when faced with similar current account deficit as the US is facing today, did this to India by 'de-industrialising' our country and transferring wealth. The US doesn't have colonies. Hence this innovative policy to pressure newly emerging countries to voluntarily accept its protectionist policies — thereby forcing those countries (China, India, etc.) to bear the burden of adjustment in the US economy as it increases both its level of domestic activity and also closes its balance of payments deficit. China refuses to fall in line. Suffice to say, this paradigm is about India's rise. This is not a game for timid folks.