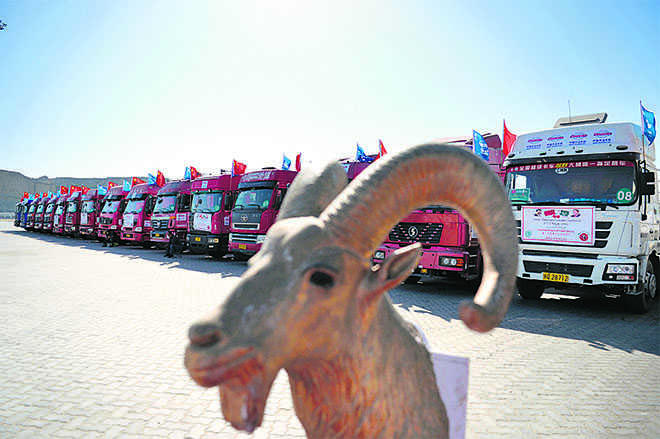 MK Bhadrakumar
Former Ambassador
A'whispering campaign' has been going on that CPEC is fated to put an intolerable burden on Pakistan's debt repayment liabilities, with no commensurate economic returns. Fact check is uncommon in our part of the world: Moody's says CPEC may account for 9-10 % of Pakistan's GDP this year. There was much speculation that PM Imran Khan, burdened with the immediate task of finding money for debt servicing/repayment, might not be enthusiastic about it. However, the dust is settling down and what emerges impacts Indian interests in a medium and long-term perspective.
Being the flagship of the Belt and Road Initiative (BRI), China attaches the highest importance to CPEC. This became apparent from the extraordinary 'special invitation' extended by Chinese President Xi Jinping last month to Pakistan army chief Gen Qamar to visit Beijing against the backdrop of the cloud of uncertainties regarding CPEC, with a view to underscoring that CPEC is not only the anchor sheet of Sino-Pakistani cooperation, but also imbued with regional and global significance.
Many misconceptions regarding CPEC — in its share of Pakistan's debt burden or the benefits accruing to economy or its potential for job creation, etc. — are unwarranted. Curiously, the provincial leaderships in Quetta and Peshawar are vying with each other for the allocation of more projects in their respective regions. Some 'tweaking' can be expected as CPEC progresses, which is inevitable in such a massive regional project that has no precedent in modern history. Beijing has repeatedly affirmed an open mind to innovative ideas to infuse the BRI with global standards in the preparation and execution of projects, including funding arrangements. From Beijing's perspective, the BRI holds the potential to create a new value chain in world economy. Last month, the EU signed off on a new 'Asia connectivity strategy', which aims to improve transport, digital and energy links while promoting environmental and labour standards. The EU proposes to discuss with China how to harmonise.
Meanwhile, Imran Khan's forthcoming visit to China is expected to add new templates to CPEC. Specifically, a framework agreement on industrial zones, progress on agricultural cooperation and addition of a social sector joint working group are on the cards. From the Indian perspective, a most significant development is in respect of third-country participation in CPEC. Specifically, Imran Khan has swung some promises from Saudi Arabia to invest in CPEC projects. China has since welcomed this. This is a paradigm shift. For one thing, CPEC is gaining habitation and a name in regional cooperation. If the Saudis step in, can Iran and/or Russia be far behind? It's time India understands that CPEC is destined to be an enduring feature of the regional security architecture. Indian soothsayers who predicted an apocalyptic future for CPEC were either uninformed or unable to comprehend the realities. China has announced its intention to extend CPEC to Afghanistan and Central Asia in near future.
India should take a fresh look at CPEC. It makes sense to stop dwelling on the past and look ahead. Indeed, open Indian criticism of CPEC has tapered off. The Wuhan spirit probably accounts for it. Meanwhile, a new concept has appeared in the Sino-Indian discourse with Beijing testing the water with the 'India-China Plus One' concept in relation to third countries. India is hesitant because its own prism on regional politics is geopolitical. But geo-economics should gain primacy as the fountainhead of India's regional policies. Lack of geopolitical convergence is not deterring countries from cooperating. Geo-economics can help moderate geopolitical differences. The Turkic and Persian civilisations witnessed great rivalries through history. They contend for regional influence today. However, a gas pipeline connecting Iran with Turkey enables the latter to source half of its energy requirements from Iran. This has become a stabilising factor in their relationship. Russia and Europe also have 'win-win' oil and gas pipelines and are adding a new template to it — Nord Stream 2 pipeline — the current New Cold War conditions notwithstanding.
Broadly, India has two alternatives in the approach toward its two problematic relationships — China and Pakistan. One is to continue to 'manage' the troubled relationships and mark time like the tramp in Beckett's Waiting for Godot, taking advantage of crumbs that may fall from the high table of US-China competition (or hoping for an outbreak of Sino-American New Cold War); and refusing to talk to Pakistan unless its behaviour changes. A second approach is also possible, which is not predicated on windfalls, but on rational thinking and will be beneficial — engage Pakistan and China and make them stakeholders in a predictable and stable relationship. This is where Saudi participation in individual CPEC project(s) ought to stimulate Indian rethink.
Imran Khan has made an overture to India to rev up economic ties. This has been, ironically, the classic Indian position, too — that notwithstanding the Kashmir problem and other differences, the two countries should foster mutually beneficial relations that would inevitably have a positive impact on the climate of relations and even help resolve their disputes and differences that may look intractable today. The moribund idea of a gas/oil pipeline connecting Iran, Pakistan and India comes readily to mind. The point is, India as an emerging regional power needs creative thinking to cut the Gordian knot of strategic stalemate in its external environment.