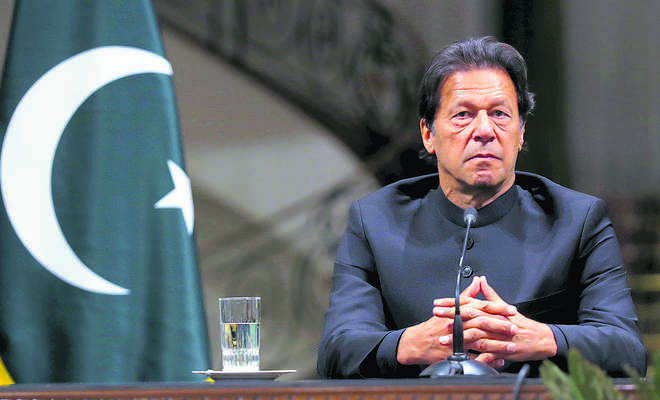 Lt-Gen Harwant Singh
Former Deputy Chief of Army Staff
PAKISTAN'S Prime Minister, Imran Khan, in keeping with the prevailing sentiments in the country, called upon India to resolve the Kashmir problem, including that of Siachen Glacier and Sir Creek. Of the three issues raised by Imran Khan, the easiest to tackle is the Siachen Glacier.
India's stand on the issue has been that the present ground position of the opposing troops be marked and maps and agreements drawn. Also, that these maps and agreements are honoured and no violation of the positions thus marked takes place. Pakistan should have no problem in agreeing to this fair proposal. Subsequently, the issue can be taken forward. As for the remaining issues, it may be possible to find a workable solution for the Sir Creek. The third issue concerns Kashmir, which can definitely be put off for the time being and tackled at a later date.
What Pakistan needs to know is that within the Kashmir Valley, realisation is gaining ground that nothing is to be gained from Pakistan. Equally and gradually, it is dawning on the Kashmiris that a fate similar to that of PoK and Khyber Pakhtunkhwa would await them were they to join that country. Also, the type and extent of financial assistance that have flowed into J&K from India is unlikely to come from Pakistan. In fact, the existing financial condition of Pakistan indicates it has nothing to offer and it is actually the financial state of J&K that runs the risk of being exploited.
Unfortunately, India's negative response to Imran Khan's call for talks appears to be linked to the surgical strikes and action at Balakot, where perhaps a wrong impression appears to have emerged that the best way to deal with Pakistan is the muscular policy. In the BJP's perception, this policy against Pakistan substantially contributed to the success in the parliamentary elections though the surgical strikes resulted in an increase in cross-border firing and added casualties of Indian soldiers and civilians. In the case of Balakot, Pakistan declared it to be a complete misfire. Thus, no retaliation to it has so far come up.
Imran Khan telephoned the Indian Prime Minister and congratulated him on his landslide victory in the parliamentary elections. Even so, no invitation to attend the inaugural function was extended to him while a large number of other foreign dignitaries were invited for the ceremony by the Modi government. Not accepting Pakistan's offer to open the airspace 'specifically' for Prime Minister Narendra Modi to fly to Bishkek points to a policy of continued confrontation with that country.
India's stance that talks and terrorism cannot go hand in hand runs counter to the very idea of reconciliation. After all, we have lived, all these years, with the Indus Water Treaty, where terrorism and even wars have coexisted with it. In any case, adopting such a stance by India runs counter to its earlier actions where Pakistan's PM was invited for the inauguration ceremony of the Modi government in 2014 and PM Modi making an unscheduled visit to the Pak PM's residence at Lahore. All this time, cross-border terrorism was in full swing.
There have been palpable indications that Imran Khan is moving in the direction of dealing with terrorists operating in Pakistan and tackling the spread of radicalisation in the country. Pakistan has travelled so far down the path of terrorism that this tap cannot be shut all too suddenly, nor that easily.
Perhaps Imran Khan wishes to bring a new narrative to the table, so why not test him out. This stance of no talks till cross-border terrorism ends is not likely to work and the reconciliatory approach presently being adopted by the Pakistan Prime Minister may get frustrated and the military could regain its previous say in the country's policy in dealing with India.
If Pakistan is prepared to initiate talks for peace, then it would be apparent that the military in that country is taking a backseat. Equally, closing of the terrorist tap in Pakistan could take some time and it would be worthwhile to bear with that wait, while we need to keep our guard in place.
The very fact that Imran Khan is willing to extend this hand of friendship does indicate that there is some realisation within Pakistan that this confrontation is doing a greater damage to it than to India. There appears to be awareness in Pakistan that the policy of promoting terrorism, both in Afghanistan and against India, has done it greater damage and led the country down the path of fundamentalism and radicalisation of society. The eventual fallout has been the spread of poverty and financial bankruptcy of the country.
It is perhaps an opportune moment to grasp the hand being extended by Imran Khan for better relations between the two countries. A graduated realisation appears to be dawning on Pakistan that China is merely interested in its own game plan against India and using it as a proxy, driving it into more and more debt. India need not rule out the genuineness of Imran Khan's friendly offer for talks between Pakistan and India. We need to give peace a chance. There is little logic or diplomatic finesse in India's insistence on no talks till cross-border terror ends.