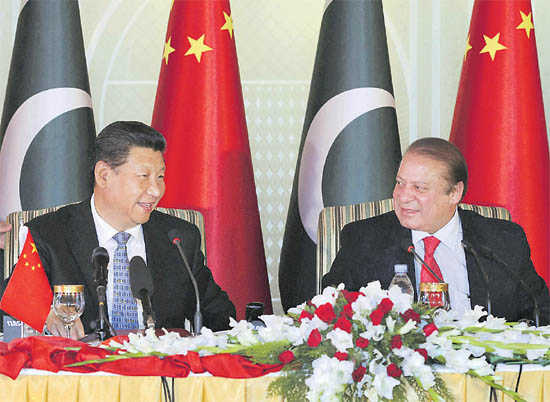 NEW Delhi appeared "shocked" by China's recent veto of action against Jaish-e-Mohammed (JeM) chief Maulana Masood Azhar, when there was widespread support in the UN Sanctions Committee to act against him for his role in the Pathankot attack. The UN declared the JeM a terrorist organisation in 2001. The former Director-General of the ISI, Lt-Gen Javed Ashraf Qazi, acknowledged in the Pakistan parliament in 2004 that the JeM was responsible for the attack on the Indian Parliament — an action that took the two countries on the brink of war. This veto was, however, not an isolated action by China which has long backed Pakistan-sponsored terrorism against India.
China's contacts with radical Islamic groups backed by the ISI is nothing new. It was one of the few countries that had contacts with high-level Taliban leaders, including Mullah Omar, during Taliban rule between 1996-2000. There was even a Chinese offer to establish a telephone network in Kabul during this period. Moreover, after the Taliban was ousted from power in 2001 and was hosted by the ISI in Quetta, the Chinese maintained clandestine contacts with the Mullah Omar-led Quetta Shura. China recently joined the ISI to sponsor the so-called "Afghan-led" peace process with the Kabul government. Beijing appears convinced of the need to have an ISI-friendly government in Kabul. The mandarins in Beijing evidently favour such a dispensation, in the belief that the ISI will rein in the Taliban support for Uighur Muslim militants in Xinjiang.
While India received overwhelming international sympathy and support during the 26/11 terrorist carnage, the Chinese reaction was one of almost unbridled glee, backing Pakistani protestations of innocence. The state-run China Institute of Contemporary International Relations claimed that the terrorists who carried out the attack came from India. Even as the terrorist strike was on, yet another Chinese "scholar" gleefully noted: "The Mumbai attack exposed the internal weakness of India, a power that is otherwise raising its status both in the region and in the world."
Not to be outdone, the foreign ministry-run China Institute of Strategic Studies warned: "China can firmly support Pakistan in the event of war... While Pakistan can benefit from its military cooperation with China while fighting India, the People's Republic of China may have the option of resorting to a strategic military action in southern Tibet (Arunachal Pradesh) to liberate the people there." Rather than condemning the terrorists and their supporters, Chinese foreign ministry spokesman Qin Gang urged India and Pakistan to "maintain calm" and investigate the "cause" of the terror attack jointly. The visiting chairman of Pakistan's Joint Chiefs of Staff General, Tariq Majid, was received in Beijing like a state dignitary by Chinese leaders, with promises of support on weapons supplies ranging from fighter aircraft to frigates.
China has developed strong lobbies in Indian business. Political parties, journalists and academics act as apologists for its actions, even when such actions constituted what can only be described as unrelenting hostility towards India's national security concerns. Even the "Ayatollahs" of non-proliferation in the US, who rant and rave against India's nuclear and missile programmes, suddenly lose their speech when it comes to condemning Chinese actions. These worthies have documented evidence on how China initially provided nuclear weapons designs to Pakistan for its enriched uranium warheads and also upgraded Pakistan's uranium enrichment capabilities. More ominously, China provided a range of designs and materials to enable Pakistan to develop plutonium reactors, heavy water plants and plutonium separation facilities in the Khushab-Fatehjang-Chashma nuclear complex. This has enabled Pakistan to make light plutonium warheads and embark on the production of tactical nuclear weapons.
This development has seriously enhanced the prospect of Pakistan triggering a nuclear conflict by the use of tactical nuclear weapons. Pakistan now no longer speaks of a "credible minimum deterrent", but of possessing a "full spectrum deterrent". There has been no other instance in the contemporary world of such large scale and unrestrained transfer of nuclear weapons capabilities, as what has transpired during the past four decades between China and Pakistan. Worse still, while China balks at backing our entry to the Missile Technology Control Regime, virtually every ballistic missile in Pakistan's inventory today is of Chinese origin. The 750-900 km Shaheen 1 is a variant of the Chinese DF 15 missile. Shaheen 2 and Shaheen 3, with ranges of 1,700 km and 2,750 km, are evidently variants of the Chinese DF 21A. The vehicle that transports and launches Shaheen 3 reportedly has a design identical to that of a missile supplied by China to North Korea in 2011.
New Delhi should have no doubt that Beijing's ties with Pakistan are primarily motivated by a burning desire for "strategic containment" of India. New Delhi appears to be still looking for a coherent strategy to pay back China in its own coin and raise the strategic costs for Beijing's unrelenting hostility towards its security interests. India needs more proactive coordination of its policies with those of key regional powers, like Japan and Vietnam, to meet challenges China now poses. India, Vietnam and Japan should jointly seek to coordinate these efforts with the US. Washington, unfortunately, has a track record of striking its own deals with China, with scant regard for the interests of its partners. Moreover, while dealing with these maritime and strategic challenges, India has to simultaneously strengthen confidence-building measures on its borders with China. These CBMs have been useful, especially after President Xi Jinping's visit to India, in maintaining peace and tranquility along the Sino-Indian border. It is inevitably going to take a long time before the border issue is sorted out with China, in accordance with the Guiding Principles agreed to in 2005.
It is astonishing that in all these years, there has been no significant or sustained diplomatic effort by successive governments in India to focus attention on these developments. And the less said about our journalists and academics visiting the "Middle Kingdom" the better. They are generally busy singing paeans for the qualities of head and heart of their hosts, rather than bothering about such issues. While the invitation to Chinese dissidents for a meeting in Dharamsala could have been handled more professionally, China should be made to pay a price for meddling in developments in our northeastern states.
Top News
Teams conducting raids to arrest the BJP leader
Jaishankar meets UN Secretary-General Antonio Guterres and P...
Canada is home to about 770,000 Sikhs - the highest populati...
Canada has alleged that Indian authorities were behind Nijja...