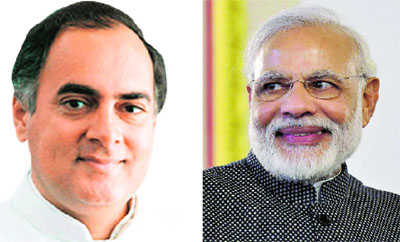 IF Rajiv Gandhi were alive, he would probably have paid a heavy political price today for his inaction and silence as the Prime Minister, during the anti-Sikh riots that unfolded in New Delhi in 1984 following the assassination of Indira Gandhi. As it is, the appalling mass murders have left a permanent blot on the Congress and who knows, in today's day and age, Rajiv Gandhi could have found himself facing legal challenges as well. However, justice completely eludes the victims even today.
Back then, he was elected with a huge majority in the Lok Sabha polls that soon followed in December that year. Perhaps, it was the sympathy factor at work, compounded by the vehement anti-Sikh mood prevalent in the country because of the bloody decade of Khalistani terrorism. But the people of India seemed to have ignored and condoned Rajiv Gandhi — having turned a blind eye to the massacre of nearly 3,000 innocent Sikhs in the national capital.
His smart and suave personality, backed by the Gandhi name, soon made him into a popular, political icon especially as he ushered in an era of computer and telecom technology. Ironically, when he lost the elections in 1989, it was on account of the taint of the Bofors corruption scandal and not because of any belated outrage of the Indian electorate about the Delhi anti-Sikh carnage.
Thirty years later in 2014, the country elected another politician as the Prime Minister. He had been equally responsible, if not more, for failing to halt an equally heinous orgy of violence and mayhem from being committed under his watch as the Gujarat Chief Minister in 2002, this time against Muslims. Indeed, if Rajiv Gandhi was accused of justifying the anti-Sikh massacre indirectly, Narendra Modi's utterings in speech after speech thereafter almost appeared to aggressively rationalise, even glorify, the butchery as apt revenge for the Godhra killings of karsewaks. Even though his culpability has never been legally established in the gory deaths of over 1,000 Muslims, Narendra Modi owes his muscular image and spectacular rise as a leader, to his brazenly unapologetic projection of himself as a Hindutva icon, who taught the Muslims a lesson in Gujarat.
Like Rajiv Gandhi, he later burnished his credentials and sought to redeem himself by building the myth of being a forward-looking, development messiah, having taken Gujarat to new heights. He has also taken care of being perceived as incorruptible, a reputation Rajiv Gandhi once enjoyed, before the Bofors scandal destroyed it. The point is, what does it say about India as a democracy and we as a people that 30 years apart we elected to power as our sixth and 14th prime ministers respectively, two individuals from two national parties, who at the very least were guilty of dereliction of constitutional duty while callously presiding over the massacres of two different minority communities? In 1984 and in 2014, the voters were fully aware of the serious allegations against both these leaders, that they let the inflamed majority community, the Hindus, vent their ghastly ire against the Sikhs (1984) and the Muslims (2002). It was no secret that in 1984, Congressmen and in 2002, the BJP politicians and members of affiliated organisations like the VHP and the Bajrang Dal were actively involved in the riots. Both parties protected their own to the hilt in the aftermath. Not only was evidence destroyed and every effort made to torpedo or slow down the investigations, a patently perverse endeavour was also undertaken to protect and whitewash the top leadership from any guilt. Their roles in meting out bloody "punishment" to minorities were openly lionised.
Shouldn't the killings have tainted the two leaders forever as being unworthy of being elected to the second highest office of our country; of being incapable of upholding constitutional values and ideals; of having failed the test of social and political morality? Instead, the popularity of Rajiv Gandhi and Narendra Modi soared in the eyes of Indians and they were voted to office with huge majorities. As if the voters rewarded them for the massacres they let happen or did nothing to prevent. What does it say about our national character that while we consider corruption an unforgivable sin for the top post, deliberate inaction in the face of communal slaughter is acceptable, even a laudable trait in our eyes? What does that portend? While Rajiv Gandhi bit the dust after his first term and then was the victim of gruesome fate himself in a brief political career spanning about 10 years, Modi has only gone from strength to strength, first remaining undefeated as a three-term Gujarat Chief Minister and now as a Prime Minister who might well win a second term.
The spectre of the anti-Sikh riots started haunting the Congress only once it weakened and began losing power at the Centre. So much so that another Congress Prime Minister, Manmohan Singh had to finally apologise for it. Today, despite no legal indictments, public perception squarely holds the Congress guilty, but that in itself is not the main reason for the horribly negative image of the party. Does that mean that the BJP will be able to live down the taint of the Gujarat massacre so long as no major corruption scandal surfaces or its accumulated governance failures don't catch up with it after decades in power? Will it be a later generation which might then hold it guilty? But when? Because 15 years have already elapsed this February/ March since the pogroms were unleashed in Gujarat.
More importantly, when will we Indians start discerning between men of substance and men of straw and stop mistaking political ruthlessness for strong leadership?
The writer is a Pune-based author & film-maker The views are personal.
Top News
Harried passengers take to social media to vent their ire at...
Lapid had stirred a massive controversy by terming Vivek Agn...
Final turnout to be higher as voting process continued at po...
DigiYatra will provide seamless entry and embarkation proces...
His song 'Mahakaal' removed from YouTube after 19 hours