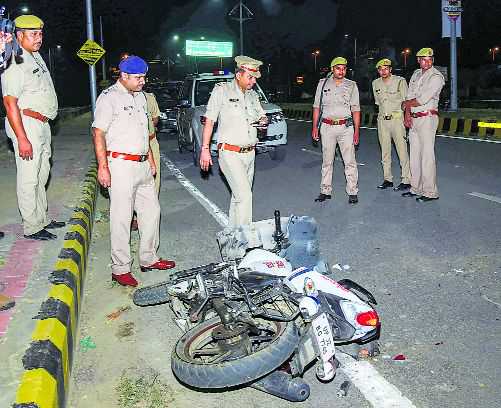 Faizan Mustafa
VC, NALSAR University of Law, Hyderabad
ARistotle did not agree with Plato that 'better men' are better than 'best laws' and went on to assert that 'every citizen is under law, including rulers'. Rule of law (dharma) under Hindu jurisprudence is supposed to help power-minus and keep power-plus in check. Rule of law has rightly been held to be the basic structure of our Constitution. In issuing guidelines on mob lynching, the Supreme Court in the recent weeks yet again emphasised its importance and came down heavily on the tendency of people taking law into their hands and the trend of dispensing instant justice.
The UP government under Chief Minister Yogi Aditynath seems to have no reverence even for the Hindu scriptures that prohibit the use of force against innocent citizens. In the last 18 months or so, some 80 people have been killed in police encounters. FIRs in these cases show remarkable similarities, giving rise to suspicions about the legitimacy of the encounters. A few days back, in an unprecedented move, the police even invited media to witness a live encounter in Aligarh. It seems the UP police have no respect for the law. Its recent actions have revived the memories of the brutalities of the Provincial Armed Constabulary (PAC) in Meerut, Moradabad etc in the 1980s.
Now the brutal murder of Vivek Tiwari, an Apple executive, has finally been considered shocking enough by the media to have a prime-time debate on rule by gun in India's largest state. Terrified and helpless residents of UP have pasted posters on the walls of Lucknow and other cities, saying: "Police Uncle, Papa will stop on your instructions. Please do not kill him." The Yogi government should understand that political liberty is all about security or people's opinion that they have security. In spite of tall electoral promises of making UP bhaymukt (free from fear), citizens in UP today live under tremendous fear and insecurity.
Due to electoral repercussions on the Brahmin vote bank, not only the prompt actions of suspending offices and financial help to the family were announced but even the state's law minister admitted that the police were trying to destroy evidence and cover up the illegal act. The post-mortem report too has negated the police's claim of firing in self-defence.
The only thing common in Muslim, communist, authoritarian and rightist regimes is their rejection of 'rule of law' and insistence on 'rule by law'. Rule by law means you can pass arbitrary laws or issue arbitrary orders. Rule of law signifies you need to respect limitations on your power and respect fundamental rights. Rule of law is certainly the anti-thesis of arbitrariness since criminal law's promise as an instrument of safety is matched only by its power to destroy.
The UP government looks determined to make the maximum use of it. Last year in December, Yogi introduced UPCOCA, 2017 on the pattern of the regressive MACOCA, 1999. In the past, such black laws were used against young children, old women, trade union leaders and petty criminals. Even a former Punjab and Haryana High Court Judge, AS Bains was arrested under TADA and allegedly also handcuffed. Chandrashekhar Rawan of the Bhim Sena was recently kept in jail for some months in UP on charges under the National Security Act.
UP is becoming notorious for its police encounters, with the Chief Minister himself boldly telling the UP Legislative Council about the rare feat achieved by his police in killing 40 criminals in 1,200 encounters in nine months. He went on to say that these encounters will continue. To the shock of nation, he further said that bullet will be replied with bullet and sympathy with the criminals is against democracy.
The records of some other states are equally bad. In Bhopal, in 2016, eight SIMI undertrials were killed by the police. In Chhattisgarh's Bastar alone, as many as 134 encounters took place in 2016. Andhra Pradesh and Maharashtra under Congress rule too were notorious for the encounters.
KPS Gill, as DGP of Punjab, famously called people going to courts against such encounters as 'litigation guns'. Jaswant Singh Kalra showed the courage to use government crematoria records of just one Punjab district to demonstrate that at least 6,000 people were secretly cremated by the police. After several years, six policemen were convicted for killing this defender of human rights. The Government of India admitted that as many as 2,097 people were similarly secretly cremated in Amritsar alone and despite the intervention of the NHRC and Supreme Court, just 30 cases were registered by the CBI.
In 2000, for the massacre of 36 Sikhs in Chattisinghpora, five suspected militants were killed in an encounter. Subsequent forensic tests showed them to be innocent local villagers. The NHRC has said that of the 440 cases of encounter between 2002 and 2008, as many as 231 were in UP. As per the latest figures, UP contributes to 44 per cent of encounter deaths. Thus, Congress, SP and BSP governments were no better than Yogi.
In February, 2009, in its judgment on a writ petition filed by the APCLC in the context of 1,800 encounter deaths between 1997 and 2007, the AP High Court recognised that 'encounter deaths are prima facie cases of culpable homicide' and thus in all cases of encounter deaths, an FIR must be registered, an independent and impartial investigation be ensured and the state's plea of self-defence be established at the stage of trial, and not during the stage of investigation. The SC, unfortunately, gave an ex parte stay against this progressive judgment and has not thought it to be important enough to pass final orders in this matter.
On July 16, 2016, in the case of Extra Judicial Execution Victims' Families Association, where the SC was dealing with more than 1,500 such killings in Manipur, Justice Madan B Lokur observed: "Scrutiny by the courts in such cases leads to complaints by the State of its having to fight militants, insurgents and terrorists with one hand tied behind its back. This is not a valid criticism...in such cases it is not the encounter or the operation that is under scrutiny but the smoking gun that is under scrutiny. There is a qualitative difference between use of force in an operation and use of such deadly force that is akin to using a sledgehammer to kill a fly; one is an act of self-defence while the other is an act of retaliation." Some security personnel have now moved the apex court against investigations into these killings. An internal army report was made public recently, stating that army and security forces are being taken to courts by urban naxals.
From the details of UP encounters, these encounters do not look like acts of private defence by the UP police. Rather, they demonstrate the government's resolve to adoption of 'rule by gun' in preference to 'rule of law'. Yogi Adityanath in an interview on India TV said in June, 2017 that those who commit crimes would be hit.
The human right of security of a person is mentioned in Article 3 of the Universal Declaration of Human Rights, 1948. Its Preamble talks of freedom from fear as one of the four 'highest aspirations of mankind'. Fear is a subjective state of mind based on hard and objective facts. The people of UP are under fear as hard facts are coming in the open about police encounters. Freeing people from fear requires sincere reassurance. Will the PM intervene to restore the people's faith in rule of law?
Top Stories