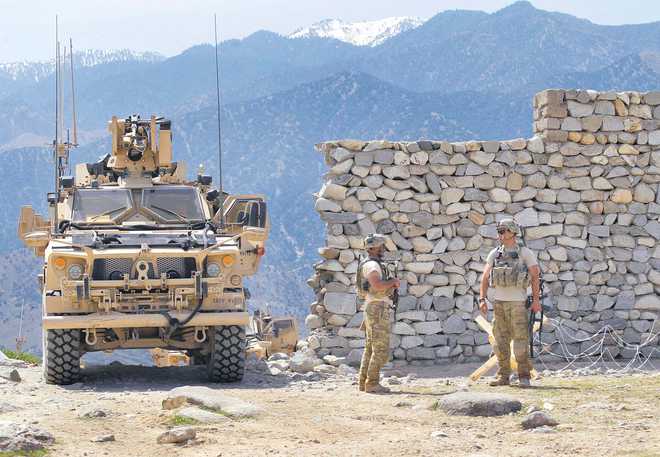 MK Bhadrakumar
ONE of the most significant foreign policy decisions taken by US President Donald Trump during the past six months must be the termination of the clandestine American programme to provide arms and supplies to Syrian rebel groups. Trump simply abandoned a four-year-old secret "deniable" programme by the CIA, authorised by his predecessor Barack Obama, flagging that the US has given up hope of toppling the government of President Bashar Al-Assad.
Trump's decision was first reported last week by The Washington Post, but it is more than a month old and kept confidential presumably because of its sensitivity. Indeed, the decision signifies a parting of ways between the US and its regional allies, especially Israel and Saudi Arabia. More importantly, it "signals the death knell for Western efforts to roll back Iranian and Russian power in the Levant," to quote Prof Joshua Landis who heads the Centre for Middle East Studies at the University of Oklahoma and is one of America's highly regarded authorities on the Syrian question.
As Landis put it, "The cut-off of CIA funding for Syria's rebels is the raggedy ending of America's failed regime change policy in Syria and the region at large…President Trump called the wars in the Middle East 'stupid wars'…He believes that by working with the Russians, the US will destroy ISIS more quickly…Many Western leaders have preceded Trump in coming to the conclusion that Assad is staying in power… [French] President [Emmanuel] Macron has articulated this position for the EU."
The stunning development imparts an altogether new meaning to the protracted procrastination on Trump's part regarding Afghanistan. The White House was supposed to have announced the new "Afghan strategy" weeks or months ago. This hasn't happened. On Wednesday, Trump said enigmatically, "We have plenty of ideas from a lot of people, but I want to hear it from people on the ground." Can it be that similar to the case of Syria, Trump has already taken a decision and is moulding opinion? His predicament in Afghanistan is akin to his dilemma over Syria — undependable allies and an unwinnable war where the US must do heavy lifting (which was costing American taxpayer $4 million roughly per hour, according to a July 2015 study).
Only about half the NATO countries are willing to make even token contribution. (Britain agreed to send 100 troops; Germany says 'nyet'.) It is crystal clear that an additional deployment of even 5,000 US troops — the ceiling mentioned — cannot break the current stalemate when Obama's famous "surge" with 1,40,000 troops in 2011-2012 could not keep the Taliban at bay. The Trump administration is reportedly divided over the "strategy" with the President's chief political strategist Steve Bannon urging him to think twice before deploying additional forces. Various accounts have credited Bannon with a logical and pragmatic perception of the war, seeing the war as more of a policy failure.
Meanwhile, in what seems to be in a mood of growing despair, the White House has reportedly probed the Pentagon whether the war could be "outsourced" to military contractors. Erik D Prince, founder of the private military company Blackwater Worldwide, and Stephen A Feinberg, billionaire financier who owns the giant military contractor DynCorp International, are reportedly leading a campaign in which they conceivably see a role for themselves as daring businessmen. Prince is not lacking in White House connections. (His billionaire sister Betsy DeVos is the education secretary in Trump's cabinet.)
Prince fleshed out the idea in an interview with the influential Breitbart News: "I say go back to the model that worked, for a couple hundred years in the region, by the East India company, which used professional Western soldiers who were contracted and lived with, trained with, and when necessary fought with their local counterparts." Prince argued that the light footprint approach would also be "much cheaper, more sustainable" in the long run — about 10 per cent of the current costs. Believe it or not, the idea got traction in Washington as "out-of-the-box" thinking. Prince has an entire blueprint for the idea whereby the fighting force would be led by an American viceroy who would consolidate all American power in his hands and report directly to Trump — modelled after Gen Douglas MacArthur, who ruled Japan after World War II (until summarily dismissed by President Harry Truman on corruption charges).
At its core, the US' so-called "strategy" boils down to finding the pretext for an extended, open-ended military presence in Afghanistan in a cost-effective manner. Make no mistake, it was a Pentagon study in 2010, which uncovered that Afghanistan could be sitting on vast mineral wealth, including strategic minerals such as lithium, worth at least $1 trillion, and recommended that US should wage a "resource war". $1 trillion might be a chimera but Pentagon did form a group called the Task Force for Business Stability Operations and IBM did branch into resource extraction consultancy in Afghanistan.
The Afghan war has always been geopolitical. Former Afghan President Hamid Karzai repeatedly speaks about reports that unmarked helicopters are spotted at night dropping supplies in strongholds of Islamic State fighters (who are mortal enemies of Afghan Taliban). Shades of Iraq and Syria! The Russian foreign ministry made the same allegation citing intelligence inputs and asked Washington to explain. Tehran too has made similar allegation.
This is where Trump's decision on Syria appears as a ray of hope. Trump probably senses the futility of the Afghan war. Significantly, after the NATO-Russia Council meeting in Brussels on July 13, Secretary-General Jens Stoltenberg admitted that the alliance has neither any proofs nor any confirmed information on the flood of salacious media reports on Russia having clandestine links with the Afghan Taliban. Stoltenberg said dryly, "Russia has clearly stated that they're not supporting Taliban. The focus of the meeting today was the importance of supporting an Afghan led and Afghan owned reconciliation process."
Of course, the NATO secretary-general usually takes the cue from Washington before articulating on major issues, and in this case Stoltenberg was speaking after Trump's visit to Brussels. Therefore, the big question is whether Trump could be toying with a "Syrian option" in Afghanistan. The heart of the matter is that no matter what Trump decides to do, there is no way forward sans getting China, Russia, Iran and Pakistan on board. It is only by addressing the concerns and interests of these "principals" surrounding Afghanistan can the war on terror be brought to successful conclusion and the major challenges fuelling regional tensions tackled effectively.
The writer is a former ambassador
Top News
Congress leader has been trapped in the consequences of the ...
About 47.58 lakh government employees and 69.76 lakh pension...
LS secretariat has sent notification to EC to declare Wayana...
Prominent leaders stopped by police and detained at Vijay Ch...
Overrules a 2011 verdict by a two-judge Bench