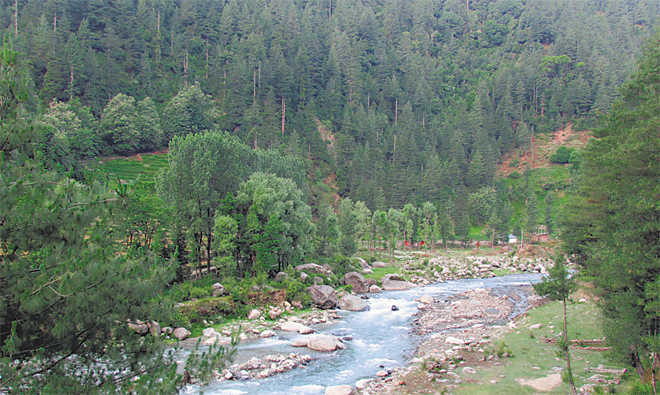 Amandeep Aggarwal
Chairman, Action Committee-cum-Legal Cell, IMA, Punjab
While we will be busy celebrating International Day of Forests on March 21 and World Water Day on March 22, let's turn a blind eye to the receding water level and depleting forest cover in our country and watch our leaders talk big on water conservation and importance of forests. If water tables could speak, there would have been a "rudali" everywhere. If trees could bleed, a gushing flow of blood would have spread across our roads.
Water is the most valuable resource and an essential component of the ecosystem because all living beings need it to support their living processes. Many of us who live in big cities enjoy a carefree lifestyle with 24x7 running taps, swimming pools, jacuzzis and fountains. Sheltered by this layer of comfort, we remain unaware of the impact of these water-intensive activities on our environment. Rapid urbanisation and water pollution have widened the supply and demand gap, putting enormous pressure on the quality of surface and groundwater bodies.
Clean water is destined to become one of the rarest commodities soon, if the general public is not educated about the significance of storing, recycling and reusing water. Trees play a big role in water conservation — they absorb water and release it into the atmosphere; the average tree breathes out 250-400 or more gallons of water in one day. On the opposite end of the spectrum, trees also reduce flooding by intercepting approximately 1,000 gallons of water per year per mature tree!
Unfortunately, both these saviours of life are being butchered at the hands of the most intelligent creations of God. Instead of conserving water, we are wasting it and instead of improving our forest cover to the desired levels, we are ruthlessly cutting trees to pave the way for our "development".
In India, around 83 per cent of available fresh water is being used for agriculture. Rainfall being the primary source of fresh water, the concept behind conserving water is to harvest it when it falls and wherever it falls. The importance of storing rainwater through different techniques can be understood by an example of the desert city of Jaisalmer in Rajasthan which is water self-sufficient despite experiencing meagre rainfall as against Cherrapunji, which is blessed with one of the highest rainfalls in the world, but still faces water shortage due to lack of water conservation methods.
The Niti Aayog portal shows that India has a 21.23 per cent land under forest cover against 33 per cent recommended in the national forest policy. While Punjab tops the list from below, with just a 3.52 per cent forest cover, its neighbour Haryana is satisfied with being the first runner-up, again from below, with a forest cover of 3.59 per cent. Custodians of forests are busy building their own individual empires out of their official authority. A huge sum was received from the Centre in the "Green India Mission". The department officers have usurped the sum by showing plantation of 2,500 trees per hectare in the hilly area. This is technically not feasible on a hilly area as ridges have to be made. For providing sanctions to projects, it is stated (needless to say that money changes hands) that the forest area is a non-forest land. For justifying the increase in staff/labour, even non-forest area is shown as forest land. Following orders from the Supreme Court, the Union government had constituted a body, CAMPA, to manage funds (CAMPA funds) for afforestation to compensate deforestation done to give room for development projects.
The CAMPA funds meant for compensatory afforestation are grossly being misappropriated by the custodians themselves. Environmental clearance for various projects is given by the Government of India with certain conditions to ensure that development doesn't tax the environment, but it has become a practice to violate the conditions laid down and no one is bothered. More so, permissions for development projects are still being given without bothering about the compliance of conditions for environmental clearance in earlier sanctions.
Why is the government granting permissions/ environment clearances of projects where none bothers to care for environment? In the name of compliance, the buck is passed to the contractor. Recently, the Central government had released National Forest Survey 2017 report. The data/imagery projected as of 2017 is actually of 2015, before the mass scale felling of trees along the Bist Doab canal, Banur canal and other project sites. The actual forest cover of Punjab as in 2017 or today after massive deforestation is much less. Better imaging technology has come up, so the areas that were missed earlier have also been captured. The forest cover in the report includes forests as well as trees on private lands. That defeats the very purpose of the assessment of the forest cover.
If society characterises it as development, it is time for a serious introspection.
Under the prevailing conditions, it would be in the fitness of things to spread awareness about the methods of water conservation and give exemplary punishment to those who are digging the graves of the civilisation by indulging in scams to the detriment of our ecology on which hangs the future of the world and for the cause for which people have laid down their lives.