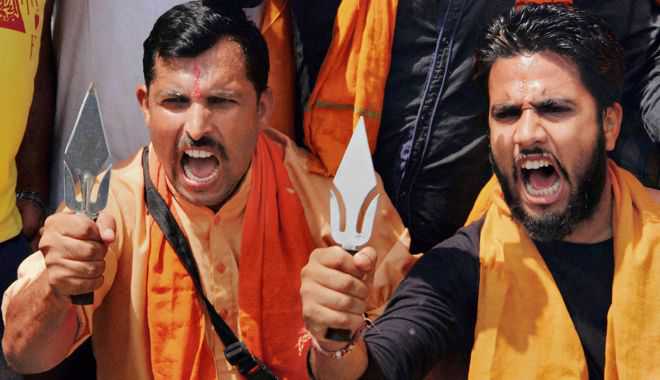 Faizan Mustafa
Vice Chancellor, Nalsar University of Law, Hyderabad
The BJP's consistent position has been that the Congress' secularism is 'pseudo secularism' and that it will bring in positive secularism. Secularism must be understood to be at the core of modernity and the best guarantee to have harmony between different communities as 'fraternity' too has been mentioned in the preamble. Secularism is good not just for the minorities but for the entire nation and even for religions. A theocratic state generally dominates the state religion. Preservation of secular ethos cannot be the sole responsibility of the minorities.
Prime Minister Modi, in his victory speech at the BJP headquarters, brought in the issue of secularism and made an interesting statement. He said that for 30 years, there had been a fake tag of secularism and that all your sins would be washed if you wore this tag. There is some truth in it as corruption and other regressive casteist policies of some leaders were indeed condoned if they demonstrated some commitment, even ostensibly and superficially, to secularism.
In his characteristic style, the Prime Minister went on to say that "in this election not a single party could dare to mislead the country by wearing the mask of secularism." Is secularism just a mask or a useless concept?
The PM's statement also has some substance because in real terms even the so-called secular parties were not really secular and, at times, they did use religion or religious symbols for electoral purposes. Thus, Rajiv Gandhi started his 1989 election campaign from Ayodhya. As far as the BJP is concerned, its leaders never hesitated in using religious symbols to polarise voters. If the Congress can be accused of Muslim appeasement, the BJP boldly and without concern for constitutional values also routinely indulges in Hindu appeasement.
Moreover, the Supreme Court itself in RY Prabhu (1995) did a huge disservice to the cause of secularism by holding that seeking votes in the name of Hindutva is not a corrupt electoral practice.
On October 17, 1949, when the Preamble of the Constitution was under discussion in the Constituent Assembly, HV Kamath proposed that the Preamble should begin with the words 'in the name of God'. Rajendra Prasad, who himself was an orthodox Hindu, tried to persuade Kamath to withdraw his amendment and reference to God, but Kamath remained firm on his stand. Eventually, a vote had to be taken and we should thank God that he lost 41-68. Similarly, the word secular was not specifically included, yet the members in one voice spoke it being a fait accompli of a liberal democratic constitution and consistent with the ideals of our freedom struggle. Silences of the Constitution are equally important. For instance, the word 'federal' has not been used in it, but federalism is a part of its basic structure.
At the most basic level, secularism involves three kinds of relationships between the state, religion and citizens. The state should be independent of religion or what is called famously the non-establishment clause or Jeffersian wall of separation between church and state; between individual and religion or what is termed as 'freedom of religion' which also includes freedom from the religions and thirdly, relationship between state and citizens where the state will ensure non-discrimination of every citizen. Thus, secularism is all about neutrality, liberty and equality.
In December last year, Justice SR Sen of the Meghalaya High Court wanted India to be declared a Hindu rashtra and went on to say that "I make it clear that nobody should try to make India another Islamic country, otherwise it will be a doomsday for India and the world." There is no possibility of India ever becoming an Islamic country. But it will also be a dooms day if India becomes a Hindu country. On May 24, 2019, a Division Bench of the Meghalaya High Court overruled Justice Sen's judgment and observed that the judgment was "legally flawed and inconsistent with constitutional principles."
Some BJP leaders do argue that the original Constitution was not secular and this term at the instance of Indira Gandhi was artificially inserted in the Preamble by the 42nd Constitutional Amendment in 1976. This view, therefore, rejects secularism as our civilisational heritage.
Extreme Hindu Right opposes secularism as it is opposed to treating religion as a private matter and treats secularism as an essentially Christian idea that has led to mere appeasement of minorities. Accordingly, the BJP came up with the slogan of 'appeasement of none, justice for all.' Strangely, no secular party ever tried to demolish the factually wrong appeasement narrative as Muslims are today as backward as Dalits and are grossly underrepresented in all institutions of the state, except prisons.
The Hindu Right argues that what can be added by an amendment can certainly be deleted by another amendment. There are, however, two fundamental flaws in this reasoning, ie firstly, India was indeed secular even prior to 1976. A 13-judge Bench of the Supreme Court three years prior to the 42nd Amendment in Keshwanand Bharti (1973) had declared secularism to be the basic structure of the Constitution. Thus, Indian secularism has three features: the state has no religion of its own, people have freedom of religion and certain inalienable rights are guaranteed to the minorities. Secondly, since the Preamble itself is the part of the basic structure, it cannot be amended by way of deletion but it can certainly be amended by way of addition. In 1976, three words were indeed added to the Preamble — secular, socialist and integrity. No word has so far been deleted or can be dropped from the Preamble. Thus, constitutionally speaking, secularism is safe but in day-to-day operations, a majoritarian government may not remain religion-neutral.
In SR Bommai (1994), the Supreme Court not only upheld the dismissal of the BJP governments after the demolition of Babri mosque as these governments were not committed to secularism but also went much beyond Keshwanand Bharti (1973). The court said that secularism is essential for the successful working of the democratic form of government as every citizen must be given freedom to follow his religion and state has to treat all citizens equally and irrespective of his faith and state cannot prefer one particular religion. The apex court did not find secularism alien to Indian values but said the idea of secularism can be derived from Indian civilisational or cultural ethos of tolerance, harmony and acceptance of the other as he is. Justice Jeevan Reddy, in fact, used the term 'positive secularism' but in an entirely different sense from the BJP's concept of secularism when he observed that the court will have to perform its civilisational role and intervene decisively to deal with the situations where communal harmony and tolerance are under imminent threat.
Let us hope the court will continue to play its interventionist role in preserving unto God what is God's and unto Caesar what is Caesar's. The wall of separation between the state and religion should indeed be kept high and impregnable.
(Views are personal)
Top Stories