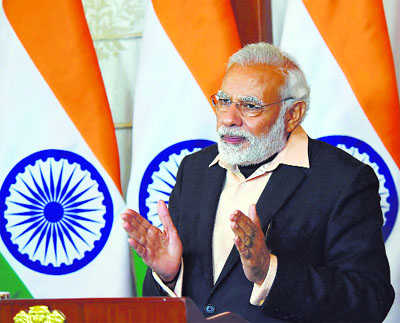 Salil Desai
Pune-based author and columnist
The buzz about the next General Election scheduled for 2019 is in the air. Contrasting theories are doing the rounds - Modi is still hugely popular and the BJP will ride back to power with a bigger majority, says one hypothesis; the Modi magic is finally fading, yet the BJP might retain power because of the TINA factor, although with lesser seats because it cannot replicate the 2014 peak performance in the Hindi heartland, says the other.
However, irrespective of what happens in 2019, the four years of Modi's rule have revealed a lot about us as a people and about the nature of our democracy.
Our politics is about power, not governance
Elected governments are meant to provide better governance and thus a better quality of life — social, cultural, economic, intellectual — than that provided by those voted out of office. However, the quality of governance under Modi continues to be at best average, at worst abysmal and, yet, much of our preoccupation has been about the extent of dominance and power that the BJP under him now wields. It's as if the only performance we care for is election-winning results and not tangible improvement in governance. Everybody everywhere, including the media, seems to be interested only in how many states the BJP controls, the popularity of Modi and who wins what state election, byelection, municipal election etc as if power is an end in itself and not whether that power is actually being used to improve governance substantively. Little wonder then that the PM is in a non-stop electioneering mode, constantly talking rather than delivering.
We are comfortable with bigotry
If there is one myth that has been completely busted since 2014, it is that all Indians (read Hindus) are peace-loving, tolerant, secular, non-violent by nature. In fact, given the startling popularity of the BJP under Modi and the appalling day-to-day bigotry on display on social media, it seems clear that we as a people are quite comfortable with blatantly regressive communal attitudes and even relish violence in the name of religion, caste, class, identity etc against minorities, liberals, leftists, backward castes and sundry 'sickular and anti-national folk'.
Indian media has feet of clay
For a tribe which kept growling and snapping at the heels of the hapless UPA-II, the Indian media, especially TV news channels, have shown themselves to be hopelessly spineless the moment it came up against strongman Modi. Much of the fourth estate, except for a few newspapers and news websites, keeps alternating between attacking the Opposition and singing paeans to the government and its great helmsman who never fails to treat them with disdain. This shows that Indian journalism can be anti-establishment only when there is no real risk of backlash from the government and party in power. Even newspapers and channels that continue to question the government seem to do it in softer, measured tones, as if trying not to offend the regime or compensate for the criticism with positive stories about those in power, as if trying to maintain a delicate balance to not invite the wrath of the government.
Institutional checks and balances weak against authoritarian tendencies
Not one independent constitutional authority has shown any real resolve to stand up to the ruling regime forthrightly with Modi at the helm. Whether it's the President, RBI, CEC, CAG, CIC, Lok Sabha Speaker, Supreme Court — all of them have fought shy of confrontation or avoided taking a timely stand and, in most cases, have let the government have its way.
There have been innumerable such instances in the last four years when the so-called independent institutions which are supposed to provide the much-needed constitutional checks and balances on government excesses, simply refused to perform their designated roles or have preferred to make do with feeble protests. Indeed, the unprecedented press conference by four seniormost Supreme Court judges a few months ago was a strong indicator of the pressures being exerted on independent institutions to fall in line with the government. Earlier too, we have been witness to how the RBI remained mute during demonetisation; how the President did nothing to stop the illegal toppling of the Uttarakhand and Arunachal Pradesh state governments; how the CEC delayed the notification of the Gujarat poll or its unseemly haste in disqualifying AAP MLAs in the office-of-profit case.
Mercifully, some of these institutions have asserted themselves once in a while, but it's clearly proved that it does not require an Emergency to show up the weakness of constitutional checks and balances, because the culture of upholding democratic convictions when they matter most is severely lacking in officialdom and authorities in India.
We are not a world power
Despite all our pretensions, we are still just a developing nation where mediocrity reigns supreme and we are nowhere on the cusp of greatness, no matter who leads us. In that sense, our tryst with destiny is fated to remain unfulfilled at least for the first half of the 21st century.
Top News
Describes India and China as 'friendly sovereign global cent...
In April 2016, the then CIC M Sridhar Acharyulu had directed...
He is serving time in a road rage case dating back to 1988
Clashes broke out between two groups in the Kazipara area of...
The govt had earlier given exemption of 2.25 per cent in sta...