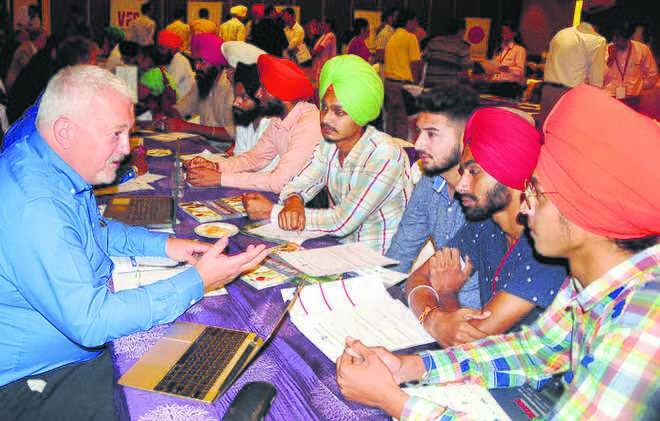 Atanu Biswas
Professor, Indian Statistical Institute, Kolkata
One less discussed, yet important, issue mentioned in the Budget speech of Finance Minister Nirmala Sitharaman is the Central Government's 'Study in India' campaign which focuses on bringing international students to top-ranking higher educational institutions in India.
The programme was initiated in April 2018 as a joint initiative of the Ministry of HRD, Ministry of External Affairs, Ministry of Home Affairs and Ministry of Commerce and Industry. Former External Affairs Minister Sushma Swaraj portrayed it as part of India's tradition for the quest for knowledge which has always been fundamental to India's culture and civilisation.
At present, there are nearly 46 lakh international students studying in countries other than their home countries. So, undoubtedly, there is a huge education market worldwide. There is a systematic drive in projects like 'Study UK' or 'Study in Germany' in the respective countries. International students certainly benefit a host country in terms of revenue and also as potential labour in many cases, whereas it is an important 'brain bank' for the home country that can be leveraged. At present, the US is hosting nearly 11 lakh international students — the highest in number. The UK has more than 5 lakh international students, while China hosts nearly 5 lakh. Australia, France, Canada, Russia and Germany host at least 2.5 lakh each or more.
In contrast, about 45,000 foreign
students — just nearly one per cent — come to India.
More than 6.5 lakh Indian students are studying abroad. Currently, Indians constitute more than 15 per cent of the total enrolment of foreign students in the US, which is nearly half of the Chinese students. It is true that many of these students would not have got admission in top Indian institutes. But, there are some very good students among them, and
Indian institutes would like to get some of them enrolled in their curricula. Can that also be an objective of 'Study in India'?
'Study in India' can be achieved through systematic brand-building, identifying quality institutions for receiving students, creating suitable infrastructure and facilitation structures. The initial focus was on students of 30 Asian, African, Middle East and Commonwealth of Independent States (CIS) countries. In fact, then Union HRD Minister Prakash Javadekar expressed the hope that families from America would send their children to India for under-graduate courses one day.
More protectionism in the US in the recent years and the longstanding uncertainty in the UK regarding Brexit might enforce some change in the mobility of the international students on the globe. And, the 'Study of India' project might grab that opportunity to change the landscape for international student mobility significantly in the future. Under the 'Study in India' scheme, 100 top institutions in the country — some IIMs, IITs, IISERs, universities, engineering colleges and others — are identified to admit 30,000 international students every year. Certainly, it might bring a quantum jump in the number of international students in India. More than 70,000 students from 190 countries have already applied for admissions in these seats in the current year.
But, mere number does not tell the full picture. Where do these students come from? The traditional foreign students in India are mostly from Nepal, Bhutan, Iran, Ethiopia, Afghanistan, Sudan, Iraq and Sri Lanka. For example, since 1950, the International Statistical Education Centre (ISEC) has been operated by the Indian Statistical Institute, under the supervision of the Government of India, to provide training in statistics to sponsored students, mainly from the countries of the Middle East, South and South East Asia, the Far East and the Commonwealth countries of Africa. And, if we look at the students registered under the 'Study in India' scheme, we will see a similar picture — they are mostly from Ethiopia, Nigeria, Afghanistan, Nepal, Bangladesh, Kenya, Tanzania, Rwanda, Ghana and Uganda.
In contrast, about 2,700 years back, students from abroad used to come to study in Taxila. And during the 5th to 12th century AD, students from countries like Korea, Japan, China, Tibet, Indonesia, Persia and Turkey flocked to Nalanda University. Certainly, that was the golden era of Indian academics.
We must keep in mind that the concept of education, however, has significantly been changed from the era of Taxila or Nalanda, along with the fact that there are plenty of excellent institutes now offering quality education around the globe. There has even been a remarkable shift from the concept of university, as depicted by John Henry Newman in his 19th-century book The Idea of a University. Today's university curricula are more job-oriented. What is to be taught in the 10th or 15th class is fixed a priori, and the academic freedom of both the teachers and students is limited within that framework. And this is a global scenario. International rankings of the universities depend on their number of students, number of research publications, and the placement of the students, among other issues. Today's universities do care about their rankings, and they create a huge uproar when published in the media. However, still the concept of university is in the Studium Generale, or 'School of Universal Learning'. A university is a place of concourse, whither students come from every quarter for every kind of knowledge. And, unless this happens, a university remains incomplete.
When students from different countries used to come to Taxila or Nalanda for their studies, they chose these universities as they were simply the 'best' in the world. In contrast, the driving force for today's students of (mostly) third-world countries to enroll in Indian institutions is possibly to get reasonably good education at affordable cost — mostly those who can't get opportunity to study in the US or in Europe.
However, some of our IITs, IIMs, NITs, the Indian Statistical Institute and some other Institutes and universities are certainly world class in terms of academic quality. If we succeed to 'sell' their excellence and simultaneously can increase the number of such institutes, we might aspire to resurrect the glory and glamour of the Taxila or Nalanda era in the true sense. And, who knows, even students from North America or Western Europe would compete to 'Study in India' in the near future. If that happens, that might become a defining moment in regaining the glory of Indian academics.