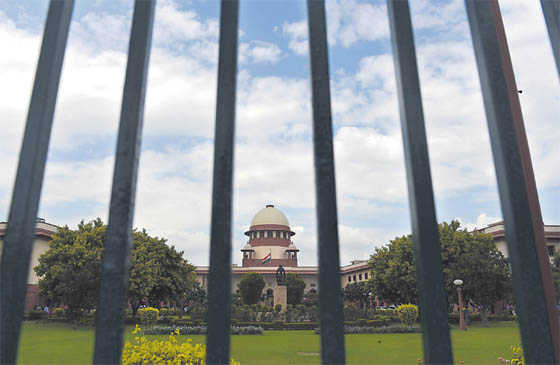 TO place judicial performance beyond scrutiny would be myopic as liberty without accountability is freedom of the fool. Power without responsibility is anti-thesis of constitutionalism. Accountability of public officials is the very essence of a democracy. Should this be extended to judges of superior courts? The answer has to be a yes because the performance of judges has a substantial bearing on the constitutional destiny of the Indian Republic. The Chief Justice of India has himself advocated greater accountability of judges and admitted that our judiciary is in crises. On what yardstick is the performance of judges to be assessed? This debate has also become relevant as the memorandum of procedure (MoP) prepared by a group of ministers headed by Sushma Swaraj has proposed that there should be an objective evaluation of the judgments of High Court judges by the collegium before making recommendations to the President.
The constitution bench of the apex court headed by Justice JS Khehar, after striking down the National Judicial Appointment Commission, had invited suggestions from the public and forwarded the matter to the government to prepare the MoP in consultation with the Chief Justice of India. The Chief Justice needs to consult other members of the collegium.
The new MoP introduces performance appraisal of judges in the appointment of Chief Justices of the High Courts and elevation to the apex court. It proposes the judgments of the last five years delivered by the judge, whose name is under consideration, must be evaluated. Similarly, initiatives taken by the judge concerned in improving judicial administration must be kept in view while considering his name for Chief Justiceship of the High Court. Due regard must also be given to 'merit and integrity', besides seniority. This requirement, which was also there in NJAC, will bring subjectivity as it is not easy to define 'merit'. The MoP currently in use (which was finalised in 1999 by the government) makes no mention of 'merit and integrity'. In a positive recommendation, it says that no one should be allowed as Acting Chief Justice of a High Court beyond three months. Till recently, we had more than half a dozen Acting Chief Justices in various High Courts. The other good features of the MoP are the recording of reasons when a seniormost Chief Justice is overlooked for elevation to the Supreme Court, establishment of a permanent collegium secretariat, and direct elevation to the Supreme Court of three advocates and one jurist. The provision of advocates has been used only in four cases and no jurist has so far been elevated to the Supreme Court. "One is entitled to say without qualification that the correlation between prior judicial experience and fitness for the functions of the Supreme Court is zero," observed Justice Frankfurter, a professor of law and one of the most outstanding judges of the US Supreme Court. To give a fresh perspective to intricate legal issues, the collegium may think of bringing liberal, competent and fearless academicians as judges to the apex court.
Short of impeachment for 'proved misbehaviour', we have not created any mechanism to make our judges accountable. There is no system to evaluate judicial performance. Even under ancient Roman law, a judge could be held liable for damages if he failed to appear in court at the agreed time; to adjourn for a just cause; to hear both sides equitably; to give judgment in good faith, without animosity or favour. Similarly, in Sweden, judges were subjected to mild criminal sanctions for breach of duty till 1976. In Denmark, since 1939, a Special Court of Complaints has been created to hear complaints against judges.
Judicial accountability promotes the rule of law, public confidence in the judiciary and institutional responsibility. The Supreme Court was right in reiterating yet again in the NJAC decision of October 16, 2015, that the independence of judiciary is the basic structure of the Constitution. But then, judges must appreciate that it is not an end in itself. It is rather an instrumental value defined by the purposes it serves.
As of now, in appointing/elevating judges, we do not look with requisite seriousness at the number or quality of decisions given by a judge. Admittedly, assessing the quality of the decisions as proposed by the new MoP is in itself a Himalayan task. How to assess the quality of judgments is a question which has not received much attention in India. Many US states have a 'merit plan' under which judicial performance is evaluated for the retention of judges through vote, or as a device for self-improvement. Some states have judicial performance review commissions/councils such as Arizona, California and Utah. These commissions consist of judges and lawyers, and also lay persons. New York and Alaska have systems of evaluation of judicial performance by trained court observers who make unscheduled visits to courts. Judges are evaluated on their knowledge of law, integrity, sentencing and impartiality, etc. Connecticut and New Jersey use judicial performance evaluation to felicitate improvement of individual judges. Thus more intense deliberations are required to evolve objective parameters to assess the quality of judgments. The MoP talks of 'integrity'. In Alaska, 'integrity' is evaluated on indicators such as equal treatment of all parties, sense of basic fairness and justice, conduct has to be free of impropriety and ability to deliver decisions without fear or criticism. One major yardstick of the quality of a judgment can be its citation by other judges.
Though regular evaluation of performance is a springboard for ensuring greater judicial accountability, there is no institutional mechanism to look into this aspect. No evaluation of performance is done in respect of Supreme Court judges. The new MoP is thus a welcome step to initiate the processes and parameters of assessing judicial performance of, at least, High Court judges. Leading national law universities in India should publish in their journals critical evaluation of judgments. Lord Denning of England said: "There is court superior to House of Lords (then highest British court) called Law Quarterly Review".
Our Supreme Court had seen some highly efficient judges who had written a record number of decisions. There were others who had written a relatively small number of decisions. Since Supreme Court judges sit in benches, there have been many judges who preferred to merely concur rather than write their own opinions. In any case, an opinion written by a judge is shared with other judges on the bench and the inputs of concurring judges are not made public.
Most Supreme Court judges have written judgments in less than 50 per cent cases they heard. Many eminent judges too have written opinions in under 30 per cent cases. Even a few decisions may demonstrate high quality. Thus the number game is not the correct yardstick.
Moreover, judicial performance appraisal does have an inherent shortcoming. It may adversely affect judicial independence which requires that the judge should deliver decisions without thinking of consequences of his decisions. Let the collegium take a call on this highly contentious and difficult subject.
— The writer is Vice-Chancellor, NALSAR University of Law