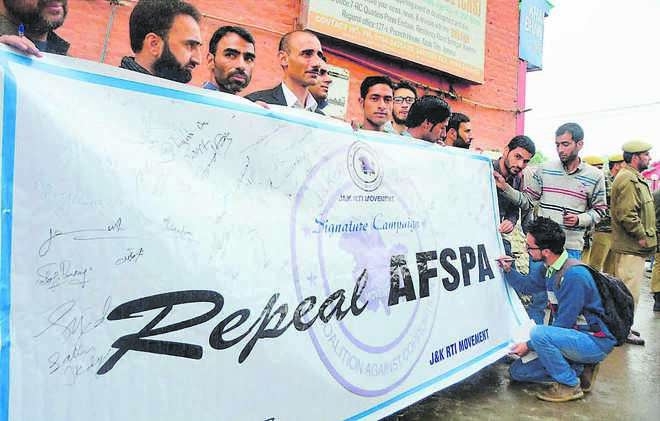 Counter-insurgency operations are a messy affair. There are no definite, lines, modes and structures that determine the scope and specificity of scales of operations by the military in dealing with them. Every situation has its own peculiarities and operating environment. Therefore, no same set of rules and methods can be applied in every case, though caution and restraint should be a constant factor in such operations. What needs to be borne in mind is that the overall environments in which these operations are conducted are generally hostile towards the security forces and people's sympathy is invariably with the insurgents.
Disenchantment of the people
Insurgencies have their roots in the disenchantment of the people with the prevailing socio-politico-economic environment in a given area. Such conditions impel some to take up arms where sympathy and support of the local population of the area invariably follows. In such an environment, intelligence sources for counter-insurgency operations are few and under the constant threat of elimination.
Unless the root causes for emergence and sustenance are addressed, insurgencies, tend to go on with their usual ups and owns, depending on counter-insurgency resources deployed to counter them and the successes they achieve. In other words, the alienation of large sections of the population is both the cause as well as the life-support system of insurgencies. These may be indigenous or foreign inspired and supported.
The Army at best can create an environment for a period of time for the politico-socio-economic steps to be initiated rapidly and purposefully implemented, so as to limit, if not completely remove, the grounds for alienation. During such windows of opportunities general administration too must act and together with politico-economic efforts seriously attempt to remove the root causes of disaffection. Unfortunately, our long experience, both in Jammu and Kashmir and the North-East has been contrary to such expectations. Consequently, insurgencies have persisted and counter-insurgency operations and AFSPA have been continuing.
Although a plethora of police organisations are available to the government, it is due to their failure to contain insurgency on their own that the Army is called in. The very fact that the military is called upon to join is an admission that the situation is extraordinary and well outside the capacity and capabilities of the state and central police to manage. An area/state has to be first declared as a "disturbed area," and only then can AFSPA be brought in.
Military when called in to aid to civil administration, even to deal with law-and-order situations, is not bestowed with any legal or police powers. The magistrate has to be at hand for a military detachment to engage with or fire on an unruly crowd or a lawless group indulging in arson and looting. In the absence of AFSPA and during counter-insurgency operations, a magistrate would be required to give written permission to the military to resort to firing. If the military were to engage terrorists without AFSPA, every incident may call for judicial inquiry and with a hostile population, motivated evidence will invariably pile up against the military. Troops will be demotivated and may even turn a Nelson's eye in their hunt for terrorists.
No soldier would like to do the rounds of civil courts for a decade and more. The Supreme Court has rightly opined that indefinite continuation of AFSPA negates and mocks our democratic process and symbolises the failure of civil administration. The judges have further observed that ordinarily our armed forces should not be used against our countrymen and women and that every person carrying a weapon in a disturbed area cannot be labelled as a terrorist or an insurgent and be killed without any inquiry! My Lords, the situation in insurgency areas is very often such that it is impossible to tell an insurgent from a peaceful citizen, more so, if he is carrying a weapon in certain restricted areas. On many an occasion for a soldier it is either kill or get killed.
Undoubtedly, due care and restraint must be exercised in the counter-insurgency operation, so as to avoid collateral damage in way of death or injury to innocent men. However, there are occasions when unavoidable collateral damage does take place, in spite of best of precautions. Very often, collateral damage is inflicted by the terrorists, knowing full well that the blame for such damage will invariably rest with the Army. While situation and causes for insurgency in Jammu and Kashmir and the North-East are quite apart, a common thread runs when it comes to accusing the military for fake encounters and extra-judicial killings. It may be recalled that there was much media hype and engineered public outcry at the alleged rape and killing of Manorama by the Assam Rifles personnel.
Manorama was a terrorist and a PLA member, involved, over a period of two to three years in laying IEDs, leading to the death of six civilians and two Army men. At the time of her arrest, a transmitter and a grenade were recovered from her. She was killed while trying to escape. Two separate and independent autopsies ruled out torture and rape. The nature of bullet injuries confirmed the escape story.
It is not to contend that there have been no fake encounters or extra-judicial killings, but it needs be stated that in all such cases military carries out its internal investigations to determine the truth. It may not be in the knowledge of the public and the media that well over a hundred court martials have been held where some senior officers too ended up behind bars.
The point that needs consideration is that with more than enough central police is available to combat insurgency, in Jammu and Kashmir and the North-East, why seek deployment of the Army in these areas? Consequently, the government can do away with AFSPA. When an Army post or vehicles column is attacked by insurgents, they have the legal right to protect themselves and the government property. Central police deploys companies but rarely full battalions. While they do corner special allowances when deployed as companies, but their efficiency in this manner of deployment does suffer.
The writer is a defence analyst