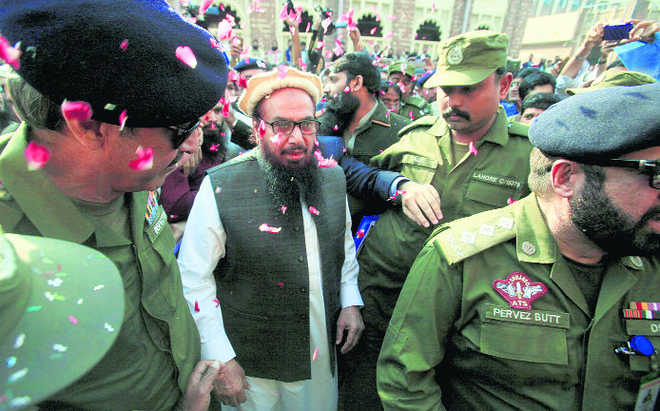 Tilak Devasher
Member, National Security Advisory Board
Recently, there was quite a stir in Pakistan when a new body called the National Development Council (NDC) was set up to formulate policies and strategies for development activities. What was unusual was not merely that it duplicated the National Economic Council, a constitutional forum that has a similar mandate, but that it included the army chief. Even for Pakistan, where the army holds sway, involving the military in purely economic matters was a first. Among other reasons, a primary consideration appears to have been developments pertaining to the Financial Action Task Force (FATF), the world financial watchdog.
The FATF was established in 1989 as an inter-governmental organisation to develop international standards on Anti-Money-Laundering and Counter-Financing of Terrorism (AML-CFT).
The FATF had placed Pakistan on a 'grey list' in June 2018 as a warning for failing to curb terror-financing and money-laundering. Being on the grey list is a negative signal to the global financial and banking system for carrying out transactions with Pakistan. The consequent higher level of diligence hampers trade and limits access to global capital markets. According to some estimates in the Pakistan media, Pakistan suffers an annual loss of up to $10 billion for being on the grey list.
Pakistan agreed to a 27-point action plan to address deficiencies and strengthen its anti-money laundering and combating financing of terrorism standards. It was given till September 2019 to do so. However, a review in January 2019 found that Pakistan had shown limited progress on the action plan. Meetings of the Asia Pacific-Joint Group (APG) held in Guangzhou, China, on May 15-16 found that out of the 27 action points, as many as 18 were incomplete. These findings were presented at the Plenary and Working Group meetings of the FATF in Orlando, Florida, on June 16-21, 2019. The FATF demanded, inter alia, actionable steps, especially against the eight proscribed outfits (Jamaat-ud-Dawa, Falah-i-Insaaniat, Lashkar-e-Tayyaba, Jaish-e-Mohammed, Haqqani Network, the Afghan Taliban, Daesh and al-Qaeda). Measures taken by Pakistan, according to the FATF, did not 'demonstrate a proper understanding of Pakistan's transnational terror-financing risk'.
Pakistan was asked to do more till September 2019 when the FATF action plan would be concluded and an overall assessment made. This would be just before the FATF plenary meetings on October 13-18 in Paris. If Pakistan does not meet the requirements, the FATF has warned that it 'will decide the next step at that time for insufficient progress'. In other words, Pakistan could risk being put on the FATF 'blacklist' that could majorly impact its access to international finance. The FATF pointed out that Pakistan had already missed two deadlines for implementing the action plan — in January and May 2019.
As is its wont, instead of focusing on its regulatory and implementation regime, Pakistan has sought to divert attention by raising extraneous issues. These include charges of politicisation of the UN's counter-terrorism machinery, alleging that the grey-listing is a ploy of the US and India to keep it under pressure in pursuit of their diplomatic goals.
Pakistan was put on the grey list in 2012 and removed from it by 2015 when it had given similar assurances, as today. Hence, its nonchalant attitude that history would repeat itself. However, where Pakistan has miscalculated is that in 2012-15, it was on the grey list only for money-laundering. This time, it is on the grey list for both money-laundering and terror-financing. Moreover, based on Pakistan not following through on its earlier commitments, FATF members are unlikely to accept mere assurances this time. Thus, instead of merely passing laws to show compliance, Pakistan needs to show concrete progress on the ground that includes targeting 'designated persons and entities'.
Pakistan seems to feel that it can use diplomacy to overcome the technical deficiencies pointed out by the FATF. It is banking on China assuming the FATF presidency before the next meeting as also Saudi Arabia becoming a full member. In reality, diplomacy could keep Pakistan out of the blacklist, but perhaps not get it out of the grey list unless it implements the agreed action plan of the FATF.
Following the Orlando meeting, where it secured support from China, Turkey and Malaysia to ensure that it was not blacklisted, Pakistan has got a three-month reprieve to comply with the action plan. However, the reprieve could be temporary. It will have to ensure full compliance with the FATF action plan before the October 2019 meeting. This would require a host of government departments to act in a coordinated manner to tackle the compliance deficiencies identified by the FATF. In the past, governments have found it difficult to achieve such coordination, including, as pointed out by the FATF, 'improving inter-agency coordination including between provincial and federal authorities' in combating terror-financing risks.
This is where the presence of the army chief in the NDC becomes intelligible. His task will be to arm-twist various government departments to ensure coordination to stave off the possibility of being blacklisted. In the process, of course, the authority of the civil government headed by Imran Khan will get further whittled. However, it is unlikely that anyone would be complaining.
The writer is the author of 'Pakistan: Courting the Abyss' and 'Pakistan: At the Helm'.
Top News
Khalistan sympathiser appeals to Akal Takht chief to call 'S...
BJP leaders attack the Congress, accusing the party of invit...
Ten women and a man died in the accident, state home ministe...
Several vehicles torched, shops ransacked on Thursday evenin...
India reports 40 per cent jump in new Covid cases