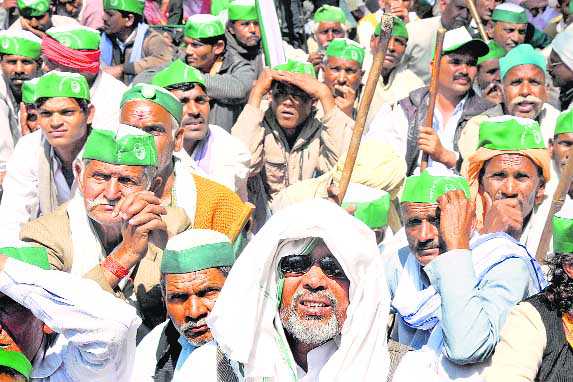 Due to unseasonal rains and hailstorms since mid-February, Rabi crops like wheat, cereals, mustard, vegetables (potato) have been damaged greatly. Consequently, many Farmers in the state have ended their lives by consuming poison or hanging etc. Preliminary assessment indicates 7 lakh acres of cropped area have been affected in Punjab. Chief Minister Parkash Singh Badal has sought Rs. 700 crore from the centre to compensate farmers for their losses. Farmer suicide is not a new thing in the state. A Punjab government survey report says 5,000 farmers and farm labourers committed suicide in Punjab between 2000 and 2010, which means three suicides every two days. Bathinda, Sangrur and Mansa are the most severely affected districts of state.
Profile of suicide victims
A look at the profile of the farmers who committed suicide due to unseasonal rains reveals they are mostly marginal and small farmers, with land holdings up to five acres, who had taken additional land on lease at the rate of Rs 30,000-40,000, a well-established practice in Malwa region of Punjab. This is the same category of small and marginal farmers which accounts for 70 to 80 per cent of farmer suicides in general in government's long term farmer suicide data. In fact, the geographical concentration of suicides in the recent months is also in the same districts of Malwa, with the major reason behind their suicide being debt.
Agriculture in Punjab suffers from mono-crop culture of mainly wheat and paddy. With this cropping pattern, farming itself is becoming an unviable occupation, due to rising fixed and variable input costs, and low remuneration leading to falling profit margins. Variable costs increase due to rising prices of inputs like fertilisers, pesticides, weedicides, diesel etc. And further fixed costs like installation and deepening of submersible pumps due to the dipping water table increase the finacial woes of farmers. For a small and marginal farmer, it is economically unviable to make such investments, especially by borrowing from informal sources at high rates of interest (18 to 36 per cent). Production levels in the state have already touched the saturation point and productivity cannot be increased further by intensive use of inputs.
Already intensive use of inputs alongwith cultivation of water-intensive crop like paddy has led to ecological crisis in terms of depleting water table and increasingly micronutrient-deficient soil. The National Sample Survey Organisation has pointed out that farming has now become unremunerative for small and medium farmers. According to the Ludhiana-based Punjab Agricultural University (PAU), almost 64 per cent of the farmers own less than 10 acres. The above two facts imply that these 64 per cent small farmers will soon be the victims of the worsening agrarian crisis. Poor marketing and unavailability of proper prices for the produce of other crops has made the farmers dependent on the current unviable cropping pattern.
Exploitation by arhtiyas
Farmers with no auxiliary source of income except agriculture have to rely on credit to fulfil the significant amount of investment required for farm infrastructure, machinery and quality inputs and also their daily expenses. Cooperative societies provide short-term formal loans for seasonal agricultural expenses, but for expenses like motor burn-outs, installation of a submersible pump (which may cost upto Rs 3 lakh), and even various household expenses farmers have to depend upon arhtiyas. Farmers have become heavily dependent on commission agents (arhtiyas) because of urgent need and easily availability of loans at any time of the day. In such conditions, even seemingly routine needs like providing a good education to their children, emergency medical expenses etc. become huge burdens which break the farmer's back. Further failure of public education and health institutions such as schools and hospitals to provide efficient services of reasonable quality forces the farmer, like anyone else in general, to look for private alternatives which are costlier.
The farmers who take land on lease for cultivation also have to bear the extra cost of rent of land. Since loans cannot be obtained from formal sources against land obtained on lease, once again these farmers have to rely on informal sources like arhtiyas for the expenses of cultivation alongwith the lease rent. This vicious cycle of taking more costly loans just to carry on cultivation in the hope of turning around their finances and repaying previous loans with high interest pushes farmers in to accepting informal lending at exorbitant rate of interest (18 to 36 per cent) on exploitative conditions like the having to sells their produce only through their lenders.
Unemployment and low auxiliary non-farm income opportunities are the other main issues in the state. Mechanisation of agriculture means only one family member can manage the agriculture operations, relieving the rest for the state has failed spectacularly in providing alternate employment. The unemployed rural educated youth constitute approximately 54 per cent of the aggregate rural unemployed in the state. Absence of the manufacturing industry is the main reason of unemployment and the fledgling Information Technology (IT) industry is unable to provide jobs to rural educated youth. With such meagre non-farm income opportunities, the farmers are solely dependent on agricultural income which is also very low and unreliable. It is very difficult to lead a minimum quality life with such low income for the Punjabi farmers who have traditionally enjoyed a relatively higher standard of living even prior to the heyday of Green Revolution. It should be noted that these farmers have rather munificent socio-cultural norms and traditions, inherited from a plentiful, prosperous past, making the current economic adversity appear more depressing.
Possible solutions
The government is very much aware of the agrarian crisis and rural suicides. The government knows that the current cropping pattern is not viable and has put forward the crop-diversification policy. Now the question is: Will simply announcing a policy of diversification of cropping pattern solve any purpose? If an adequately remunerative MSP for crops other than wheat and paddy is not provided, why would the farmer risk switching to other crops?
Price stability, marketing facilities and assurance of the sale of the farmers' crops are the preliminary arrangements which the system needs to provide at the ground level if crop diversification is to have any tangible effects on the farmers plight. Not only crop diversification, but also diversification of Punjab economy will address the issues of unemployment and low non-farm income. Punjab, beginning with the Green Revolution helped the country during tough times of food scarcity. Now the Central government cannot leave the farmers of Punjab to fend for themselves in their time of crisis. The Centre must give special packages for crop diversification. A policy for creating employment for Punjabi youth must be in place both from the Centre and the state government. There must be more investment in research and development in the field of agriculture.
— The writer is a Ph.D scholar, Department of
Humanities & Social Sciences, IIT Kanpur.
Top News
Railway minister Vaishnaw visits accident site; says main fo...
Though no bomb was found, the police have taken four persons...
As many as 28 people of Kamach Khera village of Julana in Ji...
On the intervening night of June 2 -3, BSF troops deployed i...
Many fled abroad | Cops to issue lookout circular