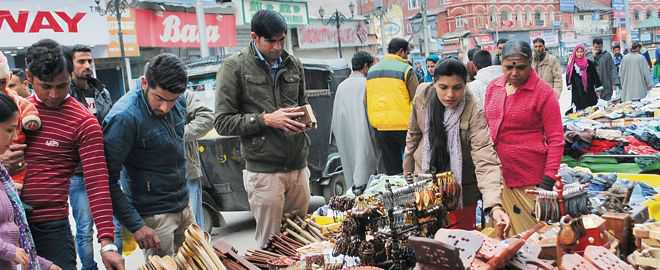 Jayshree Sengupta
Senior fellow, Observer Research Foundation
From the recent Economic Survey 2018-19, it is clear that India is losing traction. The GDP growth was only at 5.8 per cent in the fourth quarter of the last financial year. Demand is flagging in most sectors of the economy. The private sector's consumption, which has been the main driver of growth in the economy, has been falling. The savings rate, which is very important for determining the level of investment in the economy, is also falling.
Why is the savings rate in India, comprising mainly of household savings (17.2 per cent), falling? The overall savings rate has declined to 30 per cent from 34.6 per cent over the five-year period ending FY-2016-17. Household savings dropped to 16.3 per cent in FY 2018 from 23.6 per cent in FY-2012. Why have savings rates fallen when the inflation rate has been low and below the targeted 4 per cent and interest rates have also been high? When people are saving less, why are they not purchasing goods?
Recent data show that consumption levels have been declining in both rural and urban areas. Rural incomes have been falling due to low agricultural prices and, hence, farmers are buying less tractors and two-wheelers. In urban areas, the demand for cars and motorbikes is falling; there has been a fall in the demand for consumer durables and though fast-moving consumer goods like toothpaste, hair oil, soap, detergent etc have seen a rise in demand, there has been shrinkage in volume.
Perhaps, people are spending on things that are not translating into demand for goods. They are spending more on services which are costing more than before. As a result, there has been an increase in non-food expenditure in both rural and urban areas.
Some of these services are provided free of cost or at nominal charges in developed countries, like in the entire EU, the Scandinavian countries, the UK and Canada. Pre-school to high school, good quality education is available to all. The more selective and wealthier parents may opt for private schools in these countries but state schools are equally good in the US, the UK, Canada and Europe.
In India, the government-run schools have been known to be pathetic in terms of quality of teaching, classroom space and facilities like separate toilets for girls and playgrounds. Even lower end informal sector workers like drivers, cooks and maids save up money to send their children to private schools and preference is for the English medium ones. Most parents are today spending to give their children a good education in schools and private colleges.
The cut-off points for admission in a reputed government-supported university or college are ludicrously high and, hence, parents are forced to opt for private universities which have mushroomed in great numbers in all metro towns. Their fees are very high in comparison and parents have no choice but to pay them.
Another source of expenditure which is eating into savings is medical expenses. India has one of the highest 'out-of-pocket' expenditures in the world. In overcrowded and dirty public hospitals, the main treatment may come free of cost, but the patient has to buy a lot of extra stuff for the treatment. Medicines, syringes, gloves, all are charged. In an emergency situation when a low-income person is admitted to the ICU even for a few days, a private hospital in Delhi can run up a bill of Rs 1 lakh. How can that person with no health insurance cough up such an amount unless he or she borrows, sells gold or is helped by relatives?
Also, as India is ageing, healthcare for the elderly is becoming very expensive. Private nurses are exorbitantly costly if they stay round the clock, physiotherapists have become dearer and part-time help is becoming scarce and unreliable. People are spending money on these services out of compulsion and are saving less as a result. Many are borrowing money to meet emergency expenses.
Many are also buying water from private companies when pushed to a desperate state of having no water to bathe, cook or flush. Around 600 million people are experiencing water stress. It is a perennial problem in Delhi and Chennai. All these daily necessities are eating into the savings of the people.
Increased unemployment, specially among the youth, is also eroding household savings. India is experiencing a high unemployment rate currently. Aspirational youth are spending more on footwear and clothing. Travel expenses are on the rise and people are spending more on transportation which will now escalate more due to a rise in fuel prices.
Investment rate in India has also declined from 34 per cent in FY 12 to 26.8 per cent in FY 18 because corporate profits are declining. The industrial sector is waiting for demand to pick up so that excess capacity is reduced and inventories are depleted.
If the public services are more efficient and each state has good governance, people would save more. What is taken for granted as a citizen in a developed country, in India all have to be paid for from much smaller incomes compared to the per capita incomes of developed countries. Much remains to be done in improving the system of primary education, healthcare, infrastructure and training of youth in skills which will increase their chances of getting jobs. For the economy to revive, private demand has to bounce back as it comprises 59.4 per cent of the aggregate demand. Only the RBI's monetary policy can help.
Top News
Jammu and Kashmir Lieutenant Governor Manoj Sinha and politi...
Cops say case cracked within three days with the arrest of a...
Indonesia football association suspends league to investigat...
Samajwadi Party patron is under treatment in Gurugram hospit...
DGP dismisses Mansa CIA Incharge, FIR registered against err...