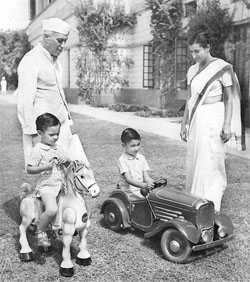 Despite his incomparable contribution to the making of modern India, Jawaharlal Nehru is a much-reviled man today because of a deliberately twisted history peddled over the decades by right-wingers. Yet, for someone like me, born in the late 1960s after Nehru died and thus untouched by his charisma but fairly well acquainted with his life work through books, it is bewildering to hear the reasons fed to the lay public to diminish this tall leader:
Dynasty: Hating the Gandhi dynasty is in vogue and, perhaps, Indira Gandhi and Rajiv Gandhi did provide reasons for justifiable anger. It is even understandable that Sonia Gandhi could be disliked simply for her foreign origins and Rahul Gandhi mocked for being ineffectual. But why should that be a reason to hate Nehru? Isn't it a case of the sins of the descendants being visited upon an ancestor? Nehru was a freedom fighter, a sagacious leader and a respected statesman in his own right. He didn't anoint Indira Gandhi his successor. So why use dynasty to trash him?
Socialism: Nehru baiters target him for his decision to adopt socialist, centrist policies rather than the capitalist, market-oriented model. Perhaps Nehru erred, but this criticism simply disregards the complexities and realities of his times and the economy and country he inherited — appalling poverty, mind-boggling inequalities, agrarian and backward society. Added to that, the state of the world, in which the unbridled imperialism and capitalist greed of the previous century had culminated in two devastating world wars. To deny the wisdom and practicality of the mixed-economy pattern Nehru opted for at that juncture, and the impetus he provided through it for India to become a modern industrial country, is to betray one's colossal ignorance of one of the most pragmatic impulses of the 20th century.
Partition: Like Gandhiji, Nehru attracts disproportionate opprobrium for permitting the Partition of India. The rumour mills keep regurgitating insinuations right from the motivation being Nehru's prime ministerial ambitions to sordid stories about the influence of Edwina Mountbatten's charms. It just goes to show how myths always trump history in our country. Hundreds of books and documents prove that the entire Congress leadership, except Gandhiji, had long accepted and even welcomed the prospect of Partition, given Jinnah's intransigence and Britain's determination to withdraw from India immediately. Sardar Patel was amongst the first to come around to this viewpoint. There was no other way the matter could have been settled except through a civil war. Although Partition still extracted a huge price in terms of loss of lives, eventually it has proved far more beneficial to India given the scenario in Pakistan today. Does anybody honestly think we would have been better off as one nation — Akhand Bharat?
Kashmir problem: This is the most vicious tool to attack Nehru. Undoubtedly, Nehru blundered in taking the Kashmir issue to the UN at the behest of Lord Mountbatten and his naive, gullible idealism cannot be an adequate defence. Yet, has everyone forgotten that Kashmir didn't explode into violence and become an intractable problem till the late 1980s, two decades after Nehru died? So why exactly should Nehru alone bear the brunt of hatred for Kashmir, when PMs from across the political spectrum since the late 1980s — Rajiv Gandhi, VP Singh, Narasimha Rao, Atal Behari Vajpayee, IK Gujral, Deve Gowda, Manmohan Singh — failed to come anywhere near a lasting solution?
China war 1962: India's humiliating defeat by China is another indefensible chink in Nehru's formidable armour, into which his detractors gleefully twist their knives. Indeed, his colossal misjudgment, questionable strategy that was compounded by putting the wrong people in charge, offers enough opportunity for people to make mincemeat of his reputation. While it is impossible to expect Nehru baiters to be charitable, they should develop some perspective and not forget that the Vajpayee government too was caught napping at Kargil and had to accept humiliation at Kandahar.
If Sardar Patel had been the PM: It's the most spurious reason for hating Nehru. Sardar Patel died in 1950, barely three years after Independence. How much of a difference could Patel have made in India's fortunes and future trajectory in three years? It is a fact that Gandhiji put his weight behind Nehru, even when Patel was the Congress choice. But by playing up this fact, without reference to the reasons behind the Mahatma's decision, the right-wingers, who played no part in the freedom struggle, have managed to taint both the Mahatma and Nehru as petty politicos, which is simply untrue. Perhaps they need to ponder why Vajpayee was chosen PM, although Advani was more popular in 1996 and they will realise that there are other considerations behind such decisions. Moreover, Nehru was voted back to power thrice, which says a lot about his popularity and merit.
The company of women: Much has been made about Nehru's love affair with Edwina Mountbatten but in addition, so successful have people been in portraying India's first PM as some kind of womaniser, that it makes one wonder if all Indians are prudes with dirty minds. The history of the world is replete with kings, queens, presidents and prime ministers who have had torrid liaisons. Is that a reason to hate them or make sweeping pronouncements on their characters? Grow up.
Anglophile: Another besetting sin of Nehru is that he was westernised and not a desi. According to his detractors, this contaminated his cultural and social outlook, drove him to the wrong choices for independent India and led him to ignore Hindu India's glorious heritage in every field. Even a cursory reading of Discovery of India should cure them of this mindless prejudice against India's first Prime Minister.
There are many other smaller reasons viscerally motivated people have found to hate Nehru. Hopefully, his reputation will endure.
Desai is a Pune-based author & film-maker.
Top News
Former PPCC chief says he would visit Sidhu Moosewala's hous...
PM Tshering said he had said 'nothing new' as Bhutan media b...
He was addressing a gathering at Rani Kamalapati railway sta...
Bhagwant Mann says it is the eighth toll plaza shut down by ...
The Bench laments overcrowding of jails and appalling living...