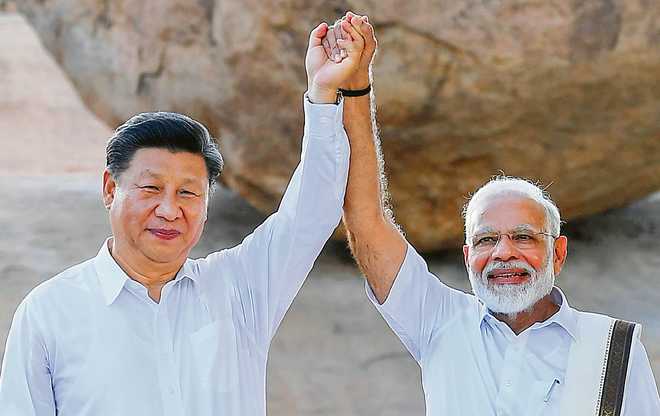 Jayadeva Ranade
President, Centre for China Analysis and Strategy
As the dust settles after the carefully choreographed 'informal' summit between the leaders of the two largest Asian nations in the ancient coastal town of Mammalapuram, it is undoubtedly being evaluated in capitals around the world. The summit coincided with the strain in relations caused by China's overt support to Pakistan on the issue of India amending Article 370 — a temporary provision in its Constitution — and quite unusually getting the United Nations Security Council (UNSC) to convene a special session to discuss the issue. Beijing, of course, has a stake, including its estimated $64-billion China-Pakistan Economic Corridor (CPEC).
The compulsions of geopolitics weighed on both countries as is evident from their avoiding public airing of contentious issues at the summit, which were otherwise the centre of attention. India extended a warm welcome to Chinese President Xi Jinping, who had wide-ranging one-on-one discussions lasting nearly six hours with Prime Minister Modi, including one with full delegations. Separate statements, mentioning some routine confidence-building measures like China's invitation to India's Defence Minister and establishment of a body to negotiate reducing the trade deficit, were issued after the summit.
Tensions caused by the extended face-off between Indian and Chinese troops at Doklam continue to linger in the background. Added to this are the more recent and long-term tensions between India and Pakistan caused by India's robust response to Pakistan-sponsored terrorist attacks. The surgical strikes by the Indian Army following the terrorist attack on Indian paramilitary personnel in Pulwama and, more significantly, the unexpected airstrike by the Indian Air Force on the Jaish-e-Mohammed
terrorist training camp at Balakot inside Pakistan, caused fresh strains not only in India-Pakistan relations but also India-China ties.
China, which has made persistent efforts since April 2015 to persuade India to resume talks with Pakistan and resolve the Kashmir issue, reiterated these suggestions. Chinese President Xi Jinping again offered to mediate between the two countries. While speaking at the United Nations General Assembly (UNGA), Chinese Foreign Minister Wang Yi, after an interregnum of some years, revived reference to the UN Security Council Resolutions indicating a hardened Chinese stance. Wang Yi again referred to the UN Security Council resolutions in Islamabad where he had gone for an Afghanistan-Pakistan-China trilateral and also met Pakistan's President, Prime Minister and Army Chief.
Neither can the remarks by China's Ambassador in Pakistan, Shi Yijiong, made on October 3 be ignored. They were not superficial remarks made to please the Pakistanis. Observations and even comments by Chinese Ambassadors and officials, especially when abroad, are carefully crafted and approved by China's Foreign Ministry. Shi Yijiong's comments, therefore, have the imprimatur of authority. His assurance of support to Pakistan, together with the implied commitment to the 'Kashmir cause', are disingenuous, long term and ominous. Hinting at internal discussions regarding Xi Jinping's impending visit to India, Wang Yi did not, as per normal Chinese practice, visit India to finalise the Chinese President's itinerary and the official announcement of the visit — usually made five days earlier — was this time issued only three days before its start.
Immediately prior to Xi Jinping's visit, Pakistan Army Chief General Bajwa and a day later, Prime Minister Imran Khan, arrived in Beijing and met Chinese leaders. Though China's Foreign Ministry spokesperson had said some days earlier that Kashmir would not be discussed at the summit, their visit pointed very much to its being on the table. Not surprisingly, Xi Jinping decided suo motu to brief Prime Minister Modi on what Pakistan Prime Minister Imran Khan had told him in Beijing, thereby raising the Kashmir issue. A few days later, Wang Yi, briefing journalists after the visits to India and Nepal, gave a fuller account of what Xi Jinping had told Modi. India's reply was delivered on October 20, when the Indian Army hit four terrorist launch pads in Pakistan.
At the meeting, there was little forward movement on pressing issues, like the border and trade deficit. Apart from urging the Special Representatives to speed up border talks, some confidence building measures (CBM) were agreed to, like more border flag meetings and the invitation to India's Defence Minister. There was no mention of an operational hotline between the two militaries. A report suggests a vice-chairman of China's Central Military Commission might visit India next month. The statements disclosed there would be negotiations on the RCEP, where there is a major push by China and the other countries looking at India's huge market for reduction of tariffs by India.
On the contentious issue of reduction of the huge trade deficit with China, Xi Jinping agreed to the suggestion that a committee could be set up to negotiate the subject, but this does not suggest any early resolution. There was a reference to the need for both countries to guard against radicalisation, though without mention of Pakistan. There was agreement to promote public-to-public contact, a major thrust area for China's propaganda apparatus which is intent on advancing the Chinese narrative in India and influencing public opinion through exchanges and government-funded outfits like Confucius institutes. Beijing possibly feels it needs to do more to "win" over Indian public opinion.
The Chinese Communist Party (CCP)'s central Propaganda Department monitored official Chinese media coverage of the visit. Directions to not publish negative articles on India during this period were reiterated by Beijing as late as October 11 morning. While all welcome ceremonies were extensively covered, interestingly, China's media blanked out mention of the welcome ceremony where 2,000 local students wore face masks with Xi Jinping's picture on it while they formed Xi Jinping's name in Chinese characters. This was possibly because photographs of Indian students wearing masks with Xi Jinping's smiling image might not have been received well inside China, given the current circumstances in Hong Kong.
Top News
Officials say two minor girls, daughters of main accused, we...
Jaishankar said that the human bond between the two countrie...
Says the gurdwara is open to people from all communities and...
Following recent killings, Pakistan's ISI relocated several ...
Arrested smugglers identified as Sarabjeet Singh of Jhalandh...