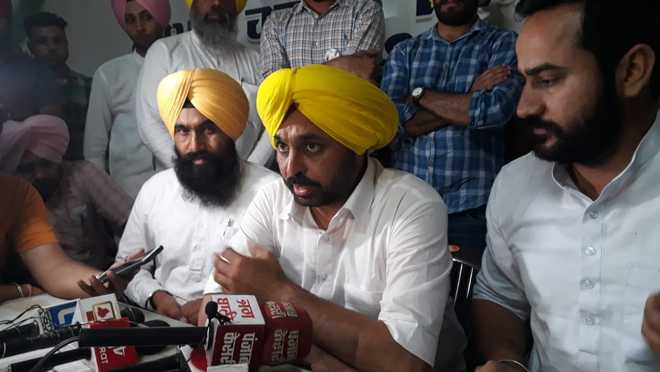 Parvesh Sharma
Tribune News Service
Sangrur, April 27
Punjab AAP chief and Sangrur MP Bhagwant Mann late this evening alleged that Congress leaders offered Rs 10 crore and a plum post in the Congress to their party MLA and asked their leader to resign from the AAP. Mann did not disclose the name of his MLA. He alleged that money was being offered to other MLAs and leaders of their party.
"On the pretext of giving him developmental funds for his constituency, some Congress leaders today met our MLA and offered him Rs 10 crore and said our MLA Nazar Singh Manshahia has also got the same amount and Manshahia will also be appointed as chairman of the Punjab Pollution Control Board," alleged Mann, who rushed to Sangrur in late evening after cancelling his public meetings.
Barnala MLA Gurmeet Singh Meet Hayer and Mehal Kalan MLA Kulwant Singh Pandori also accompanied Mann during the press conference at their Sangrur office.
"I cannot disclose the name of the MLA and money offers are also being made to our other MLAs and leaders. We will meet the Chief Election Commissioner and seek action against Chief Minister Capt Amarinder Singh, who is using ill-gotten money to damage the AAP," alleged Mann.
Mann alleged that since he was getting a huge response from Sangur residents for the forthcoming General Election and a close friend of Capt Amarinder Singh was contesting from Sangrur, Capt Amarinder was trying to purchase his party MLAs.
"With offers of money and plum posts, Congress leaders are also asking our MLAs and leaders to blame me when they resign from the party. But our MLAs are in politics to work for the welfare of society and not for money. We will expose all Congress leaders involved in horse-trading," said Mann.
Charges false, AAP lost base: Capt
We already have two-thirds majority in the Assembly. Bhagwant Mann is frustrated over AAP's complete failure to mop up support and keep the party intact in Punjab. They just don't exist here anymore. The sooner they accept this fact, the better it would be for them. Hurling false accusations at us is not going to help Capt Amarinder Singh, Chief Minister