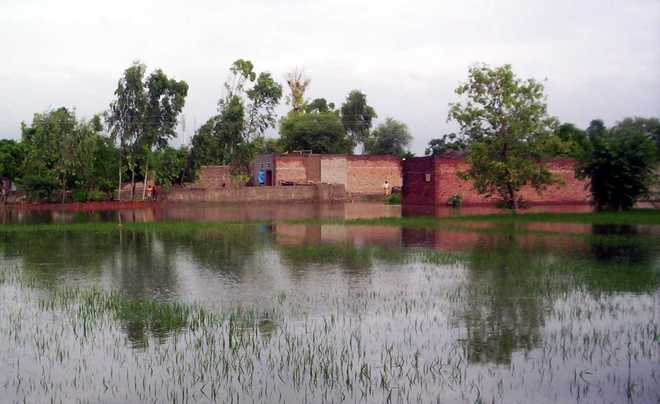 kavishakohli@gmail.com
Kulwinder Sandhu
Tribune News Service
Sanghera (Moga), July 16
Hundreds of acres of standing paddy crop and green fodder have been submerged in many villages located inside the dhussi bandh of Sutlej river in Dharamkot sub-division of Moga district as the water level rose due to rain in the past 24 hours.
Sanghera village sarpanch Balkar Singh claimed that paddy, green fodder and mint crops had been damaged on more than 1,500 acres of land inside the Dhussi bandh in at least six villages and settlements. A vast stretch of cultivable fields is located inside the bundh.
The cattle, particularly, buffaloes and cows had been shifted to safer places. Some families had also shifted their children and women to safety.
Many link roads were seen submerged. There was also shortage of potable water, locals alleged. Sanghera village and few human settlements have been marooned due to waterlogging.
Meanwhile, Narinder Singh Dhaliwal, Sub-Divisional Magistrate of Dharamkot, claimed that he had visited the areas around the Dhussi bandh with officials of the agriculture department. There was no stagnant river water outside the bandh areas. "As far as initial reports are concerned there are no crop crop outside the Dhussi bandh areas, but we will still conduct girdawari in the next few days," he said.
"We have no idea of loss in the area inside the Dhussi bandh. It doesn't matter if there is a huge stretch of land inside the bandh, we do not conduct girdawari as per the rules of the revenue department. The areas inside the bandh have been affected by river water, which is quite normal during the monsoon season," he said.
As per reports, the water level in the Sutlej has increased in the Moga district due to rainfall in the catchments areas. Besides seasonal rivulets Siswan, Budhki, Sagrao, Budha Nullah and Jasowal drain downstream of the Ropar headworks are also adding to Sutlej waters.