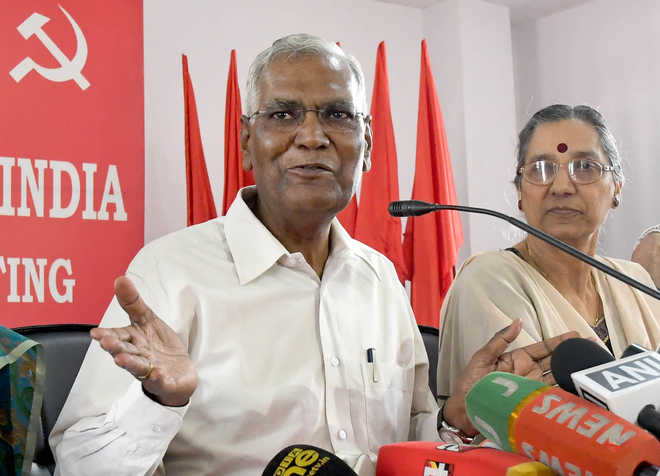 uttara@tribuneindia.com
Ravi S.Singh
Tribune News Service
New Delhi, July 21
Communist Party of India (CPI) has elected its most senior secretary D Raja as its new general secretary.
The general secretary's position is the most powerful position in the party, effectively the head of the organisation.
The CPI's National Council elected Raja, currently a leader of CPI's Parliamentary Party, at its three-day session that ended on Sunday. CPI's previous general secretary Sudhakat Reddy had asked to be relieved from the position because of his ill-health.
The Council also elected youth leader Kanhaiya Kumar, former president of JNU Students' Union, to the party's National Executive.
Kumar had unsuccessfully fought this year's general elections from Bihar's Begusarai, where he lost to Bharatiya Janata Party's Giriraj Singh.
Raja said at a press briefing after his election that he was open to the idea of reuniting left parties in the country under one umbrella, although he said the "reunification must be on the basis of policies and principles".
On a question about that Left's poor showing at the general elections—a development that has threatened the CPI's national party status—he said: "The Left may have lost badly electorally, but it is ahead in its struggle for peoples' issues".
The CPI won two seats in Lok Sabha elections this year. The party's poor performance in the elections has prompted the Election Commission of India to issue a notice asking the party to explain why its national party status should not be withdrawn.