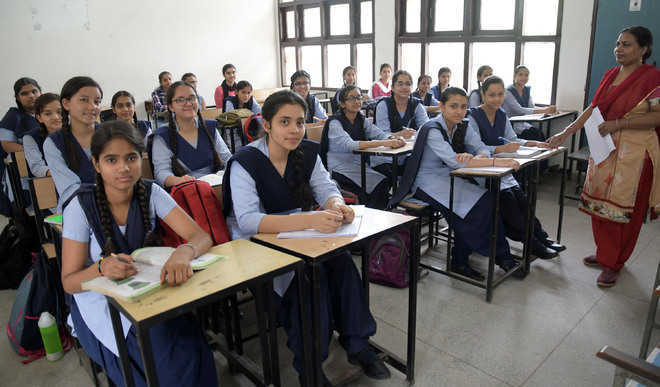 Ananya Panda
Tribune News Service
New Delhi, January 29
The Delhi government has roped in Career Launcher — a private test trainer organisation — to provide free coaching to students of its schools. A special training session was held today for the government school teachers to help facilitate the students' access and learning.
As per the agreement between the two, special crash courses have been launched under which aspirants for NEET and JEE entrances are being trained and online classes, held after school hours, from 7 pm to 10 pm, commenced on January 21.
Under the programme, students currently studying under science stream in Class XII in city's government schools are supposed to be provided individual login credentials on the aspiration.ai portal of Career Launcher.
Additionally, to supplement their learning and get them exam-ready, the students will also have access to an online test series and other required course material for studying, all free-of-cost. The online test series is specially designed to give the students a real experience of the exam. The students will get 130 hours of training, spanning all the four key subjects — physics, chemistry, biology and mathematics.
Deputy Chief Minister Manish Sisodia also tweeted about the initiative, acknowledging the special guidance provided to the government school students by the company.
"Since 2015, the number of students getting selected in IIT-JEE has risen from 40-50 to over 300 selections today. This has been the result of constant hardwork of the teachers and students of Delhi government schools," said Sisodia.
"Preparing for competitive examinations is the intended objective, but this exercise will also be intended towards developing a scientific outlook, through exposure to higher applications of science in daily life. I really hope the students make the most of it," the education minister added.
Heading this initiative, Mohan Prasad, Content Head, Career Launcher said, "We are confident of doubling the number of their IIT JEE qualifiers with this initiative, which has already gone up with Delhi government's efforts in education, especially since their own teachers and officers of the Directorate of Education are actively involved in the process."
Top News
Congress won 11 of 15 seats in Kangra, MLAs are floating the...
The police officials did not rule out the possibility of a t...
The BCCI lately said India would not travel to Pakistan for ...
This includes upgradation of station premises and platforms