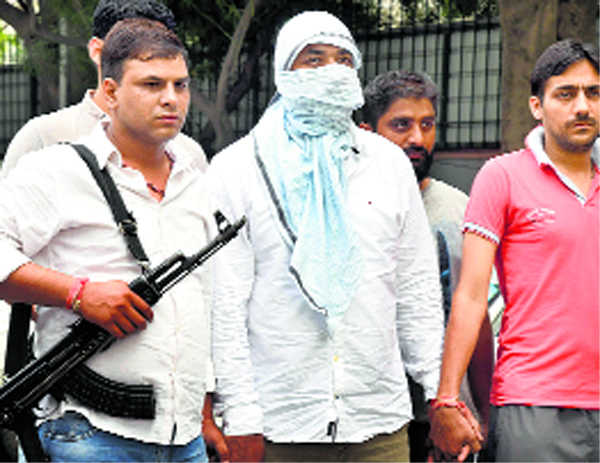 Tribune News Service
New Delhi, September 14
The police have arrested one of the most wanted criminals who was involved in a shootout in which three persons, including an assistant sub-inspector (ASI) and an alleged gangster, were killed in April, said a police official.
Sonu Dariyapur, who was carrying a reward of Rs 5 lakh, was arrested this morning from Narela, the official said. He was active in Delhi-NCR.
In a shootout on April 30, gangster Monu Dariyapur, his personal security officers ASI Vijay Kumar and constable Kuldeep, and two others Arun Shastri and Yogesh were attacked in Mianwali Nagar, outer Delhi.
Some armed men had fired at their car leading to the deaths of Monu, Kumar and Shastri and injuring the other two. Monu was previously member of Sonu Dariyapur's gang. Both of them were friends, but the relationship got bitter after Monu married Sonu's cousin, due to which the latter decided to kill him.
In 2006, Sonu, along with his other compliance, had also fired at the car carrying Monu and his wife. In the firing, driver of the car was killed and the two were critically injured. After that incident, police security was provided to Monu.
Sonu had hatched a conspiracy with his gang members to kill Monu and they succeeded in killing him in April, said DCP Sanjeev Kumar Yadav (Special Cell).
Top News
Was speaking to Indian journalists in Washington
This comes amid a diplomatic row between India and Canada ov...
Granthi Giani Jaswinder Singh from Pine Hill Gurdwara in New...
Heavy security deployed to deal with the situation
Family say all 3 accused knew Hrithik and that there were no...