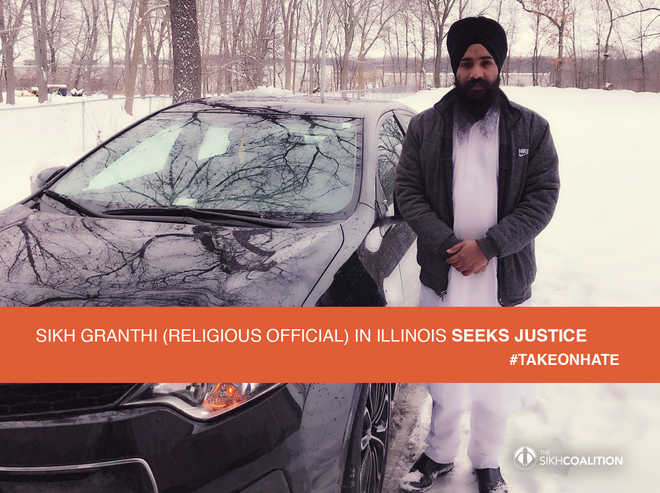 Tribune News Service
Chandigarh, February 15
On a day 17 people were killed by an armed teen in a US school, a new case of hate crime against a Sikh man has emerged.
According to information, a passenger put a gun to the head of a Sikh Uber driver after demanding to know "which country do you belong to?" and telling him "I hate turban people".
The incident occurred on January 28 but has come to light only now after the US-based Sikh Coalition reported it.
(Follow The Tribune on Facebook; and Twitter @thetribunechd)
Gurjeet Singh, a father and husband who wears a turban and sports a beard, has lived in Northwest Illinois for the past three years and serves as the head granthi at his local gurdwara. Gurjeet faced the assailant while driving for Uber and then notified police the next day about the assault. In the nearly three weeks since, there has not been any arrest.
On the day of the incident, Gurjeet picked up a Caucasian man and a woman in Moline, IL. Gurjeet started driving south towards the passengers' home when the man began asking him questions: "What is your status here?" "Which country do you belong to?" "Do you serve our country or do you serve your country?"
Gurjeet, a legal US resident who speaks limited English, was confused and scared by the questions but tried to explain that he served both countries because his parents still lived in India.
Gurjeet alleges that the man got angry and put a gun to his head saying, "I hate turban people; I hate beard people." Gurjeet says he slammed on the brakes and the woman passenger forcibly removed the man from the vehicle. She then apologised for his behaviour, and instructed Gurjeet to drop her home and to avoid taking the same route back to eliminate another encounter with the attacker.
While the Rock Island Sheriff's Department has informed the Sikh Coalition, an organisation that defends civil rights of Sikhs in the US, that the investigation continues, charges have not yet been submitted to the Rock Island State's Attorney's Office.
"The fact that no arrest has been made and hate crime charges have not yet been filed endangers the safety of Mr Singh and the Quad Cities Sikh community," said Sikh Coalition legal director Amrith Kaur. "The facts of this case are clear. We expect the Rock Island County Sheriff's Police Department to arrest the attacker, and the Rock Island County State's Attorney's Office to file hate crime charges immediately."
In a statement, Gurjeet said, "This never should have happened, and I want my community and family to feel safe. There must be justice for this hate crime. Authorities should arrest and charge the man who attacked me without further delays because bigotry has no place in our society."
Top News
The attack took place in Pinglana area of south Kashmir dist...
Video footage from local news channels show fans streaming o...
As per reports, former UP CM and his son Akhilesh Yadav has ...
DGP dismisses Mansa CIA Incharge, FIR registered against err...
Will issue WhatsApp number and take out candle marches acros...