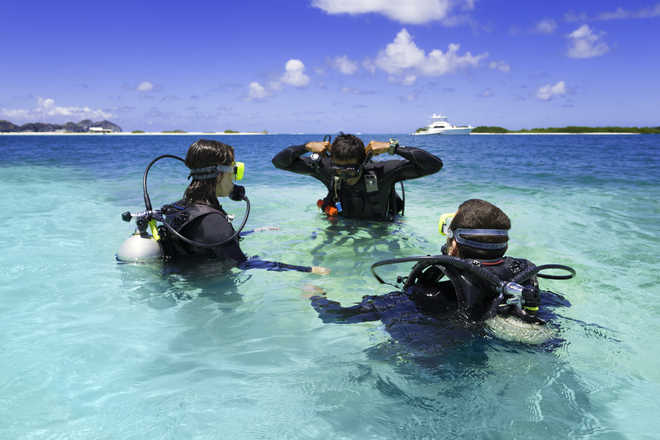 vermaajay1968@gmail.com
Usha Albuquerque
Everytime you go for a beach holiday have you wished you could just stay on and on in the sea water ? Do you love the sea, go scuba diving and snorkeling regularly? If you are so drawn to the underwater world, can you imagine the vast open sea as your workplace? Today it is possible to do that — if you make scuba diving your career.
Scuba diving is underwater diving in which a diver uses a scuba set to breathe underwater. Scuba is the acronym for 'Self Contained Underwater Breathing Apparatus' and consists of a heavy tank full of compressed air which you carry on your back when diving into deep ocean water breathing through a tiny rubber tube.
Professional scuba divers work in a variety of roles where underwater diving is required whether for leisure, scientific study, military or commercial purposes. In coastal areas where there is underwater coral or sea-life to be observed, a certified professional diver, can lead recreational diving excursions or undersea tour guides for vacationers. Trained scuba divers can also become diving instructors to train and help others with the use of the equipment, and also give them necessary coaching regarding underwater safety. Divers can assist researchers in oceanography and marine biology with their work in collecting the required underwater data. Scuba divers are extensively used for underwater construction of bridges, platforms, dams, rigs etc. Divers can work for defence and law enforcement agencies, insurance investigation firms and public safety orgnisations, looking for accident victims, wreckage, or lost valuables.
The best thing about such a career is that you do not require any basic educational qualification to become a scuba diver. You do need excellent swimming skills, a huge amount of courage and confidence, a sense of adventure and a love of the under water to become a scuba diver.
Once you take up the training you will need to go through a battery of tests, and attain various levels of certifications. Scuba diving instructors need to qualify with international certifications to work as divers and instructors.
Certifications
Certifications are mainly offered by associations like PADI (Professional Association of Diving Instructors), based in Santa Clara, California, USA; BSAC (British Sub-Aqua Club), NAUI (National Association of Underwater Instructors), SSI (Scuba Schools International), and CMAS (French Diving Federation). PADI is the world's most recognised certificate in Scuba Diving.
PADI courses range from entry levels (such as 'Scuba Diver' and 'Open Water Diver') to 'Master Scuba Diver' and a range of interim instructor certifications. These training course certifications can be acquired at any PADI-approved diving school. In India, there are many diving schools in Goa, Maharashtra, Pondicherry, Lakshadweep Islands and Andaman and Nicobar Islands which offer the PADI certifications. These include the Barracuda Diving Institute, Goa, and the National Institute of Water Sports, Goa, Dive India in Mumbai and Andaman Islands and several others. Scuba diving training includes practical as well as theory. Along with many hours of practical diving experience, divers need to understand the basic physics of the ocean — how the human body is affected by the increase in pressure when under water. Advanced levels of training also includes providing first aid and rescue along with more detailed theoretical understanding of how equipments function.
Opportunities
It can be challenging finding work as an underwater scuba diver, but opportunities do exist for those with the skills, talents and the drive to make it happen. Depending on the level of certification achieved, preferred work environment and whether divers want a seasonal or full-time career, professionally trained scuba divers can find both freelance and full time work. As the leisure and adventure sports industry expands there is an increasing demand internationally for trained scuba divers. They can find jobs at beach and coastal tourism sites, or work as commercial divers, with shipping companies, oil exploration, the navy, research organistaions, in sea explorations, or with media channels like Discovery, National Geographic and Animal Planet.
Professionally trained divers are also called upon to assist in sea/ocean search and recovery or rescue operations for lifeguard duties and public safety. Even NASA uses divers to help astronauts practice space missions in the simulated zero-gravity environment of an Earth-based underwater training facility.
Underwater photography or underwater film making is a relatively new area of opportunity with the advent of sophisticated underwater camera equipment available so as to document the underwater world, or conduct marine biology, geology, hydrology, or oceanography research.
You may not find a sunken Spanish galleon loaded with gold and treasure in the ocean, but you sure will have a hugely thrilling career. And as a trained scuba diver you will probably have also gained as much in learning discipline, stress management, and the ability to cope with the unexpected — personal treasures that can help make you more successful not just in a diving career, but in any field of life.
Happy diving!
_________________________________
Job profile
Recreational diving: Using and helping others use Scuba equipment for the purpose of leisure and enjoyment. Professionally trained instructors teach people to dive and issue them certification cards, while senior-level Dive masters lead and instruct certified divers in their diving activities by providing logistics and support, on-site as an added layer of safety.
Commercial diving: Commercial divers are employed for underwater work, such as underwater welding, corrosion control, inspection and so on, in offshore oil and gas installations, offshore construction, dam and port maintenance works, cable installation etc.
Defence related/Naval diving: Normally performed by defence-trained diving personnel to support maintenance and repair operations on ships and naval installations.
Scientific research diving: Universities and research institutions such as the Institute of Oceanography, and the Archeological Survey of India require professionally trained divers for conducting scientific marine studies, and underwater archeological surveys.
All readers are invited to post comments responsibly. Any messages with foul language or inciting hatred will be deleted. Comments with all capital letters will also be deleted. Readers are encouraged to flag the comments they feel are inappropriate. The views expressed in the Comments section are of the individuals writing the post. The Tribune does not endorse or support the views in these posts in any manner.
Top Stories
Expectations were high from PM Modi & party, but little has ...