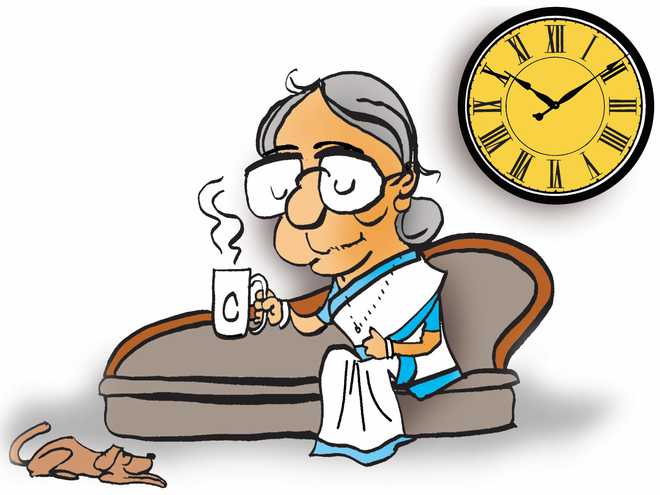 singhking99@yahoo.com
Aradhika Sharma
I went to visit my grand old aunt. She's a wheelchair-bound octogenarian but a fighter to the core. She used to run a small printing press till her health allowed it, after which she reluctantly handed it over to her son. Till date though, she runs her eagle eye over the accounts and woe betide the poor accountant if she were to spot the slightest error. Visiting her is always a pleasure as she serves wonderfully fragrant tea in exquisite regency-style china over shared, often scintillating conversation.
"So, how is life treating you," she asked, settling down into her deep sofa with her cup.
"Hmm…well, all right, I suppose," I responded.
She raised her brow quizzically: "You don't sound enthusiastic."
"Well, honestly auntie," I replied, "I'm overworked and get terribly tired sometimes. I'm not so young anymore. I wish someone would foot my bills and I could retire."
She laughed. "Really? And what would you do with your day if you were given that option? Go to kitty parties? Wake up late?"
"Oh, I couldn't wake up late if I tried!" I grinned. "But at least there wouldn't be the pressure of having to go to work every single day."
"Well, what would you do all day?"
"I'd have my bed tea and go for a walk or swim, come home, have my second chai while reading the newspaper and then have breakfast," I said.
"Isn't that exactly what you do even now?" she asked.
"Yes, but after a nice leisurely breakfast, I'd do some stuff around the house, oversee the maids and go out for coffee with friends. Then I'd have lunch and take a nap. In the evening I'd go for a walk, have dinner, sometimes invite friends over, watch TV and sleep. So relaxing!"
"Every single day?" auntie asked. "Forgive me, dear, but that sounds awfully tedious. If I were you, I'd wake up thanking god every morning that I have a job to go to; something that keeps me busy and productive; that gives me a routine and a direction. And best of all, that I earn my own money, which makes me independent and gives me the ability to take decisions about my life choices."
"Hmm… but at least I wouldn't have to go to office if I had a migraine or was feeling ill and could take a vacation whenever I wished instead of being routine bound," I complained.
"Look, dear, to be able to use your capacities to their fullest is life's greatest blessing. Many don't get that chance. Even at this age, I wish I had a workplace to go to, even if it were for a couple of hours a day. Incidentally, don't you think that a vacation feels so much more rewarding if you've worked hard to deserve it?"
"Just like a cold draught of beer tastes much better when you've worked out?"
She laughed and patted my cheek, saying: "Happiness is a well-deserved vacation."
All readers are invited to post comments responsibly. Any messages with foul language or inciting hatred will be deleted. Comments with all capital letters will also be deleted. Readers are encouraged to flag the comments they feel are inappropriate. The views expressed in the Comments section are of the individuals writing the post. The Tribune does not endorse or support the views in these posts in any manner.