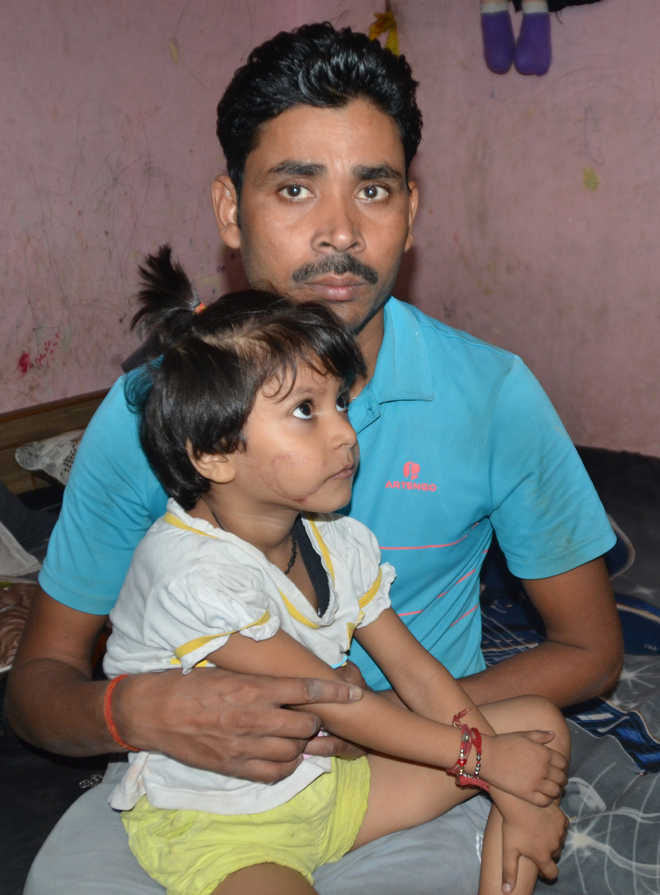 editorial@tribune.com
Sanjay Bumbroo
Tribune News Service
Panchkula, October 9
The dog-bite incident continues to haunt four-year-old Ananya, whose face was bitten by a stray dog in July, disfiguring it. She is afraid of moving out of the house for fear of stray dogs.
Even after over three months of treatment at the PGI, the injury mark on the face is visible and doctors have advised her a major surgery after two months to remove the injury mark from her face. Arun Kumar, Ananya's father, said after seeing the condition of his daughter, they were worried about her future. He said they had been regularly visiting the hospital for the treatment of his daughter, a student of KG at a private school.
Ananya's mother Shashi said she complained of pain whenever somebody touched the injury mark, which had become hard. She said her daughter did not move out of the house to play with kids for fear of stray dogs. She said she had also complained about stray dogs in Sector 12 where she goes to drop her son for tuitions. She said the authorities had failed to do anything about the matter.
Yesterday, a three-year-old boy, Ankush, had been mauled by a stray dog at Nada village when he was playing outside his house. The child was bitten by the stray dog at 15 parts on his body, including the eyes, nose, lips, hips and a thigh.
After hearing his shrieks, the boy's mother rushed to the spot and saved him from the dog. The parents took him to the Civil Hospital, Sector 6, Panchkula, from where doctors referred him to the PGI.