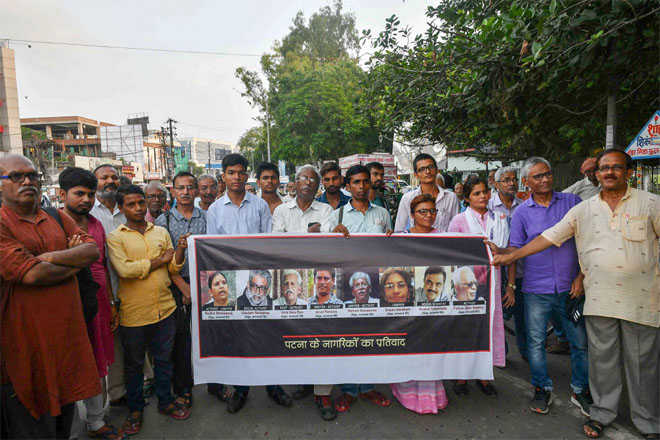 The Maharashtra Police has shown dramatic alacrity in carrying out countrywide raids and has arrested five prominent Left activists for 'suspected' Maoist activities. Among the accused is 77-year-old revolutionary writer and poet, Varavara Rao, who, in 2001 and 2004, was an emissary of the then CPI (M-L) Peoples War for peace talks with the government. The others are activist-lawyers, an activist-journalist and a trade union activist. Their crime — prima facie — is seemingly grave: they have been linked to a case related to a Maoist plot to assassinate Prime Minister Narendra Modi; and have been charged under Section 153 (A), IPC, among others, with promoting enmity, jeopardising social harmony and financing Maoists.
Two incidents appear to be the trigger: a mysterious letter, signed 'R', 'unearthed' by the police, which speaks of the conspiracy to eliminate the PM; and their association with five others (including JNU alumnus Rona Jacob Wilson), arrested in June with regard to the Elgar Parishad, held to commemorate the Battle of Koregaon Bhima; and the violence that ensued following inflammatory speeches by Dalit activists. The police had claimed to have detected a 'financial trail' leading to the 'sympathisers'. The charges are alarming, and must be backed with real evidence. A letter, whose authenticity is doubtful, cannot be the basis of action; nor can mere conjecture be made the reason for persecution.
Without tangible proof, the timing of the action is bound to raise suspicion about the motive of law-enforcing agencies, as also State control, and give credence to the Opposition's claim of a 'virtual declaration of Emergency'. Amnesty International has condemned the police action as an attempt to crush rights interventions. There is need for circumspection. Democracy will self-destruct in the face of systematic annihilation of dissent. No matter how inconvenient, how uncomfortable the truth, the Kalburgis, Dabholkars, Gauri Lankeshs must be allowed to speak out, and live. Unless the last man has said what he must — without fear — and has been heard, we will remain a democracy in the making.
Top News
The minister inaugurates Chief Judicial Magistrate court, Ma...
'I am Rahul Gandhi, not Rahul Savarkar,' he said when asked ...
Former Union Minister Ravi Shankar Prasad says stay on convi...
The plea is filed by a Kerala-based social activist
Amritpal has been on the run since March 18