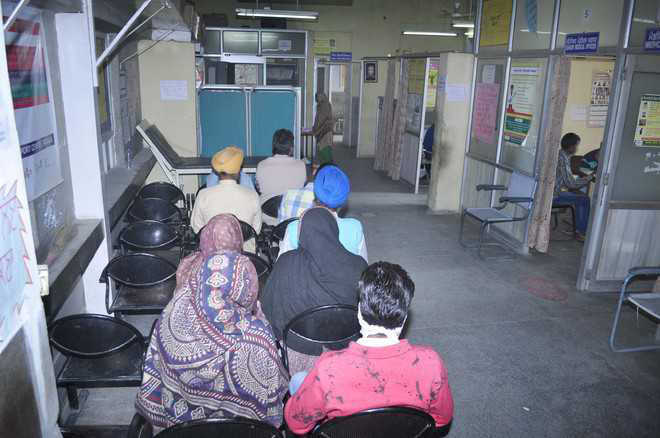 The theme for World AIDS Day (December 1) this year, as it marks its 30th anniversary, is 'Know your status'. It is a laudable credo since knowledge of HIV status is the beginning of the patient's road to recovery. For, if diagnosed well in time, quality care effectively prevents the spread of the virus. It is crucial for the HIV-positive to be given a helping hand to lead healthy and productive lives. Ignorance of status, on the other hand, results in a swift decline towards full-blown AIDS, recovery from whose blow is difficult. However, sadly, as per the United Nations report of 2016, only 53 per cent of the 36.7 million people living with HIV have access to treatment. Obviously, getting treatment is an uphill task. More so for the poor patients, as is seen in Punjab.
But first, the positive: the 38 per cent rise in the number of HIV positive cases in Punjab in five years — from 4,863 in 2012-13 to 6,730 in 2017-18 — is a sure sign of a robust detection mechanism in place that has enabled patients to overcome the stigma attached with the test and be equipped to deal with their status. Now the negative: there can be nothing more distressful than the fact that 4,000 poor HIV patients of Punjab's Doaba belt have had to quit treatment even though it comes free of cost. Many of them being daily wage workers, they can ill afford to even bear the travel cost to reach health centres twice a month. It is a vicious circle for them as skipping medication takes a toll on their health, causing a further dent to even the upbringing of their already stretched families.
Punjab must realise that HIV programmes have little value unless taken to the ambitious goal of eradicating the epidemic. The fight lacks teeth. Political will and more funding will do the trick. In tandem, the support of communities and civil society is essential for the well-being of the patients. In the case of Punjab, the diagnosed belong to broken or destitute families. While the treatment is free, many cannot afford the bus fare to reach the Anti-Retroviral Centre at the Civil Hospital in Jalandhar. We have miles to go.
Top News
Voting for final phase of Gujarat polls ends, counting of vo...
Ahmedabad has recorded the lowest voter turnout of 44.67 per...
The Delhi govt opposes the Centre's plea saying it will only...
This comes as a major embarrassment to CM Bhagwant Mann who ...
According to CCTV footage, the two men enter the gurdwara an...