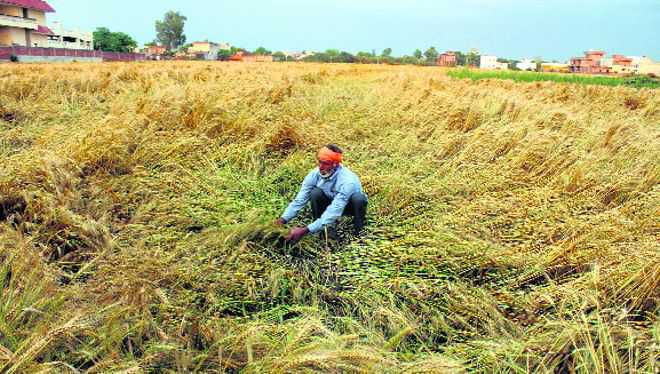 SINCE January, the intermittent spells of rains in the region have been welcomed by the farmer as he proudly saw his crop ripen and thrive in the prolonged cool period. The favourable weather conditions even led agriculture experts to predict that Punjab would have the highest-ever wheat production this year. Notwithstanding a fall in the area under cultivation of this staple grain due to diversification in agriculture, it was expected to touch 180 lakh metric tonnes with a yield of 52 quintals per hectare, up from the previous high of 50.09 quintals per hectare, achieved in the rabi season of 2018. And just then, unpredictable as the weather is, the unusual onset of rains and storm in the last couple of days put a shadow on the bumper crop production forecast. The wet and gusty windy pattern of the last few days of April caused extensive damage to the crop and vegetables in different parts of the state.
The weather disturbances in April, numbering 10 to 11, were more than double the average of such disturbances and they naturally worried the cultivator. The farmer apprehended that a rise in the moisture content in the foodgrain may not meet the approval of the procurement agencies. But, thankfully, he need not push the panic button yet, for the turn in weather is not likely to impact him much: it will just delay the harvest. The grain is likely to warm up and dry down in the nick of time as the weather is expected to moderate soon, say experts. In a further relief to the farmer, the Chief Minister, Capt Amarinder Singh, has ordered a "special girdawari" for an assessment of the standing wheat crop flattened in the fields in the past few days. The farmers who have suffered a blow by the rains will be awarded compensation for the damage.
With the lowering humidity easing the disturbing punctuation now, there is yet hope to achieve the estimated targets. As the tillers watch for sunny and clear skies so that they can reap the harvest of their hard work, let's wish them a fruitful season, one that yields good returns to them.