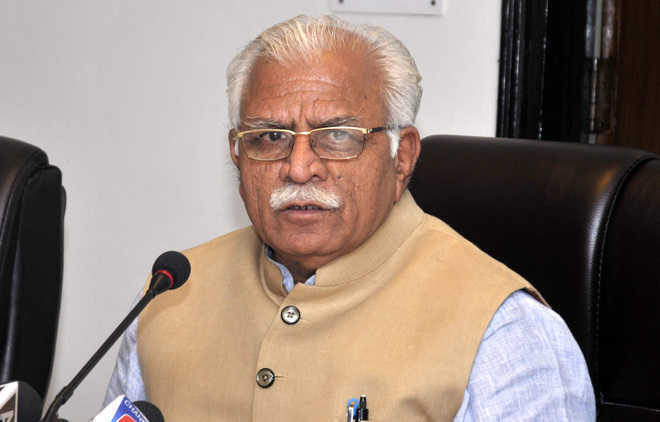 The updated National Register of Citizens (NRC), released recently by the BJP-led government in Assam, left out as many as 19 lakh people. The final list has got the thumbs down from various quarters in the northeastern state, including the saffron party itself. However, these misgivings haven't stopped some BJP chief ministers from announcing that the exercise would be replicated in their respective states to identify illegal foreigners. Manohar Lal Khattar has jumped on the bandwagon even though Haryana does not have any international border — unlike the neighbouring states of Punjab, Rajasthan, Himachal Pradesh and Uttar Pradesh.
Eyeing a second term as CM, Khattar has cited national security to implement the NRC. National security was a key plank that helped the BJP record a landslide victory in the 2019 Lok Sabha elections; the issue dominated the electoral discourse after the Pulwama terror attack and the Balakot airstrikes. Extrapolating this trend to the upcoming Assembly elections might prove fallacious as the state polls usually revolve around local and regional issues.
The relatively low number of foreigners in Haryana and the low profile maintained by them do not warrant urgent action on the NRC front. The victims of such a procedure could be the Hindu migrants who fled Pakistan. Hundreds of Rohingya families, which escaped from Myanmar in 2012 after communal violence broke out, are staying in refugee camps in Mewat. Dozens of Bangladeshi refugees are reportedly working in the industrial units of Faridabad and Panipat; in Gurugram, they are employed as domestic help and daily-wage labourers. The state is in no danger of being overrun by these hapless migrants. Haryana has witnessed some major law and order challenges after the BJP stormed to power in 2014: the siege of self-styled godman Rampal's ashram, the Jat reservation stir and the fallout of the CBI court verdict against the Dera Sacha Sauda head. These disturbances had no migrant connection. The process of weeding out illegal settlers can wait. What's more important right now is to curb crime — the state is way up on the national chart — and reduce the unemployment rate, which is three times the all-India average.
Top News
The accused ASI was nabbed by local people, who then handed ...
Two frontline combat aircraft of the IAF crashed during a tr...
Gandhi was accompanied by his sister and Congress general se...
PM Modi also appreciated people for eating food items made o...