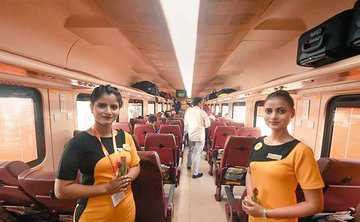 Over four years after the Bibek Debroy Committee stated that liberalising the entry of new operators into railway operations was a viable option to encourage growth and improve services, the government has formed an empowered group to prepare a feasibility plan for upgrading 50 railway stations to world-class standards and allowing private players to operate 150 trains. The development follows the flag-off of India's 'first private semi-high speed train', the Lucknow-New Delhi Tejas Express. Tejas, run by the Indian Railway Catering and Tourism Corporation (IRCTC), offers facilities for rail passengers that were virtually unheard of earlier in the country — Rs 25-lakh travel insurance, luggage pick-up and drop, and monetary compensation in case of delays.
Railway unions are opposing the move to open the floodgates for private participation. They fear that lakhs of employees will become jobless or no longer have job security. The best way the government can allay these apprehensions is to establish the long-overdue railway regulatory authority. An independent regulator that can promote healthy competition and protect the interests of various stakeholders was mooted not only by the Debroy panel, but also by the Rakesh Mohan Committee (2001). The latter, set up by the Atal Bihari Vajpayee-led NDA government, had recommended corporatisation of the Railways. It had stirred up a hornets' nest by suggesting division of responsibility of functioning between three institutions — the proposed Indian Railway Corporation, the regulatory body and the Union Government. Predictably, the recommendation did not pass muster with the ministry's top brass as implementing it would have loosened the government's stranglehold on the Railways.
Government or private, the ownership of trains and railway stations is the least of the passengers' concerns. They want basic facilities — tout-free access to platforms, comfortable berths, safe and high-speed travel, good food, clean toilets — even if all this entails paying higher fares. It's potentially a win-win situation for the traveller, as long as the operator goes all out to woo him and is held accountable for any deficiency in services.