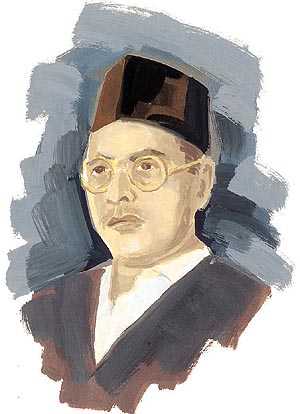 There could not be a worse crime than patricide in any civilised society. The BJP is proposing to do just that by promising, in its Maharashtra election manifesto, to confer the ultimate national honour of Bharat Ratna on Vinayak Damodar Savarkar, accused No. 7 in the Gandhi murder case. Savarkar's apology to the British and his subsequent release from Kalapani's Cellular Jail — when brave freedom fighters remained steadfast in their resolve to rot and die there — is a matter of less importance. An apologist can be feted, but not someone who was accused of conspiring to kill the Father of the Nation. While convicting all others, it is a fact that trial judge Atma Charan had acquitted Savarkar on the technical ground that there was no corroborative evidence to prove the approver Digambar Badge's statement. Later, GD Khosla, writing the judgment for the full Bench of the Shimla High Court, found enough evidence to corroborate Badge's testimony. But it was too late because the Nehru government had not appealed against Savarkar's acquittal.
The celebration of an accused in the Mahatma's murder doesn't belong to the ethos of Ram Rajya, but to that of Aurangzeb's court. The Mughal emperor held his father a prisoner and killed his brothers to grab the empire — all for Islamic piety. For a party that came to power in the name of Ram, there ought to have been a greater understanding of what the prince of Ayodhya stood for: fulfilling the wishes of a father, who was clearly committing a grievous mistake.
Does Lord Ram need another temple in Ayodhya? Well, demolition of a mosque and the building of a temple on that very site — through mediation or court orders — again remind one of Mughal atrocities and not Hindu generosity. No temple is ever built on a graveyard. The Babri Masjid site is the graveyard of the Gandhian Republic. The new temple that will soon come up there does little for Hinduism because Lord Ram, the maryada purushottam, would not have wished ill for any of his subjects, whatever be their faith.